---
Letter From the Executive Director
March 20 was the first day of spring and we received 3-5" of new snow here in New Haven, CT! Spring is in the air, though. I hear more birds chirping in the morning and some bulbs are pushing up their sprouts despite the forecast! Soon daffodils will be everywhere!

Here at the Institute we are in our busy season. There is an abundance of spring testing going on and numerous workshops happening. If you have not been trained with the new 2011 materials, you absolutely need to be retrained. Normally, we recommend refreshing your training every five years to keep your certificate up-to-date, but I keep getting phone calls from people who have not been trained for over ten or more years ago. With the national renorming study that we conducted, our GDO-R (R standing for revised!) features new elements such as Strands, electronic strand scoring, enhanced Social/Emotional/Adaptive items, and Performance Level Ratings. You are missing out on these useful additions if you do not know how to use them.

On the flip side of signing yourself up for a workshop, the Institute is looking for experienced users of the GDO and/or GDO-R to become one our National Lecture Staff (NLS) members who present the 3-Day trainings. If you think you have the qualifications and you enjoy sharing your knowledge with others, please contact our Director of the NLS, Erin Akers at erin@gesellinstitute.org.

Our webinar series this month has been fantastic! If you missed any our 60 minute webinars, remember they are available for purchase in the bookstore. They are great to be used at either staff meetings or parent meetings. We are also happy to send the handout for the webinar when you purchase one.

Happy Spring Everyone!




Marcy Guddemi, PhD, MBA
Executive Director
---
Breaking News



Gesell Institute Annual Report


Visit the link below to access our 2013-14 Annual Report, now posted on our website!

2013-14 Annual Report

Gesell Professional Development Opportunitites
With Spring arriving we all are thinking more about Professional Development Opportunities! We have many workshops scheduled all over the country during the Spring and Summer months! Please visit our website link below to see locations, and join us for an exciting professional learning opportunity! Remember Gesell examiners should take a workshop every five years!

Upcoming Gesell Institute Workshops




Featured Article from The Truth About Education
Read this wonderful article, which mentions Gesell's research and new data on what a developmentally appropriate kindergarten should be.



The Disturbing Transformation of Kindergarten
---
Blogs
The National Lecture Staff March Blog:
Continue to follow our blogs on our website and on social media! You won't want to miss what is coming up!
---
Tips From the National Lecture Staff

One of our National Lecture Staff members told me a sweet "2 1/2 year old story" that I just have to share. A little girl came home from preschool and told her Mom "I played with this many friends today Mommy!" (while holding up two fingers). Her Mom replied, "That's great honey, you played with two friends!" "No I didn't," she replied (a little frustrated). "Ok, tell me again," says Mom. The little girl repeated "I played with this many friends today Mom!" (while holding up two fingers). "Right, two friends," Mom clarified. "No! This one is ME!" replied the frustrated girl pointing to one of her fingers.

Accounts such as these happen to all of us surrounded by young children, and serve as a reminder that we need to respect and enjoy the stage of development they are in. Some stages are more difficult than others, but remember the seemingly more difficult behavioral stages are the most difficult for the child as well, as they are experiencing great growth during those times. Each stage of growth has unique characteristics and are all necessary to overall development in all domains, and each comes with wonderful experiences as well.

So remember today to enjoy the stages as you come alongside the children in your lives. Remember they are growing fast, so new skills, language, and abilities are just around the corner!



Together for the Children,







Erin Akers, M.Ed.
Director, National Lecture Staff

---
Bookstore HIGHLIGHT
The Gesell Institute Bookstore offers a variey of materials including our GDO-R and GES assessment tools and supplies, books, and pamphlets. Our highlight this month are our WEBINARS! Did you know that you can purchase any of our past webinars for your staff development, personal use and more? Visit our bookstore to see the many available webinars today! We have a variety of topics from Realtionships and Behavior Management to Developmentally Appropriate Lesson Planning.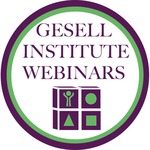 ---
Connect
Visit, connect, and like us on Facebook, Twitter, and LinkedIn for regular updates including articles, blog posts, quotes, and relevant information in the field of child development!

Here are some of our recent posts:

http://www.npr.org/blogs/ed/2015/02/06/384347659/behold-the-humble-block-tools-of-the-trade
Gesell poster session from the Education Diplomacy Showcase at the ACEI Conference, Friday March 6th in Washington, DC: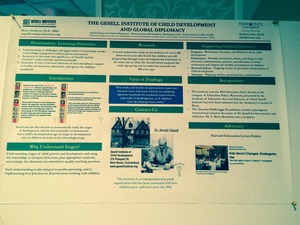 https://truthabouteducation.wordpress.com/2014/03/06/the-disturbing-transformation-of-kindergarten/
---