Contact: Peg Oliveira
Email: peg@gesellinstitute.org
Phone: (203) 777-3481
Big Y Supermarket Presents Gesell Institute with $3,500 Donation
New Haven, CT (July 13, 2016) -
The Gesell Institute of Child Development is proud to announce that it was awarded a $3,500 check by Big Y Supermarket on Wednesday morning. The check was presented at 10:00 am at Big Y's Branford, CT location, at 1025 West Main Street. Big Y made the donation through t
he proceeds from the 35th Annual Paul and Gerald D'Amour Memorial Golf Outing
, which took place on Tuesday, June 14, 2016.
Interim executive director of the Institute Peg Oliveira was present to pick up the check, and take a picture.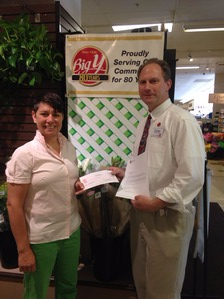 The Gesell Institute is one of over 300 recipients of the Paul and Gerald D'Amour Founders' Scholarships for Academic Excellence, a scholarship program established by Big Y in 1981. The program receives more than 2,500 applications each year, singling out the Institute for the important work they do in early childhood advocacy and education.