On July 26, 2016, the Gesell Institute held a successful conference entitled True Then. Truer Now: What Every Early Childhood Educator Should Know in 2016. It featured talks by some of Gesell's brightest minds in early childhood development, including Dr. Peg Oliveira and Erin Akers, MeD, the National Lecture Staff (NLS) Director. Also speaking at the conference were NLS members Karlen Senseny, EdD, and Salley Coleman Keller, MAT, as well as Dr. Tina Mannarino from the Gesell Institute Advisory Board.
Attendants were treated to disussions of some of the most prominent issues facing early childhood today, such as the Common Core standards, early literacy and the importance of outdoor play. The afternoon master session, Investing in Children's Flourishing, was given by Dr. Linda Mayes, director of the Yale Child Study Center and an Arnold Gesell Professor of Child Psychiatry, Pediatrics and Pyschology. The conference was graciously hosted by the United Way of Greater New Haven.
The conference was followed by a 3-day GDO-R workshop held at the Gesell Institute headquaters on Prospect Street in New Haven. From July 27-29, participants were trained on the administration, scoring and interpretation of the Gesell Developmental Observation-Revised for 2.5 to 6 year old children. Through this workshop, participants learned how to better meet the unique needs and abilities of each individual child. They also got a taste of New Haven's famous pizza, consistently ranked among the best in the country!
---
Thank you to Judy August for 25 years of service to the Gesell Institute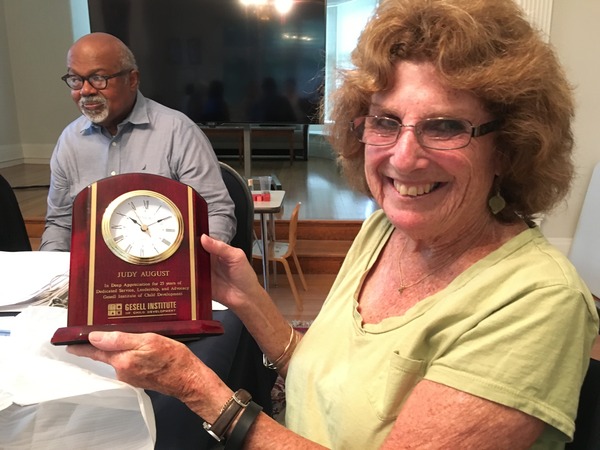 Judy began working at the Institute in 1961 under Frances Ilg and Louise Bates Ames, serving as Dr. Ames' assistant. After leaving in 1967, she maintained close ties with the Institute and joined the Board of Directors in the 1990's. Judy has served in many capacities on the board, most recently as Chair of the Governance Committee. She will retire from the Board this year, but promises to stay connected as an Emeritus member.
---
Gesell Institute Donates Back to School Booklets and Ages and Stages Resources in New Haven, CT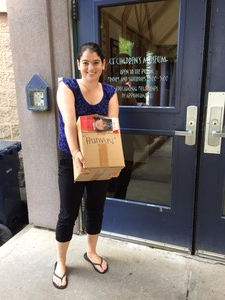 Welcome back to school! In preparation, Gesell Institute donated hundreds of Back to School Bus Safety Booklets to two local public elementary schools in the Institute's neighborhood in New Haven, CT. ,
Also, in celebration of the opening of the Early Childhood Resource Center, in New Haven, Gesell donated multiple boxes of Ages and Stages pamphlets to the Resource Center. Each pamphlet covers a year of growth from ages 2 to 6, with information for parents on typical characteristics and tips to aid development. To ORDER A PACK TODAY for your upcoming Parent Night, click here. You can purchase an assortment pack, or the specific age(s) you need.
The Early Childhood Resource Center, located at the Connecticut Children's Museum, hosts FREE Thursday evening trainings for the early childhood community in Connecticut. Click here for information on how to attend. Gesell's National Lecture Staff Director, Erin Akers, will be presenting in October.
---
What to look for in a high quality preschool
"

When enrolling a child in preschool, there are multiple factors to consider to ensure the best early learning experience possible.
Studies show children who receive a high-quality early education develop a solid base for success in school and their future careers."
If you want your child to learn new words, turn down the TV.
"We all want the very best for our children, and that includes giving them a safe, peaceful environment in which to learn and grow. However, soem parents may be hindering their children's language development without even realizing it. A new study has found that too much background noise in a home or school can make it difficult for toddlers to learn new words."
---
Big Y Supermarket Presents Gesell Institute with $3,500 donation
The Gesell Institute of Child Development is proud to announce that it was awarded a $3,500 check by Big Y Supermarket on July 13, 2016. Big Y made the donation through the proceeds from the 35th Annual Paul and Gerald D'Amour Memorial Golf Outing, which took place on June 14, 2016. Interim executive director of the Institute Peg Oliveira was present to pick up the check and take a picture.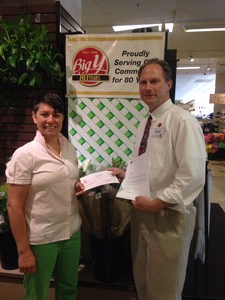 The Gesell Institute is one of over 300 recipients of the Paul and Gerald D'Amour Founders' Scholarships for Academic Excellence, a scholarship program established by Big Y in 1981. The Program recieves more than 2,500 applications each year, and singled out the Institute for the important work we do in early childhood advocacy and education.
---
GDO-R Workshops
Training with The Gesell Institute of Child Development prepares early childhood professionals to understand and better meet the unique needs and abilities of young children through a comprehensive training in:
The Ages and Stages of Child Development

How to administer and interpret the results of the Gesell Developmental Observation-Revised (GDO-R)

Host a Workshop at Your School or Center:
If you are interested, please contact Erin Akers, National Lecture Staff Director, at 203-777-3481 or erin@gesellinstitute.org.
​Click here for more workshop information.
---
Connect With Us on Social Media!