Dear Friend,
Greetings from sunny Seattle! In this issue, you will promenade through "A Year In The Life of the Academy Of Music Northwest!"
A new chapter began last fall with a new location, new faculty members and exciting new offerings. Under the tutelage of our exceptional faculty members, accomplished performers and composers, the academy students flourished in an inspiring and supportive environment.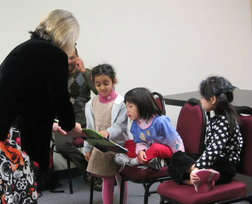 4~8-year-old students, addressed as "Scholars" by our Children's Program Director,
Bonnie Dike
, have been introduced to the magical world of music and arts:
Portrait of the Artist by Rembrandt van Rijn,
Pictures at an Exhibition by Mussorgsky, musical pranks by Papa Haydn, The tarantella dance, Quodlibet and leitmotifs.
Visit the
"Little Mozarts and Monets" blog
to learn more about the class. You will walk away with a wealth of knowledge!
Pre-college students, arriving at the academy in the afternoon, first immerse in two hours of music studies: theory, ear-training, or
electives
such as Composition or Conducting. Then the musical social hour begins as the chamber music groups come together, rehearse and are coached by professional musicians.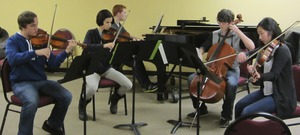 The day concludes with the Performance Workshop where everyone gets opportunities to play in front of a supportive audience. Throughout the year, additional workshops and master classes are offered. The Yoga Workshop, taught by
Bonnie Dike
was a huge hit this year!
After a few months of hard work, these talented young musicians are ready to play great chamber music for you on Mother's Day! Join us
this Sunday at 2 pm
.
On May 18th at 11 am, Children's Program students
"Little Mozarts and Monets"
will present their original composition,
A Day in the Life of Sal and Jane
, based on
One Morning in Maine
by Robert McCloskey. Click
here
to see what else they will present to you.
Join these young scholars. You will be delighted by their charm, knowledge and creativity!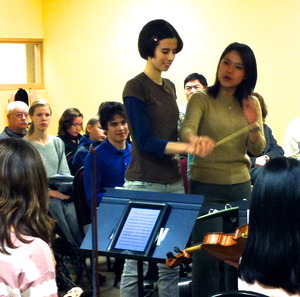 Another exciting event on May 18th: at 4 pm, our chamber music students will form an orchestra for the conducting students to practice conducting in front of a live orchestra.
Dr. Julia Tai
, academy's conducting instructor, music director of Philharmonia Northwest and Seattle Modern Orchestra, will coach the students during the session. Everyone is welcome to observe the class.
Interested in enrolling with us? Have questions about our programs? Please send your inquiries to
info@amnw.org
. Thank you! We look forward to hearing from you.
---
UPCOMING EVENTS


Student Concerts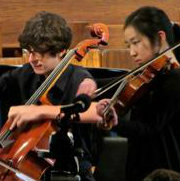 Spring Chamber Music Concert
Sunday, May 12, 2013

2:00 pm & 3:30 pm
Trinity Lutheran Church
6215 196th St. SW, Lynnwood, WA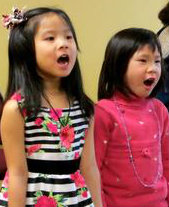 Children's Program Concert
Pezzo Performance by
Little Mozarts and Monets

Saturday, May 18, 2013
11:30 am
Academy Of Music NW (Rm 1)
19204 North Creek Parkway, Bothell, WA


---

Faculty & Friends in Concert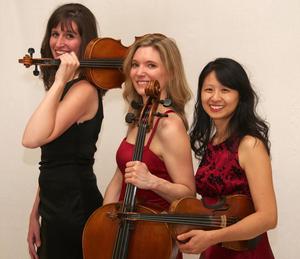 L.-R. Jennifer Glenn (faculty), Erika Pierson, Pamela Liu (faculty)
Photo courtesy of Rafael Fernandez.

Bella Sala

Pamela Liu, violin, Jennifer Glenn, viola, Erika Pierson, cello
with guest artists, Cecilia Archuleta, violin and Judy Huehn, piano

Saturday, June 1, 2013
7:00 pm
Music Works Northwest
14360 SE Eastgate Way Bellevue, WA

---
The spring semester is a busy time for music students. Young musicians participate in auditions, competitions and play in special concerts. Many are recognized for their hard work and talent. We would like to congratulate them and acknowledge their accomplishments here:
Every year, The Merriman Family Young Composers Workshop selects ten extraordinary young composers to work with Dr. Samuel Jones, Seattle Symphony's resident composer. At the end of the workshop, their compositions are premiered by a group of Seattle Symphony Musicians. This year, Academy composition students Mina Esary, Pierre Suignard and alumnus Cole Holland were selected to participate. They are all students of Eric Flesher.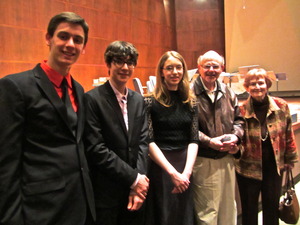 L.-R. Cole Holland, Pierre Suignard, Mina Esary, Dr. James Paul and Dee Wells.
Congratulations to the following academy current and former students, first place winners and honorable mention recipients of the 2013 Performing Arts Festival of the Eastside (PAFE):
Mary Elizabeth Adler, voice, ensemble and solo
Charlene Chin, harp, best in division
Mina Esary, piano, solo
Alexandra Johnson, voice, ensemble
Bhavani Kotha, piano and oboe, ensemble and solo
Lara Lewison, voice, solo
Takumi Taguchi, violin, concerto
Mira Yamamoto, violin, concerto and solo

Mina Esary, piano student of Willard Schultz, received the Gold Seal at the 2013 Seattle Young Artists Music Festival in addition to receiving the Honorable Mention at 2013 Performing Arts Festival of the Eastside and participating in the Merriman Family Young Composers Workshop.



Matthew and Alexandra Johnson won first place in the chamber music division (ages 14-18) playing piano for four hands in the 2013 Seattle International Piano Contemporary & Impressionistic Festival. They both study piano with Dr. Peter Mack and organ with Joseph Adam. Allie also studies voice with Nancy Zylstra. Matthew and Allie were recently invited by Dr. James Savage to become choristers of the St. James Cathedral Choir. They are the youngest members of the choir. Matthew is also the resident youth organist at the cathedral and Allie is a cantor. In addition, Allie sings occasionally at Taize which is an ecumenical prayer service at the cathedral on Friday evenings.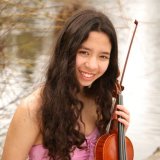 Lara Lewison, violin student of Sanja Futterman, has been awarded the Emerson Scholarship to attend the Interlochen Advanced String Quartet Program this summer.The Six-Week Advanced String Quartet Program provides intensive quartet training to students in grades 9-12.
Lara is also the First Prize Winner of the 2013 Seattle International Piano Contemporary & Impressionistic Festival.
Lara studies piano with Joan Shoepflin and voice with Madeline B. Bersamina.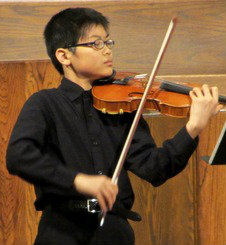 Takumi Taguchi, student of Mihoko Hirata and Simon James, has been chosen as the First Place Winner of the 2013 American Protégé International Concerto Competition. He is invited to perform in The Winner's Recital at the Weill Recital Hall - Carnegie Hall next Fall. In March, Takumi made an outstanding concerto debut with The 16th Suzuki Method Wold Convention Commemorative Orchestra in Matsumoto, Japan. This summer Takumi will attend a four-week Indiana University Summer String Academy on a merit scholarship.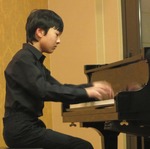 Bryan Zhao, student of Willard Schultz, was awarded First Place for his age group in the 2013 Simon Fiset competition. He was also awarded the alternate winner in the 2013 Seattle Young Artists Music Festival Concerto Competition.



---
Sarah Hall, student of Ron Patterson, is the winner of the 2013 Junior Division of the prestigious American String Teachers Association National Solo Competition, Senior Division of the Simon-Fiset String Competition, and winner of the 2013 Seattle Young Artists Music Festival Concerto Competition. Sarah is also the finalist of the KING FM Young Artists Awards 2013. Watch her play Nigun by Bloch. She is entrant #10.

On May 18 and 19 at 7:30 pm, Sarah will be featured as a violin soloist, playing the Glazunov Violin Concerto with the Rainier Symphony on May 18 and 19 at 7:30 pm, Foster Performing Arts Center, 4242 S 144th St.,Tukwila, WA 98168-4130.

Gloria Ferry-Brennan, student of Simon James, received Honorable Mention of the 2013 Junior Division of the prestigious American String Teachers Association National Solo Competition. She is also a finalist of the KING FM Young Artists Awards 2013. Watch her play The Nocturne Op. 9 No. 2 for violin by Chopin/Sarasate. She is entrant #7.

Cole Holland, student of Eric Flesher, was selected to participate in The 2013 Merriman family Young Composers Workshop to work with Dr. Samuel Jones. His composition "Timewalk" was premiered by the Seattle Symphony Musicians on April 30th at 7:30 pm at the Illsley Ball Nordstrom Recital Hall.

Daniel Miller, composer, former student of Eric Flesher, was awarded $25,000 for the 2013 Watson Fellowship for Exploration of Natural Soundscapes and High-tech Music. More about his Project.

Marié Rassano, violinist, is finishing her second year at Curtis. She is enjoying her education among devoted musicians. At the end of May, she will be performing as a student artist at the Starling-DeLay Symposium of Violin Studies at the Juilliard School; in July, she returns to Utah to perform with the Salt Lake Symphony; and later that month, she will fly to Israel to participate in a violin camp. Marié studies with Ida Kavafian at the Curtis Institute of Music in Philadelphia, as the Carrie L. Tolson Memorial Annual Fellow. Previously, Marié studied in Seattle with Simon James, Brian Lewis, and piano collaborator Hiro David.
---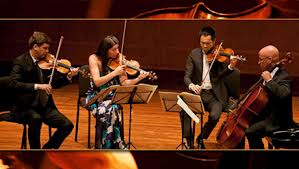 The Seattle Chamber Music Society will sponsor another Chamber Music Master Classes by one of their visiting artists in July. Stay tuned for the date. The class will be open to the public.


---
Support Young Artists
Invest in the future of classical music! Your contribution will support talented and dedicated young musicians to continue their rich music education through the Academy.

Your gift will also enable us to continue with our community outreach efforts, enriching our communities with free concerts, masterclasses and workshops.
Be a part of this music community!

---
Kudos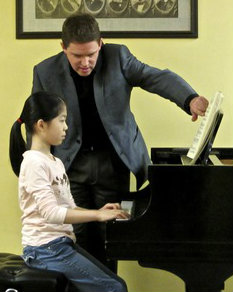 Many special programs we offer are collaborative efforts with like-minded organizations and artists. We want to thank pianist Geoffrey Duce and violist Toby Appel for working with our students this year. Special thanks to the Seattle Chamber Music Society for providing opportunities for the academy students to work with their festival artists. These Master classes provide invaluable learning experiences for the young musicians and the audiences. More exciting master classes and workshops are being planned for the 2013-2014 school year.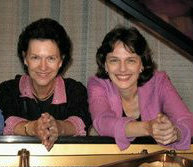 We'd like to extend our warmest thanks to pianists Robin and Rachelle McCabe for their powerful performance in the recent successful benefit concert, and to Bella Sala for planning a benefit concert for the academy in the summer.

We also want to thank our dedicated staff, faculty members, students, parents and volunteers for making this institution a vibrant music community.

To all of you, our donors and supporters, we offer our deepest gratitude. Without your gifts, talented young musician will not have a place to receive the training they need to develop into exceptional young artists.

It is our commitment to continue to provide exellent music education to our next generation of musicians through your generosity.

Thank you!
---
Volunteer
There are many opportunities
to volunteer at the Academy!

We are looking for people who are music lovers, creative thinkers, and great organizers.

Please contact us if you have any interest in helping with grant research and organizing special events such as private and public concerts, fundraising events, and benefit concerts.
If you are interested in working for a not-for-profit organization in the future, this may be a good place for you to gain some experiences.

We have openings for interns in the following areas:
PR/Marketing

Development

Grant Writing
Interested candidates may contact us at
info@amnw.org
or call 425-778-7711 for an interview.
---
Stay Connected
Join our community on Facebook! Learn about our upcoming concerts, master classes, workshops, and interesting music related news, articles and videos.

Please tell your friends about this valuable music school and forward this message to a friend. We look forward to sharing more news with you!