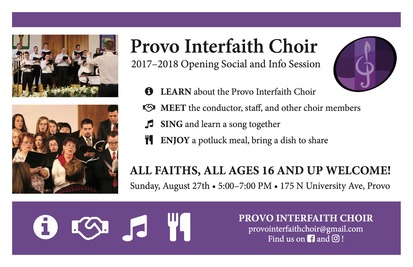 We are excited to announce the choir will have a mini-choir school on a regular basis as part of rehearsals. To help us in this endeavor, Sheri Peterson and Serena Kanig Benish have signed on to help with music theory and vocal training. Choir members Isaac Hale and Bret Pope also will be joining the choir staff to help with the behind the scenes work. We're thankful for all that have and will be a part of the choir this season!

If you would like to be a part of the choir, or know someone who would be, the choir will begin again August 27th @ 5pm with our 2017-2018 opening social. The evening promises to be filled with fun, presenting some exciting changes and additions, preview upcoming events and songs, get to know the conductor and staff, and food (it's pot-luck so bring a dish to share). Our goal is to have 30 members for the new season as we spread our wings! The choir would appreciate donations as we seek to expand. We also are seeking sponsors to assist in resources and talents as we extend our hand and voices to more in the community to share in the joy music can bring, and celebrating what we have in common.
Click on the poster above for more information

about the choir and this event.


photo courtesy of The Daily Herald