Holiday Gift Certificates ~ only $15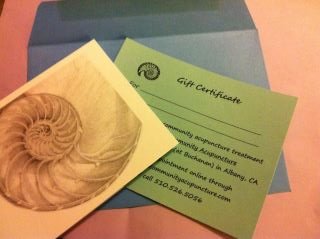 Enough, enough, we all have enough stuff!
What we really need is time to rest, relax and take care of ourselves.
Shop locally and share health this holiday season. Our gift certificates cost only $15 and are good for one acupuncture treatment at Sarana, either an initial or a return visit. They even come with a pretty card (pictured - while supplies last).


FREE Acupuncture on New Years Day
Sunday 1/1/2012, 11 am - 2 pm!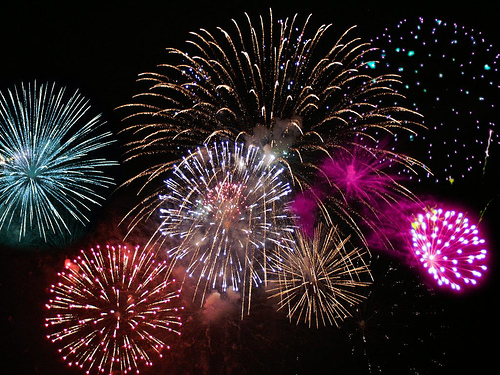 We are offering this free acupuncture day as a holiday
gift
to our
community.
Come in for a relaxing start to your
New Year, detox after a night of fun and celebration or get a mid-winter tune-up.
appointments recommended

drop-ins welcome (space-permitting)
Make your appointment online here or call the clinic at 510-526-5056.
(Note: On New Year's Day we will focus our treatments on general wellness and stress relief and will not be doing initial client interviews, so new clients should book a"return visit" and come back for the first visit intake on another day.)
Community Acupuncture Documentary Film Screening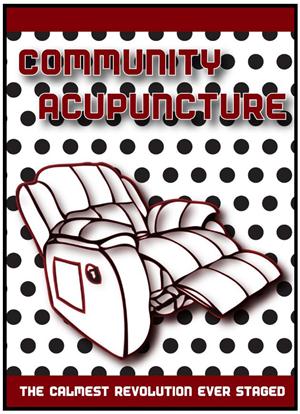 Have you wondered about the beginnings of the community acupuncture movement? Have you ever seen acupuncture needles on a really big screen?
Sarana is teaming up with Transition Albany to host a screening of
Community Acupuncture: The Calmest Revolution Ever Staged
, a documentary by award-winning filmmaker, Brian Lindstrom.
This
short but poignant film tells the story of how Community Acupuncture is changing the lives of people with ordinary financial circumstances. It was filmed at several community acupuncture clinics around the country, and includes real patients' personal stories.
There will be a Q&A session / discussion about sustainable healthcare after the film, lead by Tatyana and Pam.

When: Sunday January 22, 2 - 4 pm
Where: Edith Stone Room,
Albany

Library

,
1247 Marin Avenue (at Masonic)
Fee: Donation, no one turned away, all proceeds benefit Transition Albany
Save the Date: End-of-Life Planning Workshop
Responsible end-of–life planning can save heartache and help preserve family legacy. This workshop will offer you a clear path to start or update your current documents. Learn about basics in a supportive setting. Find out about important terms and useful resources. Get answers to some common questions, such as:
What's the difference between a living trust and a living will?

Do I need a will if I am in debt?

Do I need a lawyer?

What's the problem with probate?
When: Sunday January 29, 4:30 - 6 pm
Where: Sarana Community Acupuncture
Fee: whatever you choose to contribute (suggested donation $20)
To sign up: please contact Sarana by phone or email, spaces are limited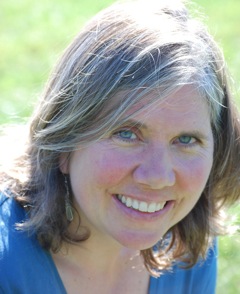 About the Facilitator: Jenny Kern is a licensed attorney offering training and counseling to individuals and groups about end-of-life planning including basic estate planning. Her mission is to promote choice and support and empower people to make knowledgeable and confident decisions.

Front Desk Volunteers Needed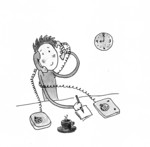 If you are inspired by the community acupuncture movement and want to be more involved in furthering the vision of affordable accessible healthcare in your community, consider becoming a POCA co-op volunteer through our clinic. In gratitude for your service we will pay your POCA membership fee and give you lots of acupuncture treatments. We are looking for reliable, friendly, computer-literate folks who can make a weekly commitment for at least 6 months. Days that currently need coverage: Thursdays, Sundays and (starting in January / February) alternate Saturdays. If you are interested and available, please email us (info@saranacommunityacupuncture.com), call us (510-526-5056) or ask for an application form next time you are at the clinic).


Connect with Sarana on the web ~ check us out on
Yelp and Facebook!