Bicycle Byways: What Could Have Been and What IS
Did you know May is National Bicycle Month as well as National Preservation Month?
Bicycling was so popular in the 1880s and 1890s that cyclists formed the League of American Wheelmen, now the League of American Bicyclists. There were even plans in Los Angeles for a bicycle highway. In fact, cyclists were the ones who lobbied for paving of streets... just in time for the automobile.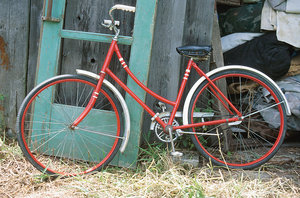 These days, when being green is inextricably linked to historic preservation, we wish we had those bicycle highways to preserve! Unfortunately, Los Angeles' is gone. There are, however, other pathways that have undergone miraculous preservation and even adaptive reuse.
There are 20,000 miles of Rails to Trails projects around the US, all former rail lines repurposed for bicycle, walking and running paths. The High Line, a historic freight rail line elevated above the streets of Manhattan's West Side, has very successfully been converted to a strip of elevated public park.
Still stuck on bicycles? Next time you're in Chicago, check out the Art of the Bicycle exhibit at the Museum of Science and Industry for some object preservation that conveys a telling story. Then hop on your bike and explore your own area, historic landscapes and recent developments.
Changing transport methods have led to many changes in our landscape. Read about AiP's past transportation-related projects: the Edge Hill Service Station and the Bellanca Air Hangar. Happy Bicycle Month!
Join Our Board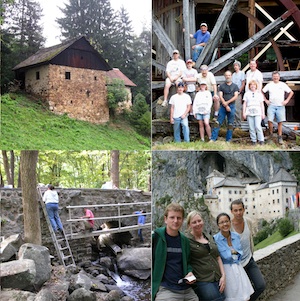 Have you heard the news? AiP is looking for a few good Board members. With 36 projects in 7 countries under our belt, it's time to expand our ability to identify new projects, recruit citizen preservationists, and raise funds to support our mission of safeguarding cultural heritage.
If you have an architectural background, have worked with nonprofits or can connect us with funding sources, we would love to talk to you about joining our Board. Drop us an email or give Judith a call at +1 303 444 0128. Thanks!
U.S. Fulbright Scholar Grant Opportunities in Europe and Eurasia in Cultural Heritage
Fulbright Scholar applications for the 2014-15 academic year are currently being accepted from all levels of faculty and professionals, including early career. They are soliciting applications for a broad range of awards, including but not limited to Kosovo (Theory and Practice of Restoration of Cultural Heritage Monuments) and Ukraine (Cultural Resource Management). Applicants must be U.S. citizens and hold a Ph.D. or appropriate professional/terminal degree at the time of application. The application deadline is August 1, 2013.
For eligibility factors, detailed application guidelines and review criteria, see cies.org or register for a webinar.
Conference Calendar
5th Annual Historic Bridge Weekend Conference - August 9–12, 2013 - Iowa, USA
The Historic Bridge Weekend Conference draws people who are experts in historic bridges, preservation or history, as well as those who are either bridge enthusiasts or have a keen interest in how these vintage structures were built and how they played a role in American History. This year's Historic Bridge Weekend is coming to America's heartland, the state of Iowa, where the history of transportation and infrastructure and the development of America as a whole go together like bread and butter. For information, see thebridgehunter.areavoices.com.
Turning Points: Ordinary People, Extraordinary Things - September 18-21, 2013 - Birmingham, Alabama USA
This joint meeting with AASLH and the International Coalition of Sites of Conscience will examine how, like Birmingham, history organizations are changing the way they do things, taking issues and turning them into solutions, using ordinary people to tell extraordinary stories. For information, see aaslh.org.
Protecting Deltas, Heritage Helps: ICOMOS Netherlands "Water & Heritage" Conference - September 23-28, 2013, Amsterdam, Netherlands
As a heritage organization in a 'land of water' ICOMOS Netherlands recognizes the important role heritage can play in managing the challenges the world is facing due to climate change. ICOMOS Netherlands aims to raise international awareness of the connection between water and heritage and will bring together experts from both fields during this conference. For information, see icomosconference.nl.