Holiday Traditions and Historic Preservation
Traveling for the holidays? Take in some history interpretation and be a part of historic preservation: sharing our history is as much a part of preservation as repainting, repointing, or any of your other favorite hands-on efforts. This holiday season we're thinking about visiting some interactive history sites, near and far. Take a peek at what some of the major sites are doing: Colonial Williamsburg has a wonderful online calendar serving up history one day at a time. Conner Prairie Interactive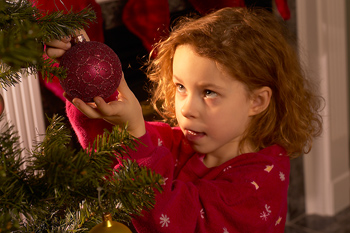 History Park in Indiana is featuring events that include helping Prairietown residents decorate for the holidays. Holidays are all about traditions, what better way to celebrate them than going to a place like Den Gamle in Denmark to learn how they've been celebrated for centuries? From Philip Foster Farm, which interprets the Oregon Trail pioneers, to Old Sturbridge Village, which interprets the 1830s in New England, celebrate the holidays while learning about the past.
Want to extend your preservation meets interpretation experience beyond the holiday season? Take a look at our Fairfield Plantation adventure, where jammers' efforts will ultimately further interpretation at the archaeological site!
Italy: Preservation in the Warm Summer Sun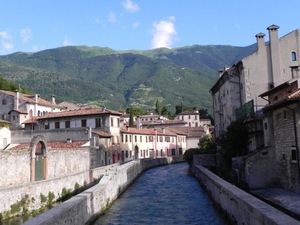 Temperatures across much of the United States plummeted this weekend, which may have you thinking wistfully about the summer sun. If you're dreaming of a warm day rather than a white Christmas, why not dream of Italy: the Mediterranean sun, golden hills, and... the cloister of the Monastery of S. Govanni Battista? That's right! Adventures in Preservation has two trips to Italy next year, one doing critical conservation preparation work in the cloister of the Monastery with Alma Ortolan and one doing fresco conservation in the underground churches of Puglia with Messors. Read more about these fabulous adventures and turn the dream to reality by registering today!
Preservation, All Wrapped Up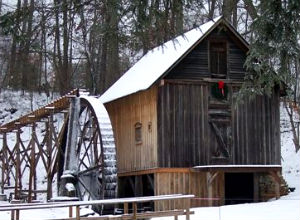 As you're making your list and checking it twice, don't forget that historic preservation can be a gift as well! Whether that means sponsoring a volunteer on an Adventures in Preservation project (have an interested family member or friend?), or treating yourself to a preservation vacation in 2014, your support can help wrap up a community-based preservation project.
Preserving our past is a gift that keeps on giving: it is a hands-on connection with history that you will never forget and it will provide important views into the past for generations to come. Make like Rudolph and go down in history—give the gift of preservation!
Conference Calendar
Historic Timber Framing: Modern Engineer Solutions - March 10, 2014 - Chichester, West Sussex, UK
One of a series of courses at Weald and Downland Open Air Museum, this one is for architects and carpenters considering the lessons to be learned from early timber framed structures, new techniques and contractual arrangements for design and construction. For information, see www.wealddown.co.uk.
The 5th International Architectural Paint Research Conference: Interdisciplinary Innovation through Baseline Proficiencies - March 12-15, 2014 - Stockholm, Sweden
This conference draws on the legacy of the four previous conferences to bring together members of the growing number of international APR specialists and the wider conservation community. It aims to provide a platform for the interchange of current ideas and knowledge to explore the potential of this significant discipline in the study and conservation of architectural heritage. For information, see raa.se.
REHAB 2014 – International Conference on Preservation, Maintenance and Rehabilitation of Historic Buildings and Structures - March 19-21, 2014 - Tomar, Portugal
Organised by the Green Lines Institute, this conferences aims to further the discussion on built heritage and the preservation of its legacy, establishing a settle of knowledge and experience from several parts of the world. The importance of conservation of historical constructions (built landscape, urban fabrics, buildings, and engineering works) are of utmost importance to preserve the cultural references of a community. As a Special Chapter, Archaeological sites are brought into a particular approach as historical elements to be preserved, maintained and visited often when field works are carried on. REHAB 2014 welcomes papers and presentations on field work, case studies and theoretical approaches to historical buildings preservation and conservation. For information, see rehab2014.greenlines-institute.org.