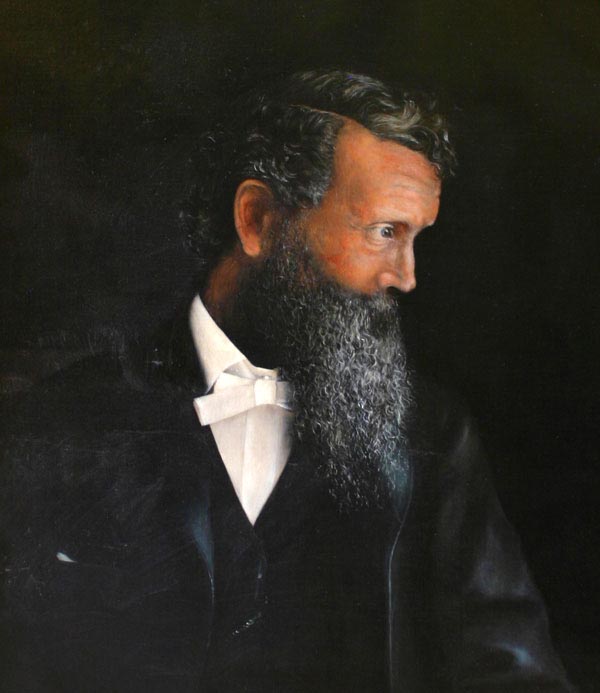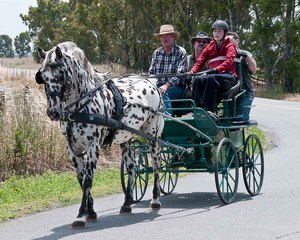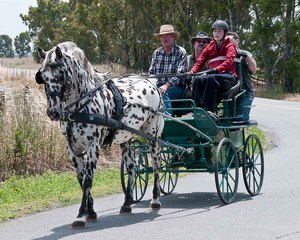 "
"

When we try to pick out anything by itself, we find it hitched to everything else in the Universe." J

ohn Muir
Happy Birthdays and Anniversaries

Stories from the Stonewall Studbook

Stonewall Sporthorses

Team Dixon
Pulling Together
Stonewall Montelena
Wire Horse Sculptures
Contact Us
707-999-1419
accessadventure@yahoo.com
Website
Check out our photos
Facebook
- access past newsletters and
up-to-date news and calendars
Keep up to date with the Access Adventure B
log
Donate
HAPPY BIRTHDAY TO:
Caroline Strongman, December 2
"Jo" Black, December 13
Gonzalo Ochoa, December 27
Sierra Barsuglia, December 31
Happy Anniversary and Thank You for Your Years of Service to:
Jon Duncan - 2009
John, Nancy, Blake Hengel - 2015
STONEWALL SPORTHORSES
In the coming months, we will feature profiles of each of the current mares in our stable, their 2018 foals, and notable Stonewall Sporthorses currently performing at the upper levels of competition in dressage, combined driving, jumping and other disciplines.
Works in Progress
The training of high performance horses never ends. Throughout their working lives, we are constantly striving to perfect the talents of the horses that work for Access Adventure. The training begins at birth, as the newborns are socialized with human contact, then in short order taught to lead, pick up their feet for the farrier, tie quietly and load into the horse trailer.
As yearlings, they are taught driving commands in the round pen, introduced to the bridle with a rubber bit, then begin long-lining and ground driving in the surcingle. By fall, they learn to carry a saddle and begin to feel weight on their backs.
In their two-year-old year, our young horses take the next step to working in harness and being ridden under saddle. Although the homebreds we keep are principally driving horses, all Stonewall Sporthorses are trained to ride as an essential part of their overall training. Classical dressage is the important foundation for the Stonewall Sporthorse, in harness and under saddle.

In 2018, Access Adventure horses have been carefully nurtured by the volunteer efforts of an exceptional group of well-trained riders: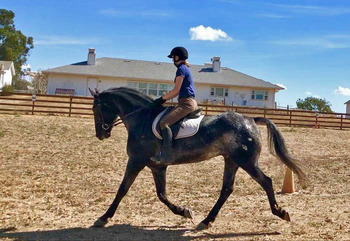 Jo Ziemer Riding Splash
Jo Ziemer works for Amazon (Twitch TV) in the Bay Area, but travels to our Rush Ranch headquarters each weekend to work with our horses on the ground and under saddle. We first met Jo in 2007at the Redwood Rendezvous in Humboldt county where she grew up and trained in the art of classical dressage.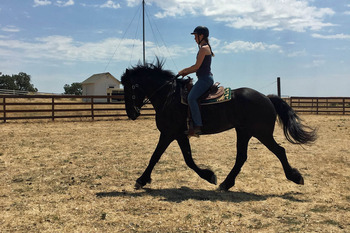 Tori Riding Baron
Tori Laird works long hours in the wine industry, yet finds time to work our horses under saddle on Wednesday evenings and Sundays. Tori has a background in saddle seat competition.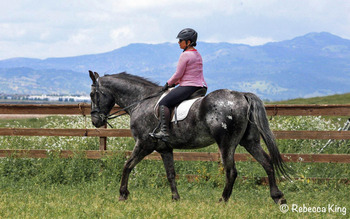 Mindi McCuen Riding Splash
Mindi McCuen is a Fairfield school teacher with a successful history with show jumpers since childhood and current training in classical dressage. Mindi enjoys horse camping, trail riding and working with our Stonewall Sporthorses.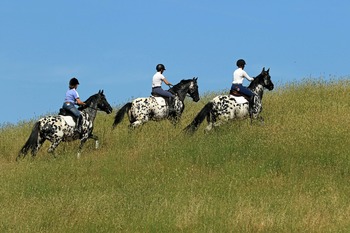 Tatum Baker, Sabin Marquardt and Stephanie Don are students at the University of California at Davis, studying for careers in veterinary medicine. All three young women take time to work with our horses, despite their rigorous schedules of classes, internships and part-time jobs. All of these young women make an important contribution to the foundation and education of our Stonewall Sporthorses.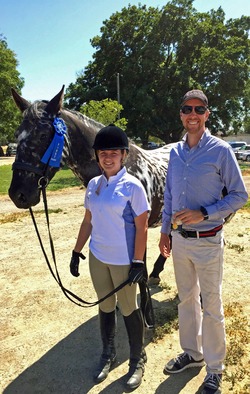 Tatum Baker and Calypso
Tatum Baker, under the guidance of Grand Prix rider Dan Rocks, successfully trained and competed with Stonewall Calypso in dressage. She now owns Calypso's beautiful daughter, Stonewall Rhapsody.


STORIES FROM THE STONEWALL STUDBOOK
Published in the monthly Access Adventure Newsletter, online, and on Facebook. Copyright Michael Muir

In this issue we bring back tales from Michael Muir's career with horses that began more than fifty years ago and spans the globe.


MICHAEL MUIR REMEMBERS
Adventures of a Horseman:
WAKE UP, COWBOY!
"She's just your kind!"

By 1970, I was very actively breeding and campaigning my Appaloosa horses. At that time, Appaloosas were the fastest growing breed in America, after Quarterhorses and Thoroughbreds, and poised to move into second place in total number bred each year.

The Appaloosa had evolved from a nearly lost breed developed by the Nez Perce Indians from the descendants of a single Knabstrupper mare imported by Cortez to the Americas in the early 1500's The modern ones winning in 1970 had a lot of Quarterhorse breeding. Some of the racing Appaloosas carried crosses of Thoroughbred blood. It was these horses that interested me the most, and I felt my future success with Appaloosas depended on the best Thoroughbred blood I could find in Kentucky.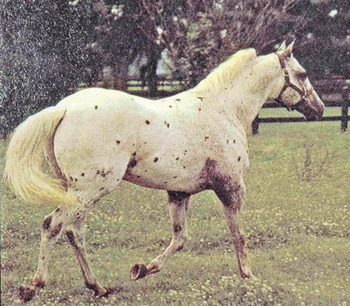 Ocala Flight, a direct male descendant of Triple Crown winner War Admiral and the legendary Man O'War
Each year I tried to save $2,000 and fly standby on that $70 Youth Fare card to the Bluegrass of Lexington, Kentucky, poised to do battle at the auctions with the Titans of Industry, Hollywood Stars and Arab Sheikhs (and their boatloads of money!) Thousands of blue-blooded horses passed through the auction ring at the Keeneland Racecourse outside Lexington, beside the miles of immaculate white board fencing of famed Calumet Farm. The gravity of the stentorian tones of the auctioneers was enhanced by the tuxedos they wore as they sold horse after horse to the high rollers of the horse industry.

Muscular sprinters were not in vogue, but it was this type that was best suited to produce Appaloosa racehorses that could also succeed in the show ring. Day after day and night after night I followed the prettiest, well-muscled ones into the auction ring, only to be outbid. My meager pocket book just couldn't keep up! I was dozing in my seat, cowboy hat covering my face, exhausted from days of horse shopping, failing to acquire that coveted Kentucky broodmare. I was startled when the auctioneer boomed, "Wake up, cowboy, she's just your kind!" I was so sleepy that I put my hand in the air without thinking too much and Bam!, the hammer came down and Yourullah was mine! The auctioneer was so good, he had followed my taste in horseflesh, despite my lack of funds, and got me "the One" I was after.


EUROPEAN HORSES
Our family vacation this year focused on many things as we toured England, France, Ireland, and Scotland by car. Although we saw no herds of horses anywhere, we did visit several interesting sites with equine focuses. Mary Lou Fazel

WIRE HORSE SCULPTURES
Artist Emma Stothard, one of England's leading sculptors, created this sculpture of a mare which the National Trust placed on Rievaulx Terrace. The sculpture is woven in steel wire and then galvanized.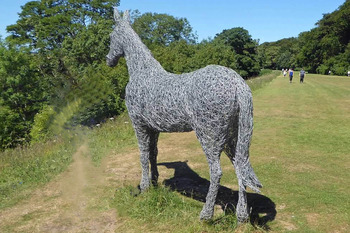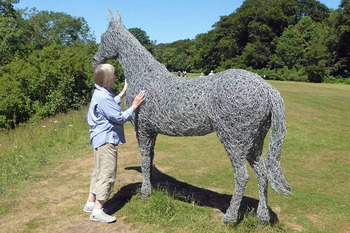 Rievaulx Terrace is a site located in the North York Moors National Park, in North Yorkshire, England, overlooking Rievaulx Abbey and owned by the National Trust. The site is a grass-covered terrace following a serpentine course across the side of a wooded escarpment overlooking the ruins of the abbey.

Effective 2019 we will change to quarterly Newsletters (March, June, September, December). Monthly Calendars will continue.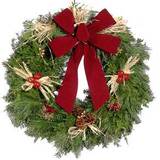 It is time to celebrate the joy and warmth of the season and spread happiness among everyone you know.

Please remember Access Adventure with a generous gift this holiday season. Your tax-deductible donation funds the needed services that our all-volunteer organization provides, without charge, to people in need.

Donations can be sent to Access Adventure, P. O. Box 2852, Fairfield, CA 94533.

Thank you for your support, with the warmest wishes for a joyous holiday season.

TEAM DIXON
Access Adventure hosted dozens of members of Team Dixon, with their friends and families at our Rush Ranch headquarters on Saturday, November 3. Our guests enjoyed a picnic, games and carriage rides courtesy of Stonewall Calypso. It was a wonderful day that we expect to become an annual event.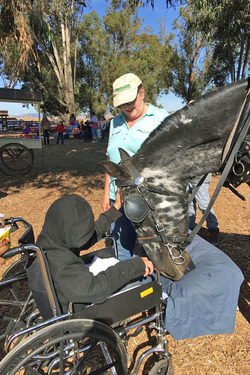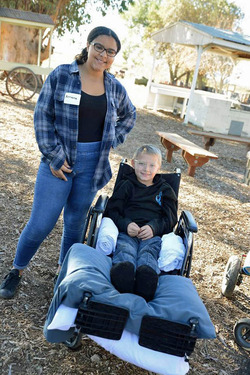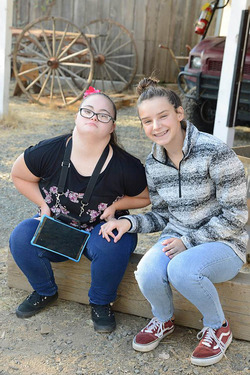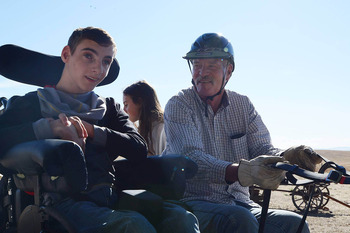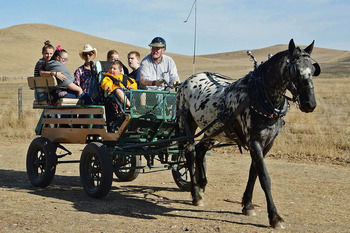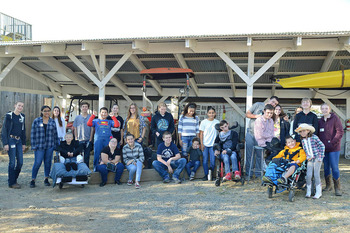 Team Dixon is an organization which offers children of all abilities the opportunity to participate in sports and other community building activities, and provides a virtual and physical support and information network for families who share the same struggles and victories.

At Team Dixon, each special needs child is partnered and supported by an amazing teen who helps guide them, encourage, and keep them safe during their participation, and the result of this "Buddy" system has been beyond amazing. The true friendships, compassion, and heartfelt connection between our special needs children and their buddies reach further than the activity or event and grow into lasting relationships. Team Dixon is an example of true human kindness in action. (see more photos)



STONEWALL MONTELENA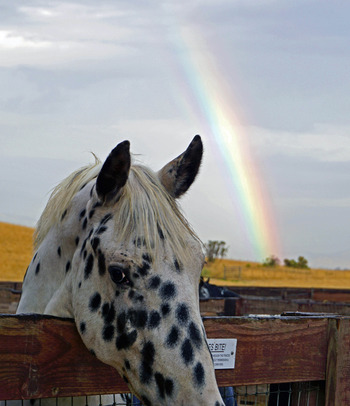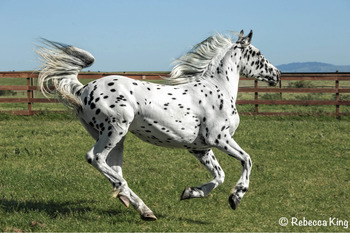 Congratulations and thank you to Elizabeth Armanino for your purchase of our dazzling filly, Stonewall Montelena. Libby has joined Access Adventure as a volunteer and Montelena will remain with us at Rush Ranch. We have retained the right to breed this mare in our sale agreement, continuing our most prolific and productive bloodline dating back to 1965.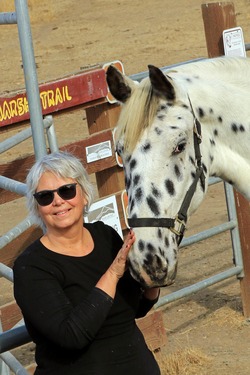 Libby and Montelena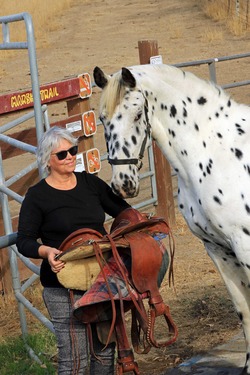 PULLING
TOGETHER
Every teamster knows that to get the task done you need horses that can work together smoothly, each leaning into the collar to accomplish the job. In that same spirit, Access Adventure relies on an all-volunteer team to provide our free services to people in need.

Any sensible person would say our business model is unsustainable. We don't charge for what we do. All the programs of Access Adventure are free. We have no paid employees.

Although we receive donations, and the occasional grant, our work is supported mainly by our horses, a notoriously difficult and risky business.

Yet, somehow we survive, and thrive, and grow...all these years. The secret is the contributions of a remarkable team of volunteers, some of whom have been with us from the very beginning. This is
the lifeblood of Access Adventure. We couldn't do our life changing work without them.


MOLLY'S ANGELS OF NAPA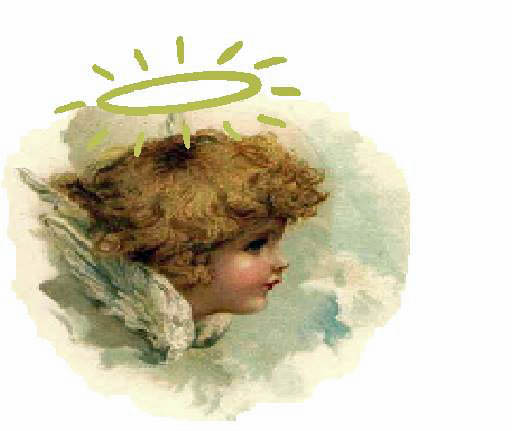 In 2005, Access Adventure began with an idea, borrowed horses and an enthusiastic group of dedicated volunteers. We partnered with the Solano Land Trust, and with funding from the Syar Foundation, developed the stable and facilities at Rush Ranch to become our headquarters. The Land Trust also served as our fiscal agent, providing Access Adventure with non-profit status to receive tax-deductible donations. We later became a program partner of the Solano Land Trust, and remain so to this day.

In 2012, Access Adventure joined forces with Molly's Angels of Napa who provided a fiscal umbrella to maintain tax-deductible status under their 501(c)3. Molly's Angels is an alliance of dedicated Napa Valley volunteers who provide transportation for seniors to medical appointments, pharmacies, banks, grocery stores and more. Volunteers also take part in the Telephone Reassurance Program, making weekly check-in calls to seniors.

Over the years Molly's Angels volunteers have joined Access Adventure at our monthly visits to the Veterans Home of California at Yountville, to provide outdoor recreation for veterans confined to Holderman Hospital and Memory Care. Molly's Angels staff the "hospitality booth", providing cookies, fruit, cold drinks and conversation.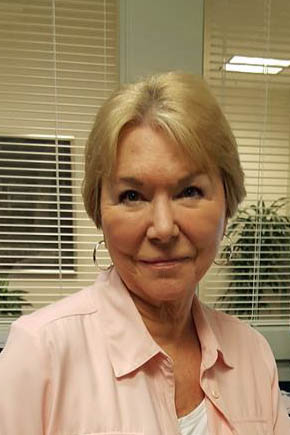 Executive Director, Fran Rosenberg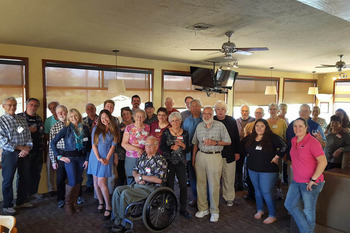 Molly's Angels Volunteers
The mission of Molly's Angels is to provide transportation and support services for seniors to ensure independent living with confidence, dignity and integrity.

Effective January 1, 2019, our fiscal agency agreement with Molly's Angels will cease as Access Adventure begins to operate under our own independent 501(c)3 status awarded by the Internal Revenue Service. We will continue our rewarding partnership with Molly's Angels at the California Veterans Home in Yountville. Our heartfelt thanks to Molly's Angels for their years of alliance with Access Adventure.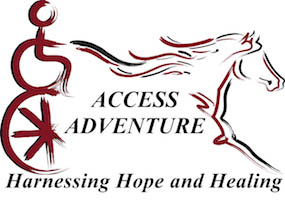 Photo Credits: Mary Aiu, John Fazel, Rebecca King, Molly's Angels (Facebook), Tom Muehleisen

Forward this message to a friend