Recently Published Articles
The Food Science Publisher is happy to provide this journal as an excellent resource for PhD students, professors, food industry professionals, dieticians, and food product developers looking for articles specifically relating to functional foods and bioactive compounds, and chronic diseases. These articles can be valuable aids for food product development and research projects.
VOLUME 3, ISSUE 11
Research Article (Open Access)Antioxidant and anti-inflammatory activities of loquat (Eriobotrya japonica) tea
Phyu Phyu Khine Zar, Kozue Sakao, Fumio Hashimoto, Akiko Morishita, Makoto Fujii, Koji Wada and De-Xing Hou
Research Article (Open Access)
An extract from date seeds stimulates endogenous insulin secretion in streptozotocin-induced type I diabetic rats
Ahmed F. El Fouhil, Aly M. Ahmed, Muhammad Atteya, Raeesa A. Mohamed, Amr S. Moustafa and Hasem H. Darwish
Research Article (Open Access)
Krill protein hydrolysate reduces plasma triacylglycerol level with concurrent increase in plasma bile acid level and hepatic fatty acid catabolism in high-fat fed mice
Marie S. Ramsvik, Bodil Bjørndal, Rita Vik, Inge Bruheim, Jon Skorve, and Rolf K. Berge
[Abstract] [Full Article]
Research Article (Open Access)
Anti-inflammatory, anthropometric and lipomodulatory effects Dyglomera® (aqueous extract of Dichrostachys glomerata) in obese patients with metabolic syndrome
Dieudonne Kuate, Blanche C. Etoundi, Judith L. Ngondi, Wan Abdul Manan Bin Wan Muda, and Julius E. Oben
[Abstract] [Full Article]

Did you know that ...
We are an open-access journal

Average turnaround time is 60 days from submission with immediate publication

We offer free access to our journals

One set price of 495.00 USD for unlimited pages per article

We invite authors and readers to post comments on published articles via our LinkedIn group and newsletters

We are cited by DOAJ (Directory of Open Access Journals) and Chemical Abstract

We cover areas of Functional food, bioactive compounds, and chronic diseases
Special Holiday Rate through January 12th , 2014, full articles submitted to the journal will be published at a discounted rate of 50% OFF for a low price of $248.00 USD with NO additional fees!
Manuscripts must be submitted via Microsoft Word (.doc, .docx) format in an email attachment and sent to editor_ffhd@gmail.com. Please review our submission checklist and sample article for guidelines and tips on how to expedite the publishing process for your article.
---

Mental, Neurological and other Chronic Disorders: Bio-markers, Bioactive Compounds, and Functional Foods
The Journal of Functional Foods in Health and Disease is a proud sponsor of the 15th International Conference in Regensburg University, Germany, scheduled to take place on May 10-11, 2014. This conference will be held jointly with the Regensburg University, (Regensburg, Germany) and Functional Food Center (Dallas, TX, USA).
We are actively looking for abstract submissions by potential oral or poster presenters, with the deadline for submission being January 30, 2014. Please submit all abstracts via email to ffc_usa@sbcglobal.net, as an attached abstract.

Please visit conference website to see Main Conference Topics and Expected Presenters and Attendees.
---
Recommended Publications by Food Science Publisher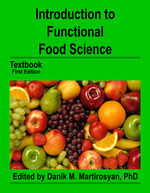 Paperback: 590 pages,Textbook; First Edition (October 16, 2013)

Library of Congress Control Number: 2013951970

ISBN-13: 978-1493509539

Product Dimensions: 1.2 x 8.4 x 10.8 inches

Editor: Danik M. Martirosyan, PhD; Editorial Assistants: Kyle McGannon, Kathryn Martinez, Caitlin Feltch, and Kathryn Beaton

Chapters contributed by 50 scientists
Additional publications from Food Science Publisher can be found here
---
Enjoy Holiday Savings with Food Science Publisher
50% discount on all our books and free shipping for our readers. Please note: discounted rate is effective only within 7 days after you receive this newsletter. For more information about the book, please visit Amazon.com. To order the book at the discounted rate, please send your request directly to ffc_usa@sbcglobal.net .
---