"I am with you always, until the end of the world."

Dear Friend of Montserrat,

Happy Easter!

As we come to the conclusion of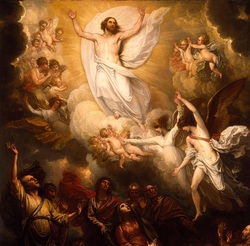 this joyful Easter Season on June 4th with the Celebration of Pentecost, this upcoming Sunday (May 28th) we celebrate the Ascension of Jesus Christ. In the Gospel Acclamation from St. Matthew we hear, "'Go, therefore, and make disciples of all nations, says the Lord; I am with you always, until the end of the world.'" Jesus asks of us to share His love and mercy with others and demands of us to evangelize to become missionary disciples out in the world. Being a missionary disciple is a calling we, as the baptized faithful, must embrace with confidence and courage. Confidence in the love of Christ and with the courage of Christ to share the truth of His love with our neighbors.


Although the June Saturday of Renewal is CANCELLED, we have many other opportunities for prayer at Montserrat: the 5 & 8 Day Directed Retreats (currently with a waiting list), the Young Adult Retreat - "Contemplatives in Action" July 7-9, #28 Women's Retreat July 20-23, #98 Men/Women/Couples Retreat Aug. 11-13, #4 Women's Recovery Retreat Aug. 17-20, and #39 Women's Retreat Sep. 7-10. This is a great time of year to experience the spiritual renewal a retreat has to offer. If you have not had the opportunity to make your annual retreat, you can register today on our website or by contacting the office.
If you have not had the opportunity to check out our newest video "Why Montserrat?", please take a moment to watch our retreatants share their personal experience of what a retreat at Montserrat means to them.

We will continue to pray for you and your family.

God's Blessings,

Joseph Hamaty
Executive Director

---
The June Saturday of Renewal has been CANCELLED.
Fr. Anthony Borrow, S.J. will be leading the July Saturday of Renewal on July 1. Check out our Saturday of Renewal page for further information.

More details coming soon.
---
---
St. Ignatius Chapel
At the end of December 2016, we started the long

-awaited renovation of St. Ignatius Chapel. Now that the internal renovations have been completed, the chapel has returned to full use for all our retreats. Outside renovations are still in progress, we are excited about the progress that has been made. Check out the photo gallery of St. Ignatius Chapel online.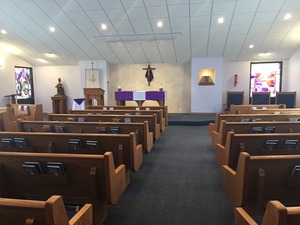 Donations to the St. Ignatius Chapel Fund are welcome and will help us further serve the Mission of Montserrat.
---
---
What Retreatants Say About Montserrat:
"I found God at Montserrat. It is an ideal place to reconnect with God."

"If you need time to think about your relationship with God, try a retreat here."

"I encourage others to come to get back in touch with God and themselves during these busy times."

"It is an amazing way to fall back in love with Jesus."
Montserrat is a spiritual home for many and provides a transformative experience to countless retreatants. Please consider making a tax-deductible donation to Montserrat Jesuit Retreat House. This enables us to continue to offer financial assistance to those who desire a deeper relationship with the Lord but cannot afford a retreat, to support the renovation of St. Ignatius Chapel, and to continue to provide a sanctuary where retreatants can reflect on God's love and mercy. To make a contribution to our Annual Giving Campaign, you may call the office at 940-321-6020 or donate online.
---
Attention All Volunteers
If you are interested in volunteering your time and talent to Montserrat, we are in need of individuals who are willing to offer an hour to help us prepare for retreats, perform office duties, and complete other tasks at the Retreat House. Please contact the office at Volunteer@MontserratRetreat.org.
Connect with Montserrat Jesuit Retreat House on Social Media:

Montserrat Jesuit Retreat House is a 501(C) 3 not for profit organization operated under the guidance of the Society of Jesus USA Central and Southern Province.