---
IN THIS EDITION
Events
Lenten Events
Golf for Good
Women Count!
For Youth
Grace Point Summer Camp
Our Stories
News
Stewardship
Good Friday Offering
Positions Open
Inspiration
EVENTS
---
Celebration of the Life and Work of the Blessed Absalom Jones


Feb 25, 5 pm at Good Samaritan, Knoxville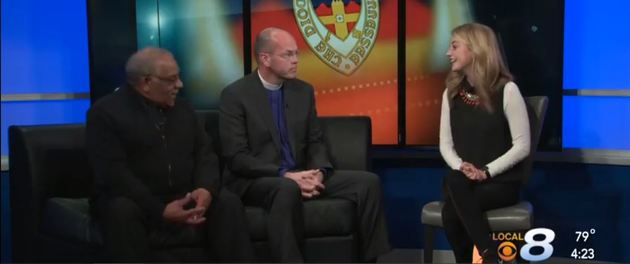 Bishop Brian and the Rev. Jim Anderson talked with WVLT about ourCelebration
of the Life and Work of the Rev. Absalom Jones – click above to watch the video.

The service, which is open to the public, will celebrate the life and work of the Rev. Absalom Jones, an early 19th century pastor who is known as the first ordained African American priest of The Episcopal Church. Jones was born a slave in Delaware and went on to help found St. Thomas African Episcopal Church in Philadelphia, Penn. It was the first black Episcopal parish in the U.S.

Preston Johnson of the Knoxville Opera Gospel Choir will be featured in the service, as will local teens. The preacher at the service will be the Reverend Ronald Byrd, the Episcopal Church Missioner for Black Ministries, a member of Episcopal Church Presiding Bishop Michael Curry's staff.

The event is sponsored by the East Tennessee Union of Black Episcopalians (UBE). More information here.

----


Choral Evensong: A Benefit for Metropolitan Ministries


Feb 25, 4 pm at St. Paul, Chattanooga





This annual Evensong honors the work of Metropolitan Ministries and their many volunteers! Choirs will be featured from St. Paul, St. Timothy, Good Shepherd, Grace and St. Mark, Dalton, led by guest conductor Robert Delcamp. MetMin volunteers and clergy from several churches will participate in the service. Donations benefit Metropolitan Ministries. Childcare available. Reception follows. Join us to celebrate a life-giving ministry!

----
Rethinking Christianity:
Are We Really a Religion of Love or Fear?
With the Rev. Ed Bacon
March 3, 9:45 am – 3:30 pm, lunch included
At
St. Elizabeth, Knoxville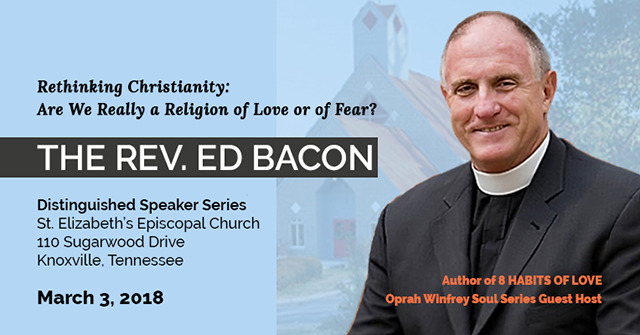 St Elizabeth's Episcopal Church invites you to meet and hear the Rev. Ed Bacon speak at the church's Distinguished Speaker event! Ed is the author of the best-selling book, "8 Habits of Love: Overcome Fear and Transform Your Life," and has been a regular guest host of Oprah's Soul Series. He has been named "Soul Teacher" on her list of "100 awakened leaders who are using their voices to elevate." See the flyer for full details. Register by Feb. 27 here .

----


Women Writers Workshop


March 8 – 11 at Valle Crucis Conference Center, NC

Some people dream and talk of writing, while others just do it. Writing is often a lonely pursuit, but it is the most satisfying expression of our thoughts and feelings. You may find that it's much easier to write in the company of like-minded people and with the guidance of a professional who loves to encourage others in the craft of writing. Join this group of women writers to capture memories, define thoughts, express emotions, bring order out of chaos. New writers are most welcome. More information and link to registration here.

----


Courage to Lead: Living and Leading from Within


April 4-6 at St. Mary's Sewanee

Based on the work of Parker J. Palmer, "Courage to Lead" is a new model of leadership development known as leader formation. It is based on the belief that effective leadership is rooted in the identity and integrity of the person. This program of five seasonal retreats has been carefully designed to create open and disciplined spaces – circles of trust – where you can move from the "what" and "how" questions of leadership to the "who" question and can discover again the deep connection between who you are and what you do.

----


Spiritual Growth and Healing with the Enneagram


April 6-8 at St. Mary's Sewanee

Dr. Joseph Howell, author of Becoming Conscious: The Enneagram's Forgotten Passageway, and the faculty of the Institute for Conscious Being present an in-depth exploration into the Spirituality of the Enneagram. Throughout this extended weekend, ICB presents innovative ways to apply the Enneagram's wisdom to every aspect of life. More here.

----


Volunteer Ministry Center Celebrates 10th Anniversar

y
Of Carry the Torch Knoxville
April 11, 2018, 10 am – 2 pm

Featuring the author or "The Hundred Story Home," Kathy Izard. Find out how your church can sponsor a table here.

----


Cursillo


April 19-22 at Grace Point

There are many ways in which a person's spirituality may be developed and enriched. We engage in study and reflection, service to others, worship and prayer, all within the context of the community of the Body of Christ. Occasionally, one needs to take a step away from day to day life in order to re-member who we are, who Christ is and what our apostolic calling really means. We step away to re-orient ourselves, to remember, to re-energize and re-commit ourselves to Our Lord. More information and application forms here.

----


Missional Voices


April 19-21, Christ Church Cathedral, Indianapolis





Missional Voices will be a weekend of thinking, planning, and dreaming about the future of missional communities and innovative ministries in The Episcopal Church and Anglican Communion. This will be a place where dynamic incubation of new ideas is the norm – not the exception – and where people doing uncommon ministry find support and encouragement. Details and registration here.
If you are interested in hosting a livestream gathering at your own location, email
contact@missionalvoices.com
to discuss.

----
Save the Date!
Episcopal Churchmen of Tennessee
August 17-19 at DuBose Conference Center, Monteagle

We invite you to join in this wonderful tradition of worship and fellowship. Join us for good food, fellowship, extracurricular activities, and inspirational speakers! This year's speakers include Inky Johnson, the Rev. Brian McVey, and Nathan Lee. Visit www.tnchurchmen.org for details and to register!


LENTEN EVENTS
---
Thorne Sparkman School of Religion
Five Wednesday Nights in Lent
St. Paul, Chattanooga





Thorne Sparkman offers an opportunity to join Christians across time and space in renewing our commitment to growing in knowledge and love of God through learning, study, self-examination, and meditation on the Scriptures in a community devoted to excellence in scholarship and a lively faith for the good of all creation. The school kicked off with Winnie Vargese as keynote speaker on February 21; Check out all the excellent featured speakers, facilitators, and class listings and plan on spending the next few Wednesday nights in Lent at St. Paul: February 28; March 7, 14, and 21.

The school is sponsored by the Episcopal churches of Chattanooga, in Conjunction with Ecumenical Partners, and hosted by St. Paul's Episcopal Church.

----


Downtown Knoxville Lenten Worship & Lunch series


Prelude: 12 pm | Service: 12:05 | Lunch 12:30

Join Downtown congregations every Wednesday during Lent for worship and lunch at local churches. This series is hosted by the Downtown Cooperative Ministry. Here is the schedule:


2/28 Immaculate Conception
3/7 First Presbyterian
3/14 First Baptist
3/21 St. John's Cathedral
3/30 5:30 pm Good Friday Service: Stations of the Cross, Market Square


---


Compline


Feb 25 – Lent | April 8 – Easter | June 3 – Pentecost
7: 30 pm at Christ Church, Chattanooga

The entire service is sung in plainsong with scripture and anthem. This is a community-wide effort and all are welcome.

----


Labyrinth Walk – Refreshment & Renewal


Feb 27, 6 pm, St. John's Cathedral, Knoxville

Join us for an evening meditation and labyrinth walk. Meet in St. John's courtyard.

----


Solemn Choral Evensong


March 4, 5 pm at St. Paul, Athens

This Lenten Season come worship in the candlelit beauty of Solemn Choral Evensong. St. Paul's Angel Choir and Jr. Choristers will lead us in sung prayers, psalms, responses, and the two canticles based on the words of Mary and the prophet Simeon. Following in this long Anglican Church tradition, all who attend join in the hymns and prayers, and especially in heart and spirit as our choirs raise their song to the heavens. Flyer here.


GOLF FOR GOOD
---
MetMin King Oehmig Memorial Classic Golf Tournament


May 18 at Lookout Mountain Golf Club

Since 2007, the annual MetMin You Matter™ Golf Tournament has raised over $200,000 for our neighbors in need. The MetMin King Oehmig Memorial Classic reflects the legacy of long-time MetMin supporter and friend, King Oehmig. Details and brochure here.


WOMEN COUNT!
---
ECW Bra Drive

Bras are the most needed yet least donated piece of clothing for homeless or underprivileged women.

Ladies, scour your drawers and closets for new and gently used bras and donate them to the ECW. Our ECW is collecting them to donate to local women's shelters and to Free the Girls, a nonprofit that empowers survivors of sex trafficking to begin new lives by providing them bras to sell in secondhand clothing markets in their countries. ECW will gratefully accept your donations. Cash donations are also welcome to offset the cost of shipping. For donation information, contact Martha Lionberger, ECW Christian Missions Chair, lionberger7@hotmailcom.
FOR YOUTH
---
New Beginnings


April 13-15 at Grace Point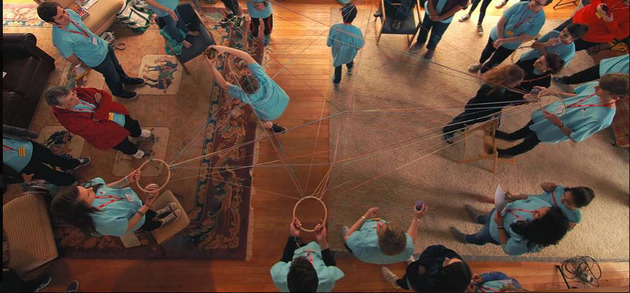 Open to ALL 6-8th graders in the diocese – open to parish youth groups – and youth who have been through New Beginnings are welcome to attend again. This is a great place to explore faith and make new friends, in a comfortable, fun environment! Visit ETNyouth.org/registration for details and registration.

----
SUMMA Student Theological Debate Society
A program of the University of the South
Application deadline is June 1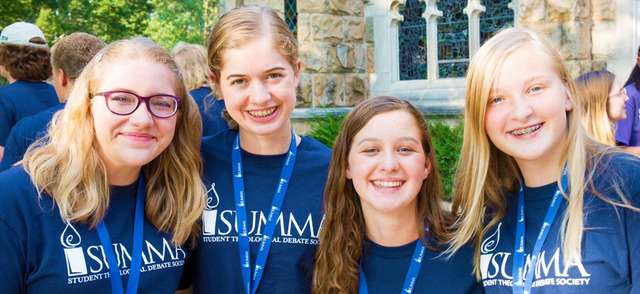 Anna Ervin (at right), from St. Raphael, Crossville, attended SUMMA's 2017 session

At its core, SUMMA Student Theological Debate Society is a debate camp for high school students, but it is so much more than that. It is a camp of study, of laughter, of faith, and of fun! SUMMA was founded on two premises. The first is that debating leads to clearer thinking. The second is that clearer thinking can open pathways deeper into Christian faith, and hope, and love. In SUMMA, we strive toward deeper understanding of the Christian faith by probing and debating questions with skill and intellectual distinction: In SUMMA, that's the prize. Details, camp schedule and application here.


SUMMER CAMP AT GRACE POINT
---
Register for camp now!


Counselor applications accepted through March 30

Camp sessions are now open for registration. Head over to the Grace Point website for all the details and camp dates!

Want to help make camp even better? Donate to Grace Point today. You can purchase items from our Amazon Wish List, or make a monetary donation by contacting our Executive Director Brad Jones at bjones@gracepointcamp.org. Thank you for supporting us in our ministry!


OUR STORIES

Bishop Brian shares his thoughts about our early days as diocese and bishop in his first convention address to the Episcopal Church in East Tennessee.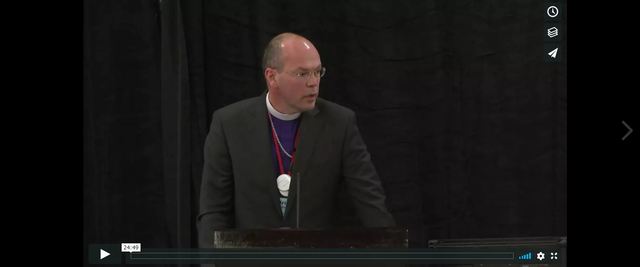 See the convention website for leaders elected, resolutions passed, approved budget and winner of our 2018 Photo Exhibit People's Choice Award.

Watch the video by Michael Patrick and read the article by Amy McCrary in the Knoxville News Sentinel.

----


Remembering Mike Keene



Mike Keene died Friday, February 3, after a long illness. Mike touched many lives in this diocese and many remember and celebrate his love and support for Grace Point and Grace Point campers, and his work with EfM. An educator – a teacher, he taught at the University of Tennessee, Knoxville, retiring in 2014 after 33 years. He received six university awards for outstanding teaching and a three-year departmental chair for distinguished teaching. He volunteered his teaching and writing skills to the larger community too, especially through the Society for Technical Communication and the Episcopal Church. Read Bishop Brian's Funeral Homily here. Mike's obituary is published in the Knoxville News Sentinel.

----


Southside Abbey will worship in new location



Well over five years ago, a new idea about worship and community was taking form in the mind of Bob Leopold and others, Southside Abbey was formed, and it found a home at the Hart Gallery. Over the years many people have passed through our community - we have laughed, prayed, wept, argued together, we have shared meals, and supported one another - and we will continue to do so! However, the time has come to move to a new location. Starting next Friday, March 2, Southside Abbey will meet at St. Paul's in the Yo Room on the second floor of the King building. Beginning next Friday, March 2, Southside Abbey will meet at St. Paul's in the Yo Room on the second floor of the King building.

----


The Rev. Timothy Holder Particpates on DACA Event Panel



The Rev. Timothy Holder joined three other panelists on Saturday, Feb 24, for an event at the Johnson City Public Library geared to help the public learn more about the Deferred Action for Child Arrivals program, dreams, and what immigration means to the community. Check our Facebook page later for the story about the event.

----


Stories of Encounter and Call



Our 2018 Convention featured Stories of Encounter and Call – watch our website in the coming weeks for these deeply felt and inspiring stories from lay and clergy across our diocese.


NEWS
---
STEWARDSHIP
---
Pathways to Generosity: Signs of Hope


TENS Conference
April 3-8 – Dallas, Texas

Attend onsite or attend via live streaming. Conference attendees will:
Explore their paths to faithful generosity with insights from experts in keynote sessions and workshops.
Hear signs of hope through inspiring worship and stories in Bright Spot presentations.
Leave ready and able to create new paths of generosity in your church or organization.
More here.


GOOD FRIDAY OFFERING
---
"The Good Friday Offering is one way we in the Episcopal Church help to support the ongoing ministry of love and compassion carried out by our Anglican sisters and brothers throughout the Province of Jerusalem and Middle East," Presiding Bishop and Primate Michael Curry wrote to the bishops and clergy of the Episcopal Church. "Whether funding an eye clinic in Aden or women's programs, schools and medical services in the West Bank, the Good Friday Offering is making a difference in the lives of so many." Click here if you would like to contribute to the offering or if your church would like to participate in the Good Friday Offering.


POSITIONS OPEN
---
INSPIRATION
---
Good reads – sermons shared by Bishop Brian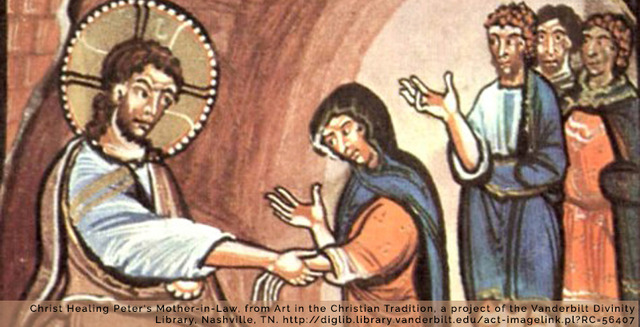 "Don't you remember?" Feb 4, St. Martin of Tours, Chattanooga
"We want to see Jesus," Jan 28, St. Timothy, Signal Mountain
"Now is the Time," Jan 21, St. Paul, Athens