Steelhead
Here we go, early season summer steel is winding down and fall is knocking on the door. Fall in the canyon means one thing: steelhead. Fish are scattered throughout the whole watershed, and fish are being picked up on the lower river , the Warm Springs area and everywhere in between. Maupin and above should start to steal the show as fish push up the system.
Steelheading has been fair. Steelheading is steelheading; it is easy to dwell if you have to work for them, but every day and any day could be THE day. Step in to the right run and it can cough up a pile of fish and play like Christmas morning. That is the nature of the beat. To those afflicted by this disease called steelheading, you will go regardless of reports. Fish are in the ditch, so go for it. It has been more work than the recent memories still lingering of 2009, but that was a special year. Steelheading is big game hunting. A couple shots a day average with some extraordinary days thrown in the mix. Swing loud, swing proud and swing confidently. Your not racing if your not bumping, go rub paint and get bent.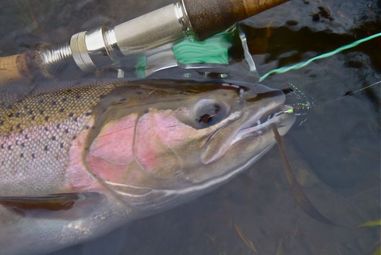 Trout
Trout season on the upper section (Pelton Dam to the Northern Reservation Boundary) will close at the end of the month. If steelhead don''t turn your crank, get your trout fix now before it shuts down as troutin' has been pretty good. A big stone flyish pattern with a little nymph ( pheasant tail, serendipity, sparkle pupa) has been consistently keeping us in the meat.
There has been some good mayfly hatches on the cloudy days. The eddies have fished from time to time and are worth checking out.
Bottom line, fall in the canyon is awesome. Trout and or steelhead the perfect time to double down on all the best that the Northwest has to offer. Wild Redsides and Steelhead, decisions decisions.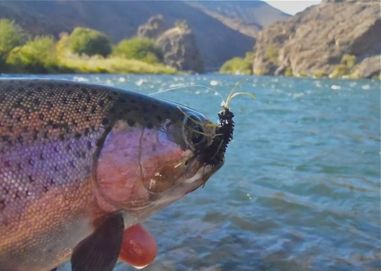 Hope to share the river with you this fall. Still a few open dates and steelhead should do nothing but improve. November multi-day trips can see little crowds and good numbers of willing steelhead. It is not too late to get a fall trip on the Deschutes. Have a great fall and get some steel in before the snow flies.
Tight lines,
Mike Boyd
Deschutes River Outfitters