What's Inside:
* Why Do You Love the Libraries?
* New Library Services
* Featured Resource: Dance in Video
* Nilsson Lecture in Contemporary Music Drama and Literature
* Zines in the Scholarly World
---
Upcoming Library Classes

Getting Ready to Graduate
Conducting a Literature Review in the Sciences
Feb 26, 11-12:30 pm
ENS 126
Exploring and Research Careers (new!)
Feb 12, 1-2pm,
PCL 1.124
Public Speaking
March 3, 5-6pm
PCL 1.124
Become an Advanced Google Searcher
March 5, 3-4pm

What Do You Love About the UT Libraries?
Tell us
for a chance to win a $

10 gift certificate to Amazon.com
to keep or share with your Valentine. Enter by the end of the day

Friday, February 14.
---
Three New(ish) Library Services We Hope You'll Love
You may know that the Fine Arts Library is the place to go to get all of your audio and visual needs met, but did you also know that large number of our video and DVD collection is also available streaming online.
It's true! We've digitized a large number of our collection in accordance with copyright so that you can have access to many of the libraries resources around the clock. Browse through the Streaming Video collection and enter your EID and password in order to watch the video.
Need a chapter or an article from one of ou
r print books or journals? We will scan it for you so you can

access the
digital file on online! Just click the green
Get a Scan
button in the library catalog on the page of the item you need and submit a request. Depending on the availability of item you've requested, this service will take about 3 business days.
3. Pick it Up (formerly Materials Retrieval)
This service allows users to request available materials to

be retrieved from their regular location and delivered to
the Libraries branch checkout desk of their choice for pickup.
The free service is available to all users with current checkout privileges — including courtesy borrowers
— and there is no limit to the number of items you can request!
Most items will be available for pickup within three to five business days.
Retrieval requests are made from through the Library Catalog record of the resources, with eligible items displaying a "Pick It Up" button. So, if you're been meaning to walk over the Fine Arts Library to pick up that DVD, cross it off your to-do list and request it instead!
---
Featured Resource: Dance in Video
Trying to figure how celebrate this Valentines Day whether your single or partnered up? Why not try some fancy footwork to get into the mood?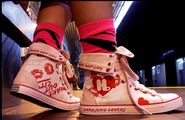 The
Dance in Video
collection contains over five hundred hours of video footage dedicate to the brightest performers and choreographers of our age. These videos include productions from film companies around the world as well as documentaries and interviews of famous choreographers and dancers. Ballet, jazz, contemporary, experimental, improvisation and several other styles are featured in the collection. Browse by title, genre, performers or choreographers and set up a free account to save your favorite videos to watch again later. So take a study break, and learn some new moves!
---
9th Annual Nilsson Lecture in Contemporary Drama and Literature
When: February 28, 2014 5:30-6:30pm
The 9th Annual Nilsson Lecture in Contemporary Drama and Literature will be held in conjunction with the international Menuhin Competition taking place at UT from February 21-March 2, 2014.
Founded in 1983, the Yehudi Menuhin International Competition for Young Violinists — hosted this year by the Butler School of Music — attracts some of the world's best violinists under the age of 22. The competition helps exceptionally talented young musicians from around the world to develop into artists of the highest caliber.
Learn about the competition's founder from Jonathan Benthall, Yehudi Menuhin's son-in-law, as he talks about the violin legend's collaborations with talents such as Ravi Shankar as well as his unique approaches to music education.
Benthall, who is also an author and former head of the Royal Anthropological Institute in Great Britain, will provide the talk "Yehudi Menuhin: Violinist and Visionary," in the Fine Arts Library at 5:30 p.m. on Friday, February 28, during the dinner break of the Junior Finals competition. The event is free and open to the public.
---
Zines in the Scholarly World featuring Michael Sieben
The Fine Arts Library will host a panel presentation of four esteemed experts who have an interest and passion for zines and limited editions.
This panel will address questions such as:
Panelists will include:
Michael Sieben, artist. Sieben is the artist-in-residence at the Visual Arts Center for Spring 2014. His work will be featured in the Vaulted Gallery. Austin-based artist, Michael received his BFA in Studio Art from The University of Texas at Austin. Co-founder of the artist collective Okay Mountain and commercial illustrator and designer for clients such as MTV, Vans, and Volcom Clothing. Sieben recently became the Managing Editor of Thrasher magazine and illustrated the newest edition of The Wizard of Oz published by Harper Design.
Laura Schwartz, librarian, Fine Arts Library UT Austin. Schwartz has been collecting zines and limited editions for the Fine Arts Library for approximately 4 years. In 2011 she gave a presentation on collecting zines in Helsinki, Finland as part of the IFLA Arts Section. Interest in the zine collection has been burgeoning. She has developed a web presence for the collection, worked with faculty on continuing to develop the collection, and has developed outreach activities such as this to promote the collection.
Susan Thomas, Coordinator of Reference Services, Assistant Professor, Long Island University Brooklyn. Thomas established and taught with a zine collection at Pratt Institute (2003-2006), taught with zines at Borough of Manhattan Community College/CUNY (2008-2011), and teaches with zines at LIU Brooklyn. Thomas published an article in Art Documentation about art zines: "Value and Validity of Art Zines as an Art Form"and spoke at the Art Libraries Society of North America (ARLIS/NA) in 2012: "Too Cool for School: Art Zines in Academic Libraries."
Jason Urban, lecturer, Studio Art at the University of Texas at Austin. Urban teaches printmaking and various foundations that sometimes integrate zine-making. He has also recently co-developed a Freshman UGS Seminar called Print in the Digital Age that examines the relationship of analogue and digital print. He is also co-founder of website, Printeresting, the thinking person's favorite resource for interesting print miscellany.
Connect with Us!