Celebrate Research Week with the Libraries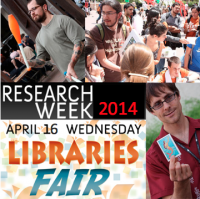 In celebration of Research Week, join the University of Texas Libraries, the Dolph Briscoe Center for American History, and H.J. Lutcher Stark Center for Physical Culture and Sports for the annual Libraries Fair! Join us on Wednesday, April 16th from 11:30am - 1:30pm on the PCL Plaza.
Popcorn from Cornucopia, water ice from Jim Jim's, games, activities -- all free!
Learn about the resources and services available at the libraries and centers on campus to support your research.
---
Thinking about Studying Abroad?
Trying to find a program? Wondering how to fund it? Nervous about living abroad?
Ask a peer advisor next time you see them in PCL.
Peer advisors are UT students who have experienced studying abroad and loved it so much that they want to you to try it out!
The Libraries are excited to be teaming up with Study Abroad to highlight all the amazing opportunities you have to study in other countries.
Once a month, you may notice peer advisors from Study Abroad at a table in the PCL Lobby - stop by! Can't wait? Head to
peer advisor walk in hours
at the Study Abroad Office. Or swing by the PCL lobby
during the Libraries Fair, where they'll be tabling from
10am-2pm on April 16th.
Need resources right now? Check out this
guide
that can help you explore and research these once in a lifetime adventures.
---
Featured Resource: University of Texas Digital Repository
The University of Texas Digital Repository (UTDR) is an online archive dedicated to promoting and preserving the scholarly works being created at UT Austin. The UTDR contains graduate theses and dissertations, faculty publications, department newsletters, technical reports, images, conference proceedings, undergraduate student work, and much more. Everything submitted to UTDR is searchable through Google/Bing/Yahoo and each item gets a permanent URL that makes citing work easy. Plus, you can see download statistics that include location information - our
undergraduate honors theses
have been downloaded 46,231 times!
---
New UT Libraries Poetry Center
"Poetry is not only dream and vision; it is the skeleton and architecture of our lives," Audre Lorde reminds us. The new UT Libraries Poetry Center opens May 1, 2014 in the UFCU Student Learning Commons on the ground floor of the Perry-Castañeda Library. We invite you to take a study break with poetry, write with poetry, and be transformed by poetry.
Surrounded by wooden shelves lined with diverse collections of contemporary poetry, visitors will find a comfortable space in which to read, write, research, and enjoy live readings. The collection focuses on contemporary U.S. poets and the thriving literary life sustained by small presses, with special focus on including works by UT community members. The collection includes writings by faculty, Michener Center Fellows, and New Writers Project graduates, with special attention to poetry by writers who share historically marginalized identities of our local communities: African American poets, Asian American poets, Chicana/o and Latina/o poets, Indigenous poets, and LGBTQ poets.
The Poetry Center builds on growing poetic energies on campus and in the city including our nationally-renowned creative writing MFA programs the Michener Center for Writers and the New Writers Project; our outstanding faculty poets and poetics scholars; local and campus presses and journals including the Bat City Review; and the annual workshops of CantoMundo, the national organization supporting the flourishing of Latina/o poetry.
This dynamic space devoted to the powers and possibilities of poetry is made possible by the generous support of the English Department, the New Writers Project, the Michener Center for Writers, and the UT Libraries, as well as by faculty, staff, student, alumni, and community donors. The Ruth Stephan Poetry Collection Working Group is poets and faculty Dean Young, Deborah Paredez, and Lisa Olstein with librarian Kristen Hogan.
---
Need Some Career Advice?
Jobs! Careers! *gulp* Let's change the subject (puppies and rainbows, puppies and rainbows). Ok, now that you've had a chance to calm down, let's talk about all the great resources out there for you as you start to think about what you wanna be when you grow up!
The Libraries and the Vick Center for Strategic Advising & Career Counseling created
a guide that highlights lots of great resources
that will help you explore and research your future, including career assessment tools, resume and interview advice, tools to research careers and companies, and volunteer, research and internship opportunities available to you while you're a student. Stop by the
Vick Center
for career counseling.
---
Need help? Just Ask!
Yes, we're here to support your research needs and ready for your questions.
Ask a Librarian
to get help now and pick up tips for later!
Our
Ask a Librarian chat service
is staffed until
midnight
, Sunday through Thursday. Our Research Help & Check Out desk is the place to go in PCL for in-person help with research questions and library materials.
Stymied by where to find relevant information in the middle of the night? Consult our
Research by Subject
listing for pointers from experts on recommended resources. Like what? How about databases filled with peer-reviewed journal articles in full-text, images, authoritative background information, opinion and viewpoint overviews, videos and more.
Best wishes for success as you finish up your spring semester coursework, from the Ask a Librarian staff and friendly faces at the Research Help & Check Out desk.
---
Celebrate National Poetry Month!
Celebrate National Poetry Month with Texas Poets Laureate Dean Young and Rosemary Catacalos
Thursday, April 10, 6-8pm, UFCU Room at the Perry-Castañeda Library.


:Poetry: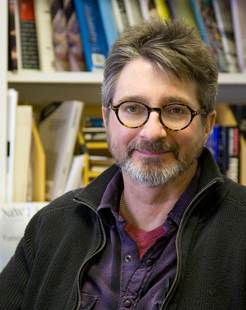 Dean Young, 2014-15 Texas Poet Laureate, and Rosemary Catacalos, 2013-14 Texas Poet Laureate, will read from their work and discuss the role of poetry in our daily lives.
:Conversation:
Dr. Lisa L. Moore, poet and poetics scholar, will introduce the poets and facilitate the discussion as well as a brief Q&A.

:Broadsides:
UT Design students are creating poetry broadsides (graphic-designed posters of a poem and representative artwork) for poems donated by Young and Catacalos. We will distribute free copies of the broadsides to the first 75 people at the event. Catacalos' and Young's recent books will be available for purchase.
Sponsored by UT English Department, New Writers Project, and the UT Libraries. Co-sponsored Co-sponsored by Michener Center for Writers, Humanities Texas, Texas Commission on the Arts, UT Center for Women's and Gender Studies, UT Design Program, and Red Salmon Arts/Resistencia Books.
Exhibits at the Fine Arts Library
Through April 14
Zines in the Scholarly World.
This exhibit accompanies the panel presentation Zines in the Scholarly World. Here is a sampling of the zine and limited edition collection housed at the Fine Arts Library. The focus of the collection is local artists, artists with ties to Austin or the University of Texas.
Most of the zines are of the art and photography genre but you will find a recipe zine or gender studies zine or personal zine (per-zine) in the collection as well. Almost all of the collection is housed in the open stacks. Most of the publications are from the last 10 years but you will find a few historical items in the mix such as Contempo culture. For more information about the collection please see:
http://www.lib.utexas.edu/subject/zines
. And on April 30, a new round of zines from the Two-Dimensional foundations will be installed and up into the summer.
From April 16-April 30
Kaila Schedeen
Art History undergraduate student is curating a small exhibition of works related to her presentation on the Schild Ledger. The Schild Ledger is collection of drawings attributed to Native Americans, produced in the late 19th century, which is currently housed in the archival collections of the University of Texas at Austin. Two display cases in the Fine Arts Library will feature drawings from the Schild Ledger, chosen by Schedeen.
April 1-May 15:
Oscar G. Brockett archive
In conjunction with the
Oscar G. Brockett Center for Theatre History and Criticism
in the Department of Theatre and Dance, The Fine Arts Library announces the opening of the Oscar G. Brockett archive. The archive includes roughly thirty boxes of personal papers and documentation, teaching notes, book notes, research, photographs, negatives, slides, prints, and scrapbooks related mostly to Brockett's family life and his worldwide travels, along with a selection of volumes from Brockett's personal library.
Also included among the materials are drafts, manuscripts, records and correspondence that belonged to Oscar Brockett's wife and collaborator, writer and scholar, Lenyth Brockett, as well as financial records, personal papers, and correspondence that belonged to Mark Pape, a friend, professional colleague and co-writer of the book "
World Drama
."
Connect with Us!