My Quail Quest

Recently I challenged all seasoned quail hunters to beat me in introducing some "historically underutilized groups" (HUGs) to the thrill of quail hunting. That group included:
a youth,
a lady,
someone over 80 years old,
a graduate student working on quail, and
your local TPWD biologist(s).
So how are you progressing? I'm 3/5 of the way to my goal—only two HUGs I lack is the elderly hunter and the youth. And I'm set to take 8 youths (Bobwhite Brigaders) on their first quail hunt in mid-January.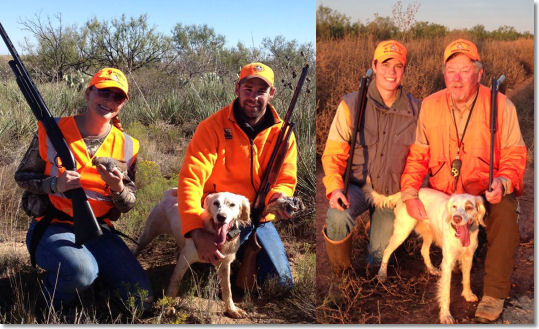 Several of my HUGs shot their first blue quail, and for at least two it was their first quail of any kind! Our game bags never became too heavy (I think one day we picked up 13 quail) but a HUG does not require a limit of birds, just a day of firsts. And don't expect to hear banter about Boone & Crockett scores, ground shrink, or other deer-speak . . . . indeed, every quail is a trophy!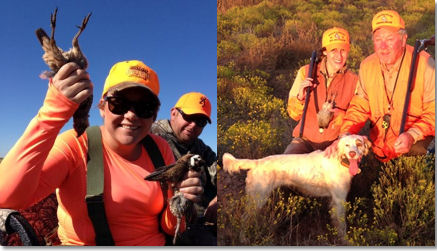 Can you decipher why I named those specific five groups to be an invitee to the "grand opera" we call quail hunting? There is method to my madness; form does indeed ever follow function. Ruminate on it while you're hunting with your same old regular hunting buddy.

---
Advantage: Quail

I have good news and bad news . . . the good news first: there are indeed lots of quail. I logged a total of nine hunts during the first 20 days of November, and three of those saw 30 or more coveys take wing. The bad news? Perhaps only a third of those offered a "walk-in" covey rise.

When I say we "saw" I count every covey seen, whether pointed, busted or just flushed from the road (which some coveys of blues were doing at distances of a hundred yards or more). The birds are in late-season form when it comes to flushing wild. This is in eastern Howard Co; about 60% bobs and 40% blues.

Below are some observations from these early season hunts; several may be pertinent to your outings.
it's THICK with cover; last year you could see your trip hazards, this year you mostly cannot . . . be careful! If you have a stair-stepper you might want to spend some time on it to get in shape!
when you shoot a bird, mark it down and get right to it; a second bird on the covey rise will likely be lost . . . trust me! Yea, I know, I thought I had good "dead-bird dogs" too.
don't get caught at dark on a rarely used 2-track road . . . your headlights will have a hard time illuminating the faint trails across the broomweed.
The recent spate of cold, icy weather across much of west Texas should help a bit with the heavy cover and warm temperatures.Please continue to send your hunting reports to me.

---
Fall helicopter counts at RPQRR break the "sound barrier"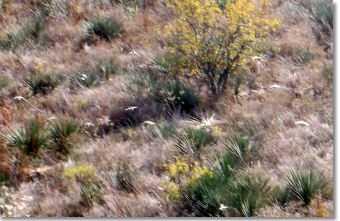 Let me explain. I consider a quail density of 1 bird/acre a bit like the sound barrier. Occasionally we can achieve a "sonic boom" but not often. We conducted our Fall helicopter counts (note: quail counts not "deer counts", i.e., slower and lower) on 11 Nov at RPQRR -- we counted 115 coveys in 52 miles worth of transect . . . our previous best (since we acquired the property in 2007) was 54 coveys in Fall '08. Those numbers suggest our quail (includes bobwhites and blues) density at just over 1.0 bird/ac. We counted a total of 1,624 birds. We started our Fall trapping/banding effort on November 12— we're poised to catch over 2,500 birds over the 4-week long trapping session.

---
Song of the month

Shotgun boogie by Tennessee Ernie Ford.

---
Camera-trapping

How many bobwhites do you count in this picture? I count 37. Picture courtesy BN in Stonewall County. Got a good game-camera photograph? If so, please send it to drollins@quailresearch.org.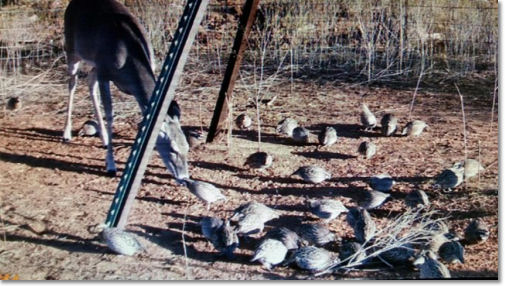 ---
Intern diaries

Our internships give budding professionals a chance to get some OJT and a taste of quail research. I require each technician to leave me with an essay describing their experience at RPQRR. This month's installment comes from Olivia Maxwell, a senior at Tarleton State University.

Masked in sunflowers, locked and loaded; I shot my limit almost every day of dove season this past fall in Cottle County. Mourning dove after mourning dove fell victim to my decoys and lead. On my last hunt of the year when dove lit elsewhere and shots became occasional, a quail surprised me from my right side nearly flying into me. Sunflowers engulfed me and I shot without much aim—my lead penetrated only air. The 20-gauge shell sat empty at my feet with its unfulfilled task weighing heavy. (Maybe my miss was prophetic as it wasn't quail season yet!). Missing this particular target created a bitter feeling I was unable to fathom. I wanted to pick up the bird I held much admiration but little knowledge for. It took one missed shot to spark an unsatisfied desire.

The following seven months were full of stress and insecurity with the realization that my education needed to meet experience. I continued to strengthen my relationship with Jesus, but every declined intern position added voids in my trust. My quail desire was set aside as I dwelled on everything I lacked. Trusting in my own abilities while believing I possessed very few led to defeat. Even in the midst of doubt, The Lord showed me He wanted my eyes to be like the eyes of a dove. He revealed that dove symbolize the Holy Spirit. To be as innocent as a dove means to walk in the spirit of purity and holiness. This new insight was uplifting, but I continued to lack confidence that I would be provided an internship to gain experience. I could not empty me of myself, which hindered the Holy Spirit's ability to fill me. Jesus saw me as a dove but no one especially myself did. Lacking proper requirements for the dove technician position meant another decline. I had to look past myself and gaze at my savior. With a trusting prayer brimming of confidence in God's abilities, I was led to the Rolling Plains Quail Research Ranch.

I have experienced a multitude during these four months invested as an RPQRR intern. Though blessed to begin my summer in Palo Pinto, I had a boss-like responsibility passed down to me I was not expecting as a rookie. I agreed to the tasks required of me such as telemetry, raptor surveys, call counts, and camera trapping, but being without a supervisor meant I needed to step up in scheduling, data recording, and nesting protocol. Given nearly complete control, I learned freedom can be misused without motivation in quality control and a desire for quail. Imposed to learn most on my own, I am convinced I adapted uniquely. I knew my yogi like my own arm, my receiver like my own ear, and the TQI like my own palm. My equipment and I on those 1,500 acres became unitary. I became intimate with my inherited hens and read many articles in hopes of figuring out the cause behind their departure and demise. Each day I feared mortality signals yet simultaneously wanted to CSI the evidence. Unfortunately and fortunately, "Operation Transfusion" was unsuccessful. With one out of the forty birds released alive and nesting on property, I was uprooted and planted with the other interns at the research ranch.

Upon the tasks required in Palo Pinto, added tasks such as prickly pear pad counting, arthropod sampling, small mammal trapping, dissecting for eye worms, aerial telemetry, mesquite cutting and spraying, and anything else asked to complete at the ranch like ripping up carpet to install new floors. It was a tough transition to give up a bit of control, but moving three and a half hours west presented opportunities to weld, perform necropsies, and actually see broods which are luxuries I am thankful I didn't miss out on. Quail were not regular sightings in Palo Pinto as they are at RPQRR. Comparing the two ranches, the vegetation in Palo Pinto lacks quality nest substrate that is abundant at the research ranch. Quail exemplify trust. Whether traveling, resting or nesting, a quail must be confident in its substrate, which is defined as the surface or material on or from which an organism lives, grows, or obtains its nourishment. A quail selects substrate based on its ability to supply its needs of food and cover. A bobwhite choosing loafing cover in the Rolling Plains might rely on the spines of lotebush to protect it from predators. When choosing roosting cover, a bobwhite might rely on open patches of broomweed to conceal as well as allow for easy escape. Camouflage is detrimental when choosing nesting cover where a bobwhite might rely on a bunchgrass like silver bluestem to shelter eggs to be unnoticed by kidnappers. In a similar manner, I must trust in Jesus to protect me.

As written in the book of Exodus, The Lord brought the Israelites out of Egypt. The Israelites trusted in Him to provide for them and in that trust, God sent quail to their camp. God revealed to me that giving up control and trusting in the one my hope is found in supplies protection, nourishment, and a fullness of life. Jesus is my substrate. In trust, the Holy Spirit is found. May quail forever be plentiful and dove abound. That empty 20-gauge shell fulfilled its task after all.

---
32 - that's our record number of quail trapped in one trap. It's happened three times thus far during our Fall trapping season.
8 Jan 2016 - 9th Distinguished Lectureship in Quail Management, Dallas; featuring Dr. Bill Palmer, Tall Timbers Research Station.
We need bigger quail traps this year! Three times this year staff have captured 32 quail in one trap. Our previous record was 23. See Adrian Cain's post of Nov 15 for the first such outing; a total of 23 bobs and 9 blue quail—they were stacked in there like cordwood! See Nov 15 post.
Xanadu; noun; "an idyllic, exotic, or luxurious place." Example: West Texas in an El Nino year.
Got a new e-mail address? Please [Click Here] to update your information if you wish to continue receiving e-Quail.
Forwarded from a friend? Please [Click Here] to sign up for the RPQRR e-Quail Newsletters!