Addressing the Issue of Eyeworms in Quail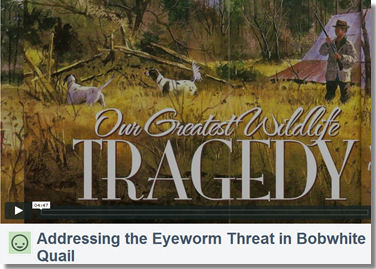 Pardon the pun, but infections by eyeworms (and cecal worms) have been the focus of much of the Rolling Plains Quail Research Foundation's funding efforts since 2011. After examining over 2,000 quail (sampled across 35 counties in the Rolling Plains of west Texas and western Oklahoma) for various diseases and parasites, these two nematode ("roundworm") parasites continue to garner our attention and efforts. Do these parasites represent an "X-factor" in quail management? We don't know at this point—but we contend they are intriguing suspects for several reasons, including:
declines in quail abundance were noted even though habitat was not lacking and in some years of "good" precipitation (e.g., summer 2010).
prevalence of infection in bobwhites across Rolling Plains (40 to 66% of birds were infected depending on season) compared to fewer than 10% in south Texas;
eyeworm abundance was almost 50X greater in Rolling Plains than South Texas;
eyeworm infections caused cellular damage to eye tissues and scarring of the cornea.
For the latest developments on our eyeworm research see our website for a new video (http://www.quailresearch.org/) and several publications (both peer-reviewed and popular). Exciting field research is currently underway—stay tuned!

---
Song of the month

"These eyes" by The Guess Who

---
Earth Day—Quail Style

Earth Day 2015 was Wednesday, April 22nd. How did you commemorate it? Recycling your newspapers? Picking up litter from the roadside? Worthy causes for sure.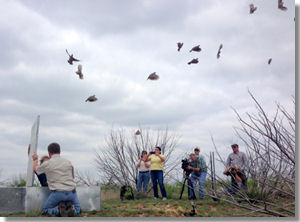 RPQRR celebrated it at three different sites to announce ongoing research for for quail restoration in Texas? The demise of the bobwhite across its range has been called "America's Greatest Wildlife Tragedy" and those of us from blue quail country would toast the same lament for our blues. Abundance rebounded some last year, and 2015 looks promising, but what about those areas where no quail are available to "fill the gaps"—even if we have suitable habitat? We ask might such areas benefit from a "transfusion."

Accordingly, we "christened" three new "quail ships" (restoration sites) in Palo Pinto and Stephens counties, and at the Matador WMA in Cottle County. These releases represent our 2015 expansion of "Operation Transfusion" where we translocate wild-trapped quail into recently vacated ranges in an attempt to jump-start their re-establishment. Initial efforts in Stephens County (bobwhites) and at RPQRR (Fisher County; blues) have shown promise for the success of these releases.

I'm sure you've seen those black & white photos from the 1950s of a group of eager onlookers mesmerized when a truckload of deer or boxes of wild turkeys were released. We sought to capture that same level of excitement, and hope, for the quail hunting community. See our Facebook page for several pictures and videos posted on the releases.

Operation Transfusion is comparing the efficacy of "hard" vs. "soft" releases as it relates to the transplanted quail's site fidelity, survival, and reproduction. All hens are fitted with radio transmitters to permit their surveillance for six months post-release. Half of the quail are "sequestered" for 30 days in Surrogators; we will be releasing birds from two of the Surrogators on April 22. The sound of whirring wings will undoubtedly rekindle lots of memories.

If/as these latest releases prove successful, we will seek to continue to expand such "transfusions" eastward in 2016 as suitable sites are found.

Operation Transfusion is sponsored by the RPQRF, Texas A&M Agrilife Extension Service's Reversing the Quail Decline Initiative (blue quail portion), Texas Parks & Wildlife Department (Matador WMA), and Quail Coalition (especially the Cross timbers and Park Cities chapters).

---
Coming soon: RPQRF to publish print newsletter "Quail Research"



The Rolling Plains Quail Research Foundation will soon publish a printed quarterly newsletter to help reach readers/donors who may not prefer electronic media. Inaugural issue is in the mail to subscribers. To subscribe (it's free!), send your name and mailing address to RPQRF's Media Specialist Russell Graves at russell@russellgraves.com.

---
In the News

We thank the editors of the Paducah Post and Breckenridge American for their coverage of the Earth Day quail releases, and to Lydia Saladana with Texas Parks & Wildlife Foundation for tv coverage of the blue quail release at matador WMA. See that story at http://www.tpwf.org/.

---
RPQRR to host Plant Appreciation Day to honor Ricky Linex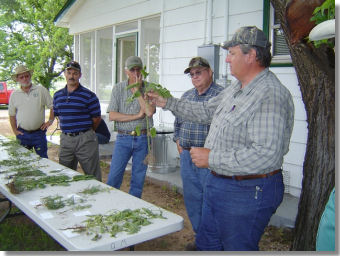 Ok, admit it . . . you're mostly illiterate . . . when it comes to naming range plants that is! Join us on Friday, May 29 at RPQRR to increase your vocabulary as we toast Ricky Linex's new field guide to key quail (and deer and livestock) plants. Get your copy of Range Plants of North Central Texas (a veritable steal at only $20) from your local SWCD, the Botanical Research Institute of Texas (BRIT; http:/shop.brit.org/products/range-plants ) or Native American Seed www.seedsource.com.

Our goal will be to see how many of Linex's plants we can collect in a 4-hour scavenger hunt across the Ranch. Linex is a "giant" to many of us and can always be counted on to help out with events at RPQRR, QuailMasters, and Bobwhite Brigade. Should be a fun, educational day punctuated by a lot of singing bobwhites. A light lunch (Mikulik sausage and tortillas!) will be served. I hope you'll join us!

p.s. Just got word that Dr. Larry Butler will be taping an episode of his RFD-TV series "Out on the Land" that day too—icing on the cake!

---
Mark your Calendar
3-5 May – South Texas QuailMasters, Session 2, Cotulla area
21 May – Quail Appreciation Day; Mesa Vista Ranch, Roberts Co.; FMI contact Michael Wilkes (mcwilkes@ag.tamu.edu)
28 May – Quail Appreciation Day; Chimney Creek Ranch, Garza Co.; FMI contact Greg Jones (gw-jones@tamu.edu)
29 May – Plant Appreciation Day; RPQRR; FMI contact Dale Rollins (drollins@quailresearch.org)
16-18 September – "Reversing the Decline of Quail" statewide symposium, Abilene)
---
Camera traps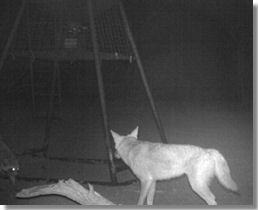 Brad Ribelin of Aspermont is a regular contributor to e-Quail of interesting photographs from his game cameras. In this picture, a coyote seems to be contesting the right of a raccoon (visible in lower left hand corner) to camp out (shall I say vandalize?) a spincast deer feeder. A recent study by Susan Cooper et al. conducted at RPQRR reveals the nocturnal use across RPQRR's terrain of GPS-marked coyotes, bobcats, and raccoons during the breeding season of bobwhites. A fascinating study; an abstract of the publication is online at http://onlinelibrary.wiley.com/doi/10.1002/wsb.499/abstract ; contact Dr. Cooper for a pdf copy of the article (susan.cooper@agnet.tamu.edu). Not in this publication, but one of the most interesting observations from the study to me was how one particular male raccoon frequented quail feeders in the Tex-East pasture at RPQRR. That is until he met his demise from what we discerned as predation by coyote(s) the night before his GPS collar was due to drop off.

---
Farm Bill publication available online
Chuck Kowaleski is the Farm Bill Coordinator for Texas Parks & Wildlife Department. He shared a link recently of a new publication "2014 Farm Bill Field Guide to Fish and Wildlife Conservation." This field guide, produced by the North American Bird Conservation Initiative, is a tool to assist those who work collaboratively with private landowners and agricultural producers to improve soil health, water quality, as well as fish and wildlife habitat.

---
(Meanwhile Back at the Ranch) – Irony runs amok with our staff here at RPQRR this month. We bid adieu to three of our staff. Tyler Berry, who has spearheaded the Operation Blue Transfusion effort over the past 18 months has taken a position on a high-fenced deer ranch near (of all places) Quail, TX. Then two of our most recent interns Hannah Manninen from Wisconsin and Laine McCall are dispersing too. Hannah is headed to Arizona to do wolf research (I've cautioned her that there's nothing like predator politics!). Laine has worked for RPQRR's Operation Transfusion efforts for the past two summers; she's off to study hump-backed whales off the coast of Maine. Predator politics and marine megafauna . . . what might Chuck Ribeline say?? "Whale-uva deal!" We're obliged to each of these young professionals for their efforts and wish them good luck. Later this month we'll welcome four new summer interns.
166—The total number of plant species identified on the RPQRR in May 2010—it's the mark for us to beat at the Plant Appreciation Day.
See Brad Kubecka's post of April 11 regarding his interpretation of that day's "word of the week", i.e., "lotusland." Brad is transitioning this month from completing his undergraduate studies at Tarleton State to assume his position as a Graduate Research Assistant at Texas A&M-Kingsville. Brad will be pursuing his Master's degree under the tutelage of Dr. Fidel Hernandez and me. His research will be to explore relationships we've seen among our various indices (e.g., call counts, helicopter counts) conducted at RPQRR since 2008. Brad has interned at RPQRR since 2013 and I look forward to observing his professional growth—he's a keeper!; see www.facebook.com.
tyro - (noun); a beginner in learning : novice. Example: "Most of us are tyros when it comes to plant identification."
Got a new e-mail address? Please [Click Here] to update your information if you wish to continue receiving e-Quail.
Forwarded from a friend? Please [Click Here] to sign up for the RPQRR e-Quail Newsletters!