Happy New Year!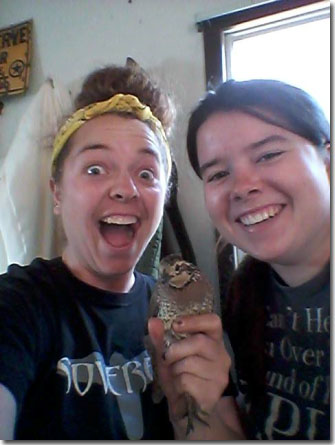 And may it be as productive as 2015 for quail's sakes. If technicians Alison Bleich (left) and Adrian Cain look a bit giddy, it's because they're celebrating the last bird of the Fall 2015 trapping season. Our final count was 3,149 birds (just over 3X higher than our previous record), including recaptures of banded birds from previous years. Many records were set this year besides just the final count. Adrian holds the record for number of birds in a single trap (38) and Alison holds the record for number of birds caught in one night (192)—and that is from only 23 traps. Our greatest catch for all of the trapping crew was the penultimate trap run (362 birds total).

The El Nino weather pattern, which is predicted to last through Spring 2016, bodes well for bobwhites, blues, broomweeds, and filaree salads. It's going to be an interesting spring and summer ahead of us . . . stay tuned!

---
Phrase of the month

annus mirabilis - noun; "a remarkable or noteworthy year"; see 2015 in west Texas!

---
Song of the month

"If we make it through December" by Merle Haggard.

---
Distinguished Lectureship this Friday

Featuring Dr. Bill Palmer with Tall Timbers Research Station; download the agenda here (http://files.ctctcdn.com/d609b3a9101/2adb86f0-1621-4e0e-8ea8-dc93de488bd6.pdf). Also stop by RPQRR's booth and say hello . . . just listen for the bobwhite's whistle!

---
Storm Goliath: how did it affect our quail?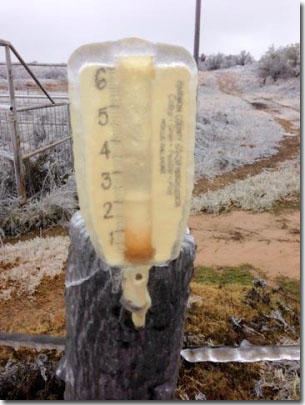 The second major winter event of the year struck the Rolling Plains with a vengeance on December 27. Blizzard conditions, including winds in excess of 60 mph brought freezing rain, sleet, and snow. And the sun didn't shine for a week thereafter where I was holed up in southwestern OK. I ran my dogs a couple of times, and drove around getting some video, and found bobwhites in good numbers in the sandhills northwest of Hollis.

One of the niceties about having quail radiomarked year-round for the long-term (8 years and counting now) is that we can assess acute and chronic events that can affect quail survival. As for this winter, so far, so good . . . may be even "better." Here's a report from RPQRR technician Adrian Cain: "at the end of the trapping season (12 Dec), we had 99 birds on air. Now, almost a month after the end of the trapping season, our quail survival has been excellent, even during the freeze. Since the end of trapping season, we have observed only two mortalities, one of which was due to a mammal, the other by unknown source. Three additional collars are missing."

I spent the afternoon of New Year's Day in the Annie Pasture and flushed 8 coveys on a walk of perhaps two miles. Covey size was still "good" (12 birds or so). We have several hunts planned during January and February and will continue to monitor our radio-marked birds.

Having said that, and feeling good at this point, I'm always nervous when someone reports a peculiar-acting bird. One landowner from Shackelford Co. called me on Dec. 22 with report of a bobwhite that couldn't fly well, eventually hitting a cactus. He captured it by hand, and upon my request he euthanized the bird and put it in the freezer until I can pick it up. Consider this an APB for any such peculiar-acting quail you may encounter; give me a call (325l-650-0311) or e-mail drollins@quailresearch.org with such reports.

---
Knox Co. Blue Quail Restoration Project to kick off in March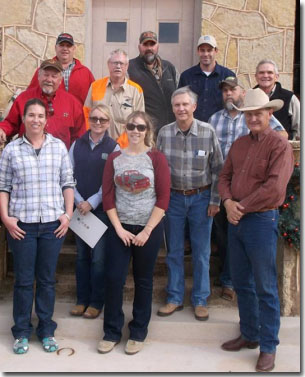 The sudden, widespread demise of blue quail from the Rolling Plains in 1988 always nags me. Some would dismiss it as "habitat loss" but that explanation doesn't work for me. There are millions of acres in the northeastern Rolling Plains that look plenty habitable to me. So, building on recent successes we've had with translocating wild blue quail at RPQRR, we're embarking on a new project in Knox County. Excited to have Becky Ruzicka (front row, left) who is no stranger to RPQRR and Agrilife will head up the effort; she will use the data for her doctorate at Colorado State University. We hope to trap and translocate 400 blues. Funding for this project comes from Texas A& M Agrilife's Reversing the Quail Decline Initiative, the Big Covey Chapter of Quail Coalition, and several interested Knox County landowners. One of our objectives will be to conduct an "occupancy analysis" to determine if, where, and how many blue quail may already exist in the study area. If you have seen blue quail in the past two years in Knox or surrounding counties, or would like to be involved in the effort, please let Becky know (beckyruz13@gmail.com ).

---
Weird Quail

With the increase in quail comes a greater incidence of weird quail. Ever seen a blonde blue quail? I never have and at this point none of our Facebook followers (3,900 or so) have either. BM from Sterling County sent this pic recently and the following account: "My dogs pointed birds and a covey of about 15 jumped. They landed about 50 yards from the rise. Where they jumped I got the bobwhite, and then went to the blondes. I did not get the blue with the blondes, but the bobwhite was feeding alongside the blondes. I thought about mounting the blondes, but the dogs got them before I could. When they flushed they reminded me of collared doves—they were so light. They were all blonde. No blues were with them." If you experience any weird quail, keep your camera handy and share them with our readers.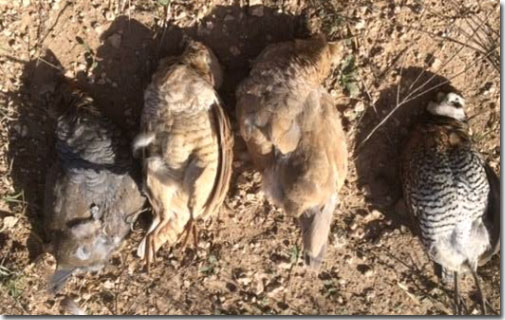 ---
Justin Trail new addition to RPQRF Board of Directors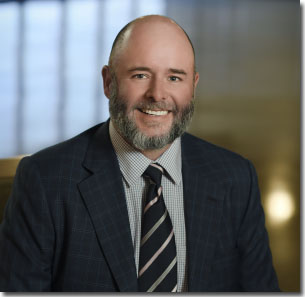 'm proud to announce that Justin Trail has joined the Board of Directors. Justin Trail lives in Albany with his wife Tamara and 3 young daughters, whom he enjoys the outdoors with every chance he gets. He is the founder and president of Commercial Insurance Solutions Group, LLC, a national retail insurance brokerage company specializing in the risk management of real estate investment portfolios, founder and CEO of C1 Insurance Group and cofounder and director of Spicewood Funding Group, a specialty finance company. Mr. Trail serves as a director at Triumph Bancorp, and several of their subsidiary holdings. Trail graduated from Texas A&M University with a bachelor of science in Wildlife Biology in 1994 and a Master's degree in 1996. Justin grew up bird hunting in the small farming towns east of Dallas in the early 80's. He carried that passion for quail hunting behind good dogs to West Texas upon graduation from college and is still an avid quail hunter.

---
Photos afield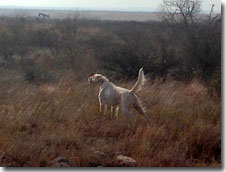 If you're like me, this season has been especially sweet and replete with "Kodak moments." And if you shoot enough pictures, planning, luck, and lighting may serendipitously intersect to produce a keeper. Such was the case for me last month one afternoon at the Ranch. My five-year old "Better" Tracer struck a nice point and pose. I fumbled for my iPhone and snapped a couple of pics, including this one. Does it look like a John Cowan painting, or what? Looks like it was airbrushed with a southwest wind on a classical west Texas canvas including a pumpjack. I wish I had a mural of this one on the living room wall at Headquarters!

Two days before I snapped this one of my 4-year old Better Shaggy on a hunt in Runnels County. It begs for the caption "Up periscope!" I'm due to hunt with some outdoor writers and Garmin representatives next week making this photo so timely. I suspect this year's broomweeed canopy has contributed nicely to Garmin's sales of their GPS collars.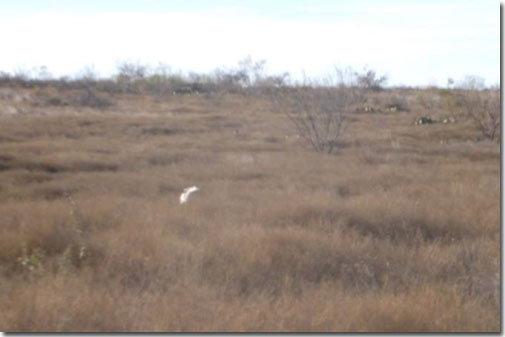 . . . and photos from the suburbs too! Grahame Jones, TPWD, took a cool photo of a covey of bobwhites in his backyard with the Austin skyline in the background. Now how cool is that? He had been hearing the bobwhites calling for several months and finally "bagged" this trophy picture.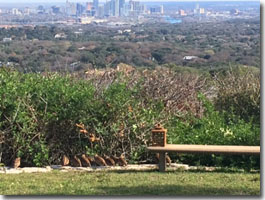 ---
Camera-trapping

Just chillin' I suppose. This covey of blues spent a total of 2 hours and 13 mins on the afternoon of December 30 at our guzzler. Ironically I've captured many more photographs of quail at this guzzler this fall-winter than during the heat of the summer. Typically a covey of quail spends less than 10 mins at a water source like this. I have 14 consecutive shots of this covey (@ 10-min intervals); this is the last one in the series. Most of the pics feature a "lookout" perched atop the guzzler's collection apron. I think Val Lehmann (1984) was correct when he stated "blue quail are somewhat more intelligent than bobwhites." Got a good game-camera photograph? If so, please send it to drollins@quailresearch.org.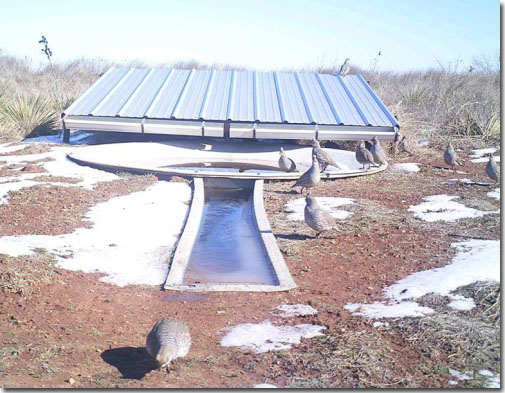 ---
32.93 - that's our rainfall total (inches) for 2015 at Headquarters.
8 Jan 2016 - 9th Distinguished Lectureship in Quail Management, Dallas; featuring Dr. Bill Palmer, Tall Timbers Research Station.
Got a new e-mail address? Please [Click Here] to update your information if you wish to continue receiving e-Quail.
Forwarded from a friend? Please [Click Here] to sign up for the RPQRR e-Quail Newsletters!