Holes in the pattern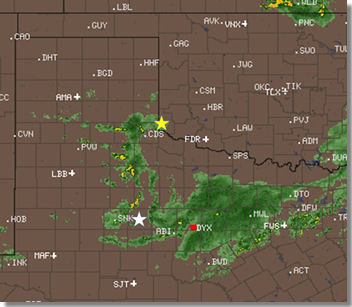 "When you get to the end of your rope, tie a knot and hang on." - Franklin D. Roosevelt

Oh no, not again. I'm feeling more and more like a dryland cotton farmer in west Texas—at worst downright cursed, at best "precipitationally-challenged." For those of us in western Fisher County, it's "same song, second verse", i.e., two dry summers in a row. Take, for example, this past Monday morning's radar screen. The white star indicates RPQRR; the yellow star indicates my little "Ponderosa" on the state line just east of Wellington. Look closely at both and you'll see the reason for my chagrin . . . close, but no cigar.

Our food plots are kaput. Fisher County's cotton crop is "disastered out." Quail and dryland cotton tend to track the same trajectories. My blood pressure rises every time I hear a weather forecaster (especially from DFW region) lament rain for the weekend. Alas, at least it's raining somewhere (as opposed to 2011); I have faith we'll be in the right spot at the right time, sometime.

Do you monitor your ranch/lease's rainfall? I use Farmlogs (www.farmlogs.com) to track the rainfall at 3 sites: RPQRR, my Ponderosa, and my hunting lease in Howard Co. As of 30 July, my YTD totals include:

RPQRR = 8.14 inches (50.4% drier than normal);
Ponderosa = 9.64 inches (32.4% drier than normal);
Hunting lease = 6.52 inches (50.3% drier than average).

Farmlogs is a handy (albeit often disappointing!) tool. If you use it, how accurately do you think it works for you? Our "actual" YTD rainfall at RPQRR as of 30 July (7.95 inches) was "pretty close." In my experience, when Farmlogs does miss the mark, it's "optimistic", i.e., overestimates what we actually received. The Farmlogs app also lets you see daily (or weekly) precipitation for previous years (plotted against the average). As you can see, we've been "hurting" all year.





Some areas have fared better, especially South Texas and the northern portion of the Panhandle.

Some folks reckon we're as dry as we were in 2011 . . . au contraire! When I look at photographs from 2011, we're not anywhere as "bad" cover-wise. The Farmlogs graph for 2011 (below) indicates just how bad it was.





And while I'm on my dry weather rant, let me ask how you rate your smartphone's radar app? I get so disappointed when I'm "seeing" rain on my phone's radar but it was a mirage on site. I call it "phoney radar." A green color used to indicate something, and yellow would indicate a good rain. Doesn't seem to be the case for past couple of years though. If you've got a weather app you like, please e-mail me (drollins@quailresearch.org).

The long-range ENSO forecast is more promising. I surely hope so. Fall rains are good for broomweed and filaree, which are good for quail, and good for my attitude. Here's to next year!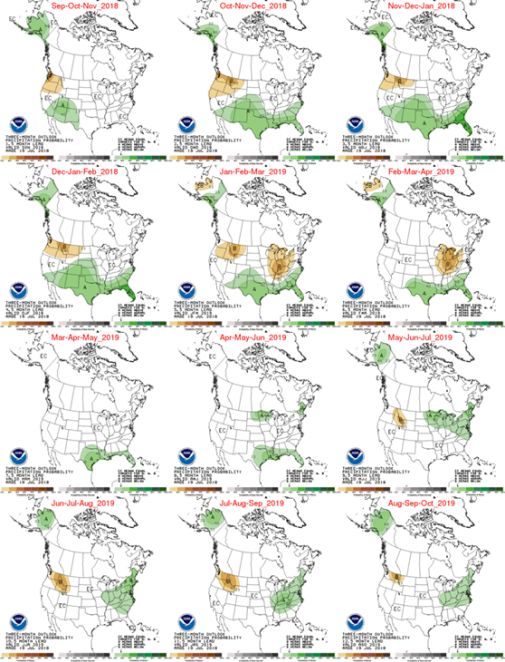 ---
Song of the Month

Hit Me with Your Best Shot by Pat Benatar.

---
Word of the Month

festinate; (verb); "to hasten"; "may some good toad-strangler rains festinate upon us."
---
Nesting summary
(as of 07/30/2018) by Lloyd Lacoste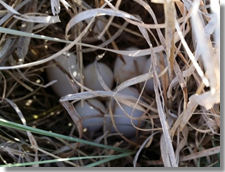 We had 47 bobwhite hens and 21 scaled quail hens radio-marked and alive on the start of the nesting season (which we deem is 1 May). But disappointingly, we have recorded a total of only 14 nests to date. Our first nest was found on 06/06/2018 and hatched out on 06/28/2018. We still have 1 hen nesting. Four (2 bobwhite and 2 scaled quail) hens were killed while at their nest site. Of the 14 nests found, 8 were depredated, 4 hatched, 1 was abandoned, and 1 is still nesting. We conduct "brood counts" at 21 days post-hatch. The hen from the first nest has vacated the ranch and cannot be found (not good news as such movements often indicate either nest or brood loss). The other 2 hens did not have any chicks with them. They had both joined small coveys of 6 birds in which all of the covey appeared to be adults.

---
Enigma of the month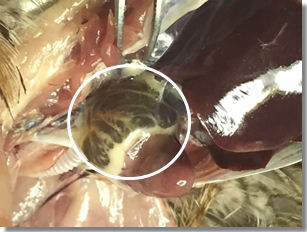 Talk about a "broken heart." Seems the more we study quail, the more enigmas we encounter. Last week Lauren discovered a dead bobwhite (adult male) along one of our ranch roads. It was fresh, and no signs of trauma were observed at the scene. As fate would have it, we had a visitor that day, Dr. Bob Dittmar, TPWD's veterinarian. Jennifer was leading Dr. Dittmar in a dissection of quail for eyeworms when Lauren delivered the specimen, so we immediately opened it up. Check out the heart. I've never seen anything like it. Note the appearance of the auricles (circled) . . . they have the striation and coloration of the ceca. Dr. Dittmar took some tissue samples and submitted them to the Texas Veterinary Medicine Diagnostic Lab in College Station (those results are pending). Former grad student Brad Kubecka offered an "internet diagnosis" of "atrial infective endocarditis." Stay tuned for diagnosis, and if you ever clean a quail with a similar heart, please refrigerate it and contact me.

---
2018 Quail Hunting Forecast due 1 Sept

I'll be running my "quail trapline" of various Students of Quail across the Rolling Plains, and the rest of Texas over the next 3 weeks. If you don't receive my invitation, but have observations form your part of the world, please feel free to e-mail them to me (drollins@quailresearch.org). I only want the County name and your prediction for the upcoming season ranging from a score of 1 (pitiful) to 10 (outstanding); for reference 2016 season was a "12." Things don't look very shiny for my areas of interest, but perhaps you can offer brighter prospects.
---
Calendar
5-7 August – Session 3 of QuailMasters, Pampa;
8 August - Bug Day, RPQRR
---
Bug Day slated for Aug. 8 – Volunteers needed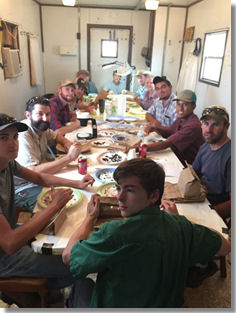 Arthropods (e.g., insects) are important in the diets of quail whenever they are available, and especially so to chicks. And, increasingly we're learning the role of various insects as intermediate hosts for the eyeworm and cecal worm. Each summer, RPQRR technicians assess arthropod abundance with over 1,200 sweep-net and pitfall samples. But that's just half the job—now someone has to sort and identify them. That's where our volunteers come in. If you're interested in joining us, please be at Headquarters at 8:45 on Aug. 8. We should be finished by about 4 p.m. Experience in entomology not required. Lunch is on us.

---
RPQRR's Wish List – Can you help?

Our support for quail research comes almost exclusively from private donors. Perhaps you would like to help us help quail. We have need for various pieces of equipment. If you would like to donate, RPQRR is a 501(c)(3) nonprofit foundation, so your donations (cash or in-kind) are tax deductible. Alternatively, if you'd like to make a cash donation and have it earmarked for one of these items that's great too. Here's our current list of needs:

| | |
| --- | --- |
| Item | Need |
| 100-hp tractor | Food plot preparation, shredding |
| 15' batwing shredder | Shredding |
| Shop-style drawer toolbox | Tool storage |
| Sea container | Storage of equipment |
| 12-ft tandem disc | Discing, field prep |
---
From our Facebook page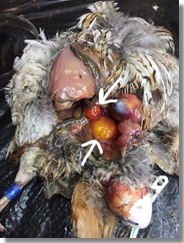 Jennifer Newkirk's post on the egg-bound bobwhite that Lauren discovered last month (see July issue) was our top-rated post for July (11,304 views). Here's her post, and the picture that accompanied it.

I necropsied the egg bound bird Lauren found the other week. The two bright orange masses in the middle of the bird are more eggs, although they weren't fully developed. Bobwhite hens typically lay one egg a day until the clutch is complete (about 13 or 14 eggs). Then she will begin to incubate. Incubation of the nest will last about 23 days. There are multiple reasons why a bird could be egg bound, and I agree with Lauren in her analysis that this hen's egg was too soft. This particular bird was a juvenile female. She had 4 worms in her right eye, 3 worms in her left eye, and 273 cecal worms.

---
58%; that's the estimated "nest success" indicated by our dummy nests; at this point our actual nest success is considerably lower (only 5 of 13).
August will be a "changing of the guard month." Our current techs Tait, Jordan, Jennifer, and Lauren will be moving on. I'll introduce you to their replacements next month. Our major effort for this month is "Bug Day" slated for Wednesday, Aug. 8
Got a new e-mail address? Please [Click Here] to update your information if you wish to continue receiving e-Quail.
Forwarded from a friend? Please [Click Here] to sign up for the RPQRR e-Quail Newsletters!