2018 Quail Forecast

September 1st is much-heralded as the start of Texas' dove season, but for "Students of Quail" it also marks the unveiling of the forecasts for the upcoming quail season. Better sit down before reading here, and don't read aloud to your bird dogs. When you have no winter wheat crop (indicative of no fall or winter precipitation), and all of the dryland cotton is "disaster declared" (dry spring and summer) that makes for an ominous forecast. But better reports are available for some areas.

For the second year in a row, rainfall has been sparse and spotty; ain't it supposed to rain on the just and the unjust alike? Keep such variability in mind as you read reports that rainfall may vary by 50% or more across a particular county (e.g., Fisher Co.). Most areas had no to little rain last fall, which I believe is especially problematic for quail reproduction.

I tasked these prognosticators with stating their prediction on a scale from "1" (pitiful) to "10" (wow!). Keep in mind these predictions are anecdotal observations for the most part from various "Students of Quail." There are a few reports herein from TPWD biologists, but TPWD's official roadside counts won't be posted for a couple of weeks; ODWC's version of Oklahoma's routes will be out in early October. I'll be receiving additional reports over the next month from other landowners and deer managers (based on September helicopter counts); stay tuned to our Facebook page for real-time updates.

Finally, I received most of these reports in early August, and August (for many areas) has been a cooler, wetter month, i.e., the potential for re-nesting. Much of South Texas received a real "quail-maker" rain (7+ inches) during late-June, and portions of the eastern Rolling Plains received similar rains in mid-August. Will (can) such rainfall stimulate additional nesting, a late-hatch, and "pull our fat from the fire?" Yes, yes, and probably not (at least not in Rolling Plains. Our quail crop in Rolling Plains and West Texas rides on a June hatch. South Texas' longer growing season gives them more opportunity. I've seen bobwhites hatch in Rolling Plains as late as 7 October and blues in the Trans-Pecos as late as (about) 1 November.

Rolling Plains
I'll set the stage with RPQRR's report: pitiful. I'll give it a "2" and that may be gracious. Only 14 radio-marked hens were documented with a nest (latest one hatched 2 weeks ago), but no chicks have been observed at 21 days post-hatch. My travels around the ranch don't afford me any solace . . . typically only small coveys of 4 to 7 adult birds. We'll be conducting our roadside counts immediately (4 counts during Sept) and (historically) the roadside counts are "spot on" relative to predicting our fall population. Stay tuned for those results.

I have come to value the observations from area helicopter pilots as a "quick and dirty" estimate of quail abundance. Kyle Lange flies a lot of country north and west of San Angelo. He reports for the following counties (his quail-rating is in parentheses): Brewster (1), Crockett (2-3), Irion (2), Jeff Davis (3), Jones (2) Presidio (2), Reagan (2-3), Schleicher (1), Scurry (2), Shackelford (2), Stonewall (1), Sutton (1), Tom Green (1); I could give more counties, but all a 1-2; overall a bleak year."

Dusty Whittaker flies out of Childress. He reports "I'm seeing very few birds."

The remainder of the forecast begins at the northeastern corner of bobwhite range (e.g., Clay Co.) and moves southwestward across Rolling Plains from there.

Jay Stine reports from Clay Co.: "things are looking better than areas to the west. We received many of the rains in the spring that missed others. I rate our quail outlook at a 7, which is a little better than last year's 5. I was out today (18 Aug) and saw four pairs, two of which were with young chicks less than two weeks old. Brood sizes were small with 2 to 4 chicks but it was encouraging to still see young bumblebees this time of year with as little rain as we've had. "

George Allen reports from Archer County "Had some good late-winter rains so cover is best I have seen in several years. Had quite a few pairs in the spring but not seeing many coveys and broods were small 4 to 12 birds. Spring call counts were down from 6.5 per point last year to 4.4 this year. I predict this year's hunting to be a 3 or less. Bet there will be a lot of bird dogs available after this season."

Ty Bartoskewitz reports from Stephens County: "I give it a "2"; 18.65" year to date rainfall, and birds still calling here after this most recent 2-inch rain event….but probably too late. "

Received six reports from Shackelford Co. Rob Hailey says southern part of county looks like a "not so good 2. Probably no hunts this year. " Justin Trail (QM '05) reports from south of Albany "My outlook is a "5" at this point based on my concern." A. V. Jones has a long-term perspective (I often refer to him as the "Dean" of west Texas quail hunters). "My prediction is a 3 or lower. I don't assign a 1 or a 10 because we'll never reach either of those plateaus. I assigned a 6 to last year. The 50-covey days you had at the Quail Ranch (in 2017) would be an 8 or 9.

Marc Bartoskewitz provided this report from western Shackelford Co. "I am slightly optimistic that we have a "normal" quail season. We do not conduct any spring/summer quail surveys and/or call counts at this time, so I cannot give any firm data as to breeding effort. Our staff there are still hearing lots of whistling and seeing broods of half to 3/4 grown and less than half-grown chicks.

Keith Holcomb also reports form Shackelford Co. "Instead of things looking far worse than they are—things look far better than they seem. Few observations on chicks and teenage coveys. Everyone is hearing lots of whistling still. There is plenty of tall grass; few grasshoppers observed. There has to be something else working against us. "

Randy Rodgers gives his forecast for western Shackelford Co. as "a 3—the few broods we have seen were 3-6 chicks. Still seeing pairs."

Stan Kimbell (QM '07) reports for southwestern Stonewall County: "I have only done one reproductive drive with very poor results. We saw 28 total birds with 3 of them immature. I suspect that reproductive drives will improve but based on what I observed a 3 or 4 is my rating."

Rick Snipes reports from Stonewall. "How about a 2; no fall or winter precipitation at all. The heat has been brutal with temps reaching 114. We got some rains and cooler weather recently, but alas, I fear too little, too late. We did have good carryover and just a slight moderation in our weather could produce a significant late hatch. Who knows? Hope springs eternal."

Keagan Crouch also reports from Stonewall County; "I'd rate this year's forecast to be somewhere in the 3 range. I've seen really small broods and low overall numbers of quail so far for the year. "Similarly, Brad Ribelin predicts a 2 in Stonewall County.

Roy Wilson leases quail country in several counties. He reports: "my forecast for northeast Fisher Co. is a 2-3; Stonewall 2-3; Dickens 5; Garza 5; I'm an optimist.

Steve Estes is the AgriLife Extension agent in Jones Co. "My outlook in is pretty marginal overall, with a few fair spots in isolated locations (where some summer rains occurred. Am seeing mature birds here and there, but not many young ones. Last week I finally saw my first set of young birds, which didn't look to be much more than a couple of weeks old."

Barrett Koennecke (QM '10) is a TPW biologist stationed in Roby (Fisher Co.). "My quail forecast for Fisher County is a 2; just finishing up roadside surveys for the State and 7 of the 8 routes look dismal."

Paul Melton reports from eastern Fisher Co.: "Good carryover of adult birds, I have only sighted 3 broods in limited time on the ranch this summer. I'm sure there will be more than adequate opportunities to work dogs here all season on the birds currently present. Rainfall totals of about 6" have this place looking as dismal as I can recall in 30 years here. On the hopeful side, if the predicted round of storms materialize this weekend (mid-Aug) bring significant rainfall, I think the cover/forb production will improve considerably."

Rory Burroughs (QM '05) reports from Fisher, Kent and Stonewall Counties. "With the ups and downs over the last few years I don't want to count Bob out, but I'd rate the upcoming season a 2. I've seen a few birds paired, have heard calling on and off along with a couple reports of broods—nothing to get excited about other than the fact that Bob is trying. "

Jim Cone (QM '18) hunts in Kent County; he thinks "this will be a below average year with potentially 1 bird to 3 acres. Hope I'm wrong, because the pastures look good, but I'm concerned about our census going into the nesting season."

Rod Hench reports from eastern Scurry Co.: "Hoping for a 4 but that is probably optimistic."

Hollis Farris reports from northern Coke County: "we are still seeing good numbers, perhaps a 6-7 on your scale. Seeing 6-12 babies per pair from 3-4 inches tall."

Steve Mayer has country in western Runnels County. "We have been blessed with over 16" of rain year-to-date, with almost 3.5" in the last few days. The county trapper reported seeing 3 broods about a month ago on our property, but I myself have not spotted any despite spending ample time in the field. Hopefully, another attempt at breeding is in the works with the current wet conditions. Grasshoppers are abundant and we have the nesting cover. Keep your fingers crossed. I give the upcoming season a cautiously optimistic 6."

Rick Barnett manages property in western Runnels Co. "I'd score this year's hatch a 3; for our place in eastern Runnels Co. I'd score it a2; not much luck this year. "

Lloyd Woodward reports from western Kent Co.: "At best a 3 right now. Hope, I am wrong."

Gary Bomar has property in southern Coleman and Runnels counties; he predicts a 2; lamenting "no young birds. Been here before; not fun."

Wade Clifton offers a sad forecast for Concho Co." "This year I have seen one quail chick. There are probably a few more, but not many. There will not be any quail hunting on our country this year. "

My hunting buddy Steve Sherrod provides this report for the panhandle of tom Green Co. and our lease in Howard Co: "I give west Tom Green a 3 and the site in Howard Co. a 2."

Cal Hendrick offered this reports for western tom Green Co., and also a site in Ector Co.: "nesting success in Tom Green County, and Ector County, has been awful!! We still have lots of pairs running around, but I have only seen 2 hatches, both relatively small (<6). This year is probably about the same as 2011, perhaps worse. I would sum up the quail crop in a word—terrible. I rank both Tom Green County and Ector County a 2, and that may be generous.

Frank Price ranches country in Sterling and coke counties. He says "maybe a 4 as dry conditions have resulted in few chicks seen. But we have seen some, thus it is not a total bust."

Steven Howard reports for Glasscock County: "I'll report a 6 right now. We've seen a mix of August pairs as well as some coveys with little ones and some smaller number coveys.

Larry Gabel (QM '17, '18) reports for southern Borden Co.: "I'll give it a 4—ever the optimist. Even though my road count was 6 birds per mile, 2/3 were within 100 yards of a feeder. I believe there are more bobs present than what I saw. I saw mostly single males and no bob coveys over 5 birds. Most blues were 12-16 per covey."

Tim Wilson also reports from Borden Co.: "Only 5 inches of rain since last Sept; many blue pairs visible but very few sightings of bobwhites; no broods seen. Best to the worst very quickly."

Charlie Grandstaff proffered my only report from the Hill country (Menard Co.); he reports "I predict that due to the drought that our huntable quail population this season will be weak."

Panhandle
James Lewis proffers "somewhere around 2-3 for Dickens/Motley counties. In the last few days, I've had quite a few birds still whistling but I'm not counting on much of a late hatch at this point."

Chip Ruthven oversees several WMAs for TPWD. He reports "Matador WMA (Cottle Co) is a 2. Our first round of roadside counts produced numbers similar to 2013. Did see some ¼ to ¾ grown chicks. Gene Howe WMA (Hemphill Co.) is a 5-6. Yoakum Dunes WMA (Cochran, Yoakum, Terry counties) is a 3-4."

Curtis Greene (QM '10) reports from Hemphill Co. "I rate this year as a 5 right now for Hemphill and Lipscomb counties. We had decent carryover of birds from last year, even though bird numbers were down from the previous 2 years. I've been seeing a few broods along with several singles and pairs."

Chadd Malone is the TPW biologist in Pampa serving several counties (Carson, Donley, Gray, Hemphill, Lipscomb, Ochiltree, Roberts and Wheeler). "My overall prediction is a 4"

Jeff Bonner is the Technical Guidance biologist for TPW and covers the Panhandle. "Hate to have to say right now. Late rains have been really spotty. I've seen a few clutches here recently (last few weeks). Northeast (Pampa) 5-6, those who missed out on those late rains I'd land around 3-4. Rolling Plains up north (Childress) 4-5. Rolling Plains south (Aspermont) 3-4. Northwest (Amarillo) 5-6. Southwest (Lubbock) 2-3 to 5-6 depending on if you were under the right cloud."

Jude Smith is Refuge Manager for the Muleshoe NWR, and also hunts just west of there in NM. He offered these report for southern Bailey/western Lamb counties Texas and western Roosevelt County, NM. First brood sighting of blue quail was on June 14th which is about 2 weeks later than normal. Brood sightings have been rare this spring compared to normal. Bobwhite were present in good numbers during grassland bird counts between May 15 and June 15. However, only a couple of broods have been seen on and off the refuge. Overall I give this area about 3.

Permian Basin
Billy Cole reports from Ector County. "I'm seeing lots of baby quail running around but there is so much vegetation that I only see them when they cross the roads. The clutches are large, 12-15 in each group."

Jim Blain reports from Crane and Ector Counties. "Difficult to say as family units still scattered. Lots of good groups of 10-15 raised ok. I would guess a 7 or 8 on the scale of 1-10, but it might be better. We should easily have another hatch in August."

Jesse Wood (QM '17) provides reports from Upton County. "Our collective prediction for the coming season is a 6, with the potential for a 7 depending on late nest success. Weather has improved recently and reproductive effort appeared to increase significantly. One nest hatched on July 10th or thereabouts, with 13 of 15 eggs hatching. A recent brood observed on August 6th had 12-15 chicks approximately 3 weeks old. Better late than never I say! Fall roadside counts and aerial surveys should give a better indication of what we have to work with this year, but I believe hunting will still be fair-good in our area."

Jeff Wemmer provided his forecast for blue quail across several counties. N. Ector & NE. Winkler counties: quail rating: 3; no signs of broods until mid-July, small brood sizes, rating of 6; NW. Ward County: rating 8. Rancher says almost as good as last year's 10/10, but late hatch.; N. Central & NW Crane County: Quail rating: 8; almost as good as last year, but late hatch.; NE Crane & SE Ector counties: Quail rating 2; few broods seen early / late. SW Ector & NW Crane counties: Quail rating: 3; just seeing a few late broods.

South Texas
Alston Beinhorn (QM '17) reports from Dimmit County: "I forecast a 4. we actually do have some bobs, but the coveys are small, 2-6 birds. I think the only reason we have any birds at all is an abundance of insects, particularly grasshoppers. It's almost like the grasshoppers do better in dry times. I hope my forecast turns out to be pessimistic but it's unlikely we'll have huntable numbers of birds."

Andrea Bruno (QM '13) reports from Jim Hogg County: "I predict a 5 for this year. December 2017 densities were around a bird per 4-5 acres where we are. I expect densities to be slightly higher than last year. The score could improve depending on any late August/early September rain."

Bill Rauch reports from Jim Hogg/Brooks counties: "I give it a 4 to 4.5. We entered spring with great ground moisture. Unfortunately, we did not receive the deluge of rain that other parts of South Texas received in late June. We had 3.5" to most everyone else 10"-12"+. As with everyone in the quail world, we could use a rain. All of this being said, I have seen little birds on the ground since early May. However, it has not been widespread and the production seems to be sporadic at this point. I don't believe it is worse than 2013, but I think the lack of production during the past two summers is catching up to us. I would expect to have a few good hunts of >3 coveys/hour, but the season's average to be <2.5 coveys/hour. The possibility of late summer rains in South Texas can always salvage a season. However, I believe in this year's case they would do more to sustain we already have on the ground than produce a bumper crop."

This next reporter wished to remain anonymous. His forecast includes several areas:1) Sand Sheet. Counties: Brooks, Kleberg, Kennedy, Jim Hogg. Prediction: 6 (slightly above average season). I make this particular report with the caveat that I have not seen many broods yet, but the sand sheet averaged 9 inches of rain in June and conditions are still good. I expect to see many more broods the next 2 months. 2) Northern South Texas Plains (Liveoak and McMullen Counties). Prediction: 5 (average season) (range from 4-7 depending on the ranch). 3) Central and Western South Texas (LaSalle County). Prediction: 4 (below average; range from 3-6 depending on the ranch). 4) Southern Coastal Prairie (Goliad, Refugio, and Victoria Counties). Prediction: 3 (below average). Quail have suffered in this region due to unfortunate weather (e.g. big rainfall events during peak nesting and Hurricane Harvey). Thus far, the season in this region is looking dismal. 5) Edwards Plateau (Kerr, Real, Uvalde, and Edwards Counties). Prediction: 3. There's not many quail in these counties to begin with, but I've been encouraged by hearing birds in areas with habitat that received rainfall. I drove through your area this past weekend. It looks like [crap] and must be the driest region in the state right now...very sorry. (You are right my anonymous friend! - DR)

Trans-Pecos (blue quail)
George Strickausen reports from Culberson Co.: "we're experiencing similar recruitment to 2011-12 drought. Adult numbers okay. We have had 2 nesting periods so far….our normal June hatch with covey size 1-5, and then in August about 1-8. And that has been in the good areas. In summary, I would give it a score of "3".

Gaby Tamez (QM '18) is the TPWD biologist for Pecos County; she reports: "Few chicks seen, a lot of adults coveyed up, few pairs seen. But this happened last year too and we saw more hatches in the fall. So here's to hoping for the best. Not great, but not bad either."

Ron Helm reports from northern Jeff Davis County. "as of date I've only seen one set of hatchlings, and that was only 4 or 5 chicks. We still have time to make a crop but it needs to happen in the next 30-45 days. If this hot/dry pattern continues through August, I give our 2018 chances a meager 4."

---
Song of the Month

Spinning wheel by Blood, Sweat and Tears

---
Word of the Month

orgulous; adj., proud. Few are overly orgulous of their quail forecast for this season.

---
Update on "Broken Heart"



Refer to the August issue for a case history on this bird. Dr. Bob Dittmar submitted tissues to the Texas Veterinary Medical Diagnostic Lab. Their diagnosis was inconclusive. "The hepatic congestion is a non-specific finding and the cause of death is not apparent from the examined tissues.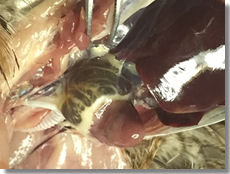 The submitted picture of heart shows a dilated atrium with a postmortem intracardiac blood clot, a common finding during avian necropsy."

---
From our Facebook page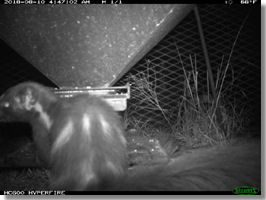 Our top post for August was a game camera photograph from Brad Ribelin in Stonewall Co. Brad is a member of RPQRR's Advisory Committee and regularly sends in interesting game camera photos. This pic of an Eastern Spotted Skunk garnered lots of discussion and a total of 6,776 views. Spotted skunks are also known as "civet cats" but have become unusual over the past 40 years. Should you see one, please contact Dr. Bob Dowler, a mammologist at Angelo State University (Robert.dowler@angelo.edu).

---
Bug Day
Our recent Bug day was mostly "down", especially relative to grasshoppers (Orthoptera). Beetles were less impacted. We thank the 20 volunteers who showed up to assist us; their assistance helped make it a relatively short task (we were finished by 3:15!). We had Bobwhite Brigadiers, QuailMasters, the "Bug Club" from Tarleton State, Texas Master Naturalists, and others interested in quail. We use 2 sampling techniques, sweep nets and pitfall traps; the sweep net samples were noticeably "light"; my windshield (lack of bug guts thereon) backup this observation. Not a good deal for quail. The grasshoppers pictured here are "slant-faced grasshoppers" which are currently "leading" the list" of insects that are infected with the DNA of eyeworms (i.e., serving as an intermediate host for the eyeworm).
---
Calendar
9-11 Sept – Session 4 of QuailMasters, Hebbronville;
13 Sept – Check presentation ceremony, Park Cities Quail; FMI see www.parkcitiesquail.org
---
Intern diary
by Lauren Auld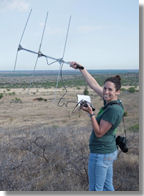 My college career at Oklahoma State University was coming to a close and graduation was just around the corner. I was frantically applying for jobs but being picky about the location. I always told myself that I would never live in Kansas nor would I live in Texas. Kansas is pretty self-explanatory, but I have honestly never been in Texas long enough to form a bias, so I'm not sure why I came to the idea of never living there. Job searching led me to a lot of interesting prospects, the Rolling Plains Quail Research Ranch being one of them. The job description sounded very exciting and the project was something I wanted to be a part of and learn more about. I put my biases aside, applied for the job, and to my gratitude I was selected as a technician! And so the adventure begins…

It's moving day and I'm very nervous but also extremely excited. Everything has fallen into place! I had kind of imagined this area of Texas being flat, despite the descriptive name of the ranch. As I get closer to the destination, to my pleasant surprise, the topography changes. The Rolling Plains is the perfect name for this eco-region. It's beautiful here and looks nothing like what I was expecting. The only thing I did expect was the heat, but that I eventually got used to that.

One of the many things I really enjoyed about the Rolling Plains Quail Research Ranch, other than the work, is the abundant wildlife and intriguing vegetation. There were many animals that I was able to witness in the wild for the first time such as the Texas horned lizard, porcupine, hognose snake, and coachwhip. I was also privileged to ogle over the abundance of roadrunners (which are a favorite.) Overall, the best wildlife sighting was all the quail. With that said, I was able to learn so much more about quail behavior, lifestyle, and habitat management than I ever imagined. I value the time I spent outside learning important quail vegetation and viewing all of the wildlife.

I've experienced some extremely nice people and have made connections with people that I will never forget. My time here has been very productive and I've learned much more than I expected. I had some experience with telemetry before but leave here a telemetry expert! I was pleased to be able to help my fellow technicians with their respective projects. I received experience with small mammal trapping and with dummy nests as well as experience with trail cameras during my camera trapping project. I was able to hone in on my raptor identification during the twice weekly raptor surveys. I acquired habitat management skills through herbicidal spraying of mesquite, and prescribed burns that will surely help me in my future career. I learned a lot more from this technician job than I ever expected to learn, thus I'm very grateful for this opportunity. Thank you to everyone who made my time here memorable!

---
RPQRR's Wish List – Can you help?

Our support for quail research comes almost exclusively from private donors. Perhaps you would like to help us help quail. We have need for various pieces of equipment. If you would like to donate, RPQRR is a 501(c)(3) nonprofit foundation, so your donations (cash or in-kind) are tax deductible. Alternatively, if you'd like to make a cash donation and have it earmarked for one of these items that's great too. Here's our current list of needs:

| | |
| --- | --- |
| Item | Need |
| 100-hp tractor | Food plot preparation, shredding |
| 15' batwing shredder | Shredding |
| Shop-style drawer toolbox | Tool storage |
| Sea container | Storage of equipment |
| 12-ft tandem disc | Discing, field prep |
---
9.79 - that's our YTD rainfall here at RPQRR.
We welcome new techs Theresa Edwards and Kyle Walker for the Fall season; both have hit the ground running. Theresa is from Washington state and earned her BS at Willamette Univ. in Oregon. Kyle is an Aggie (class of 2018). We also welcome John Palarski from Wisconsin and received his BS from University of North Dakota in 2018. John will be working on his M.S. degree evaluating restoration efforts of Northern bobwhite quail in Erath County. This project will be part of a larger collaborative effort to help extend quail populations further east in Texas. He will be co-advised by Dr. Heather Mathewson (Tarleton State) and Dr. Dale Rollins (Rolling Plains Quail Research Foundation).
Got a new e-mail address? Please [Click Here] to update your information if you wish to continue receiving e-Quail.
Forwarded from a friend? Please [Click Here] to sign up for the RPQRR e-Quail Newsletters!