Two Jewish women take center stage in new documentaries
Suburban mother, vaudeville star have a lot to say
By Daniel M. Kimmel
July 22, 2015
Advocate staff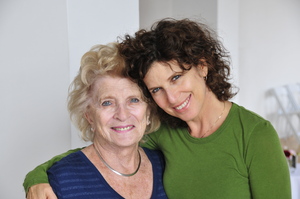 Filmmaker Gayle Kirschenbaum (right) with her mother Mildred in "Look at Us Now, Mother."

Strong Jewish women take center stage in two new documentaries. Superficially it would be easy to compare Mildred Kirschenbaum and Sophie Tucker to forces of nature, dominating their environments and commanding attention. Yet both films, in different ways, let us see the far more interesting and complex women behind those initial impressions.
"Look at Us Now, Mother" will be shown at the Woods Hole Film Festival on Cape Cod on July 27, with filmmaker Gayle Kirschenbaum and her mother Mildred in attendance. This is a film that – if it doesn't get a wider theatrical release – is going to enjoy a long life in front of women's groups of all kinds. It gets at the heart of the mother/daughter relationship where Gayle, growing up, wished she could be in another family.


Her mother criticized her hair, her nose, her developing body. Nothing seemed right. Then, as an adult, it was constant harping on why she wasn't married. After having made a documentary short ("My Nose") about her mother's desire for her to get a nose job, she decided to make this longer film exploring the relationship between the two of them. In the process, they both learned something about the other. The key to unlocking the relationship was getting Mildred to open up about her own life, especially her own childhood and growing up. Suddenly she was no longer the domineering figure that Gayle had always known, but someone who had to deal with a family tragedy as a child. This was at a time where disease and death were not discussed. One got through what life threw at you, and you moved on. Of course such pain doesn't go away. It simply emerges elsewhere.


Mildred turns out to be quite the character, and if we're put off by her when first introduced through excerpts from Gayle's youthful diaries, that changes over the course of the film. By the end we not only see them form the loving relationship Gayle may have wanted from childhood, but you may want to reach out to your own parents or children, if you are able.


Sophie Tucker, of course, was an entirely different sort of woman. In "The Outrageous Sophie Tucker," which played at JewishFilm2015 this past spring, we are introduced to someone who was a towering figure in American entertainment but may be largely unknown to today's audiences. Indeed writers Susan and Lloyd Ecker – our guides through the film clips and the literally 400-plus scrapbooks of Tucker's life (mostly kept at Brandeis University) – note that they first heard of her at a Bette Midler concert, where Midler would share some classic Tucker stories.

Throughout her long career, starting in the early part of the 20th century until her death in 1966, Tucker conquered vaudeville, nightclubs, radio, and television. Her movie career was less successful, although her appearance in "Broadway Melody of 1938" did lead to a friendship with a young Judy Garland. From her outsize figure to her never losing the common touch, from a flair for self-promotion to her sometimes unconventional personal life, Tucker turns out to be a figure who very much needed to be reclaimed for modern viewers.

What's truly amazing is how easily she mingled with people in all walks of life. Wherever she went she made friends, yet she also performed for presidents and had a close, personal relationship with F.B.I. director J. Edgar Hoover (who reportedly asked if he could have one of her dresses). When Josephine Baker returned to the United States and was to perform in Miami, Tucker was so outraged by attacks by local bigots, that she personally introduced Baker's first performance. Today she would be called a pop diva – a precursor to the likes of Cher, Madonna, Beyonce, and Taylor Swift – but she was an original, flaunting her ample figure and making no apologies for it. Indeed, she was making a rather bold statement about female sexuality simply by not being shy about the subject. As she quipped in a TV appearance where a cameraman was trying to get her to stay on her mark, "Tucker don't follow men. Men follow Tucker."

Mildred Kirschenbaum and Sophie Tucker are women from another era, yet these two films show they both have a lot to teach us today.

"Look at Us Now, Mother," Woods Hole Film Festival, July 27, 5 p.m. Go to woodsholefilmfestival.org or 508-495-FILM.
"The Outrageous Sophie Tucker," opens July 24, West Newton Cinema. Go to westnewtoncinema.com or 617- 964-6060.



---