Ordination Ceremony with His Holiness the Dalai Lama
in Dharamsala, India, 2018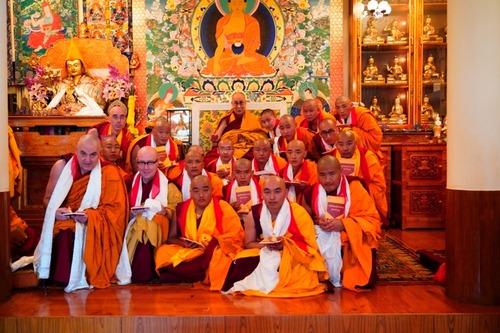 Venerables Losang Gyatso and Thubten ('Kiwi') Gundun from Nalanda Monastery participated in the ordination
Photo Courtesy of the Office of the Dalai Lama


Wisdom from Our Teachers - Letting the Buddha Relax

By His Holiness the Dalai Lama

Since we have obtained this precious human life, now is the time to stop the suffering of samsara. When you remain a layperson or householder, there are many interruptions to your Dharma practice. On the other hand, if you ordain, in contrast to the life of a householder, you have greater opportunities to engage in Dharma practice. Therefore you should appreciate the life of ordained beings and the qualities of ordained beings, and you should know the faults of the householder life.

This is not to say that you will not be able to engage in Dharma practice if you are a layperson. But what is clear to all of us is that when you lead a household life, you naturally need to take care of all the members of the family, which includes gathering wealth and so forth. Then, in relation to your family members, you develop many more enemies and many more objects of attachment. It is in this way that you extend your circle. Therefore, under such circumstances, even though you have the wish to engage in Dharma practice, you will be naturally compelled by the situation itself to spend most of your life, your energy and your time looking after your relatives and so forth.

Read more...
Living Vinaya in the West
By Venerable Tenzin Drolma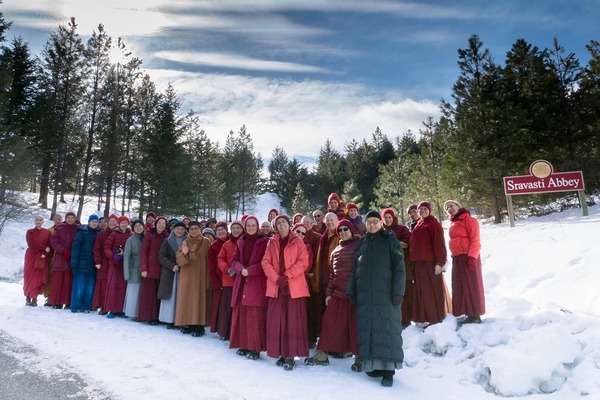 Photo Courtesy of Gen Heywood Photography
It was a celebration of the nuns' ordination in the West and a meeting of traditions. At Sravasti Abbey in the snows of Eastern Washington in the United States, fifty of us joined together to learn the Vinaya from Master Wu Yin, the Abbess of Luminary Temple and Buddhist Institute in Taiwan. She and her illustrious faculty along with the Sravasti Abbey community created an amazing program of teachings, discussion, practices, and fun.
We learned from lectures by the master, from presentations by her students and from teachings by Ven. Thubten Chodron, the Abbess of the Abbey. And some of the time we learned from each other through discussions. It was an amazing experience. But that wasn't all. We meditated, we worked, we prayed, we ate, we walked in the snow, and we played. There was not a moment in which the Dharma was not being honored in one way or another.
Read more...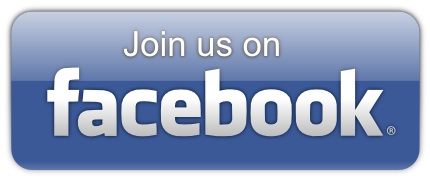 ________________________________________________________________________________
My Story On How I became A Buddhist Nun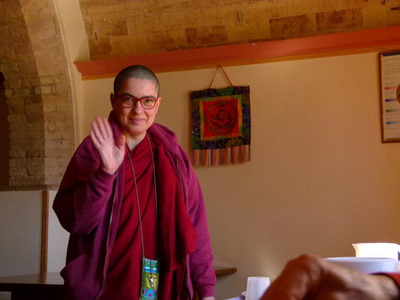 Ven. Jampa Sangmo - Photo Courtesy of Ven. Siliana




By Ven. Jampa Sangmo (Katia Di Bernardini)



My official Buddhist path started in London at Jamyang Center while it was still in Finsbury Park. At that time I used to live and work as a helper at Geo Studio Europe in Finsbury Park; an English school for Brazilian students (mostly coming from Fortaleza); but I also used to follow the 'Friends of Western Buddhist Order' for some time.

At the beginning my approach to Buddhism was blissful and joyful. I used to meet regularly Geshe Tashi Tsering and follow his teachings. One day I started to have nightmares and be mentally confused. From that time I started travelling to various places and there, had been forcedly hospitalized in psychiatric hospitals in Europe and abroad: UK, India, Budapest, Turkish Cyprus and Greek Cyprus.

I had been in ten hospitals and was first diagnosed with bipolar mania. The maniac often believes he/she's a saint in bliss and ecstasy. When I moved back to Rome (my home town), the blissful mania degenerated into mystical delirium which is also characterized by believing to be an omniscient seer.
In Italy I kept following the FPMT center, but in Rome we don't have yet an FPMT center so I used to follow the Samantabhadra institute guided by teachers from Ganden Monastery. There, Geshe Thubten Dargye advised me to become a nun, to renounce the worldly life.

So I became a nun in ILTK with the presence of the fully ordained monk, Tibetan doctor "amchi" Lobsang Samten from Sera Monastery, who checked that I was lucid during my ordination, because from the Vinaya point of view, if a mentally disable person is lucid during the bestowing of the vows, that person can actually take ordination. Fortunately, everything went well and I took ordination in 2010 with the abbot Khensur Jampa Tegchok Rinpoche.

Today my practice of Buddhism - the study of the great treatise, doing retreat and my daily recitation - and the care of my Teachers and community have a good impact on my life, it diverts me from my psychiatric state and I am now again happy. I only need a preventive psychiatric treatment to avoid the relapses.

I am a happy Buddhist nun living in the monastic community of Shenpen Samten Ling in Pomaia, Italy.
________________________________________________________________________________
Sangha Community News




Sera IMI House
Venerable Legtsok

reports from India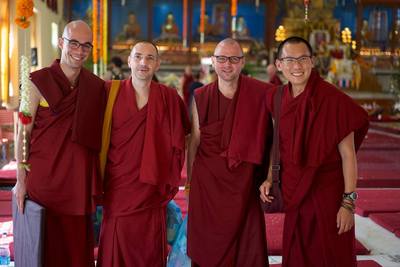 Venerables Tsultrim, Olivier, Tsondru, and Drachom -

Photo courtesy of Bill Kane

Today, March 12, the newest member of Sera IMI House, Tsultrim Tsephel, officially entered debate by offering a memorization exam to the abbot together with a group of other monks who will become his classmates. Tsultrim graduated with flying colors from the most recent Lotsawa Rinchen Zangpo Translator Program and has been living at IMI House since last October. Before entering debate a monk needs to memorize the Heart Sutra, Praise to the Twenty-One Taras, and several lineage prayers and torma offerings to Hayagriva and other protectors. Tsultrim has been working hard at this for the past few months as well as learning some initial debate technique from our second most junior monk, Lobsang Lekshe from Argentina. In the past year, after some initial skepticism, Lekshe has become a huge fan of Yongzin Purbu Chok.

During the months before and after Losar many monks go out of the monastery to do memorization retreat, attend teachings, do practices in Bodhgaya, and visit relatives. Sera IMI House monks usually follow suit: this winter has seen Geshe Namdak in Dharamsalla leading the Pre-Ordination Course for the sixth year, Ven. Tenzin Namjong leading an intro course and a two-week retreat at Root Institute, Ven. Tenzin Gache doing retreat at Milarepa Center in Vermont and giving some talks in Boston, and Ven. Lekshe visiting family in Argentina. At Sera Ven. Jampa Khedrup has been working on a translation of an extensive commentary by His Holiness the Dalai Lama on the Boddhisattva Way of Life from Tibetan into English and Ven. Legtsok has been tending to admin and maintenance duties at Kopan Monks Hostel where he is manager for one year from last December.

For anyone interested, a new 19-year Geshe Studies Program (GSP) starts each year 25 days after Losar. Tuition is free, room and board are provided, there are unlimited seats, and access to the best scholars of the Nalanda Tradition in the world. In FPMT nearly all the Tibetan teachers went through this program, so if you're young and you'd like to develop the same qualities they have, joining the GSP is a good way to start.


Nalanda Monastery
Venerable Tendar
reports from France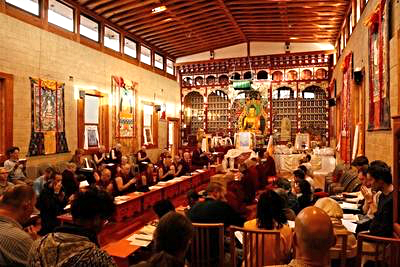 The FPMT's five year Basic Program commenced in the last week of January, attracting over 40 students from within Nalanda's monastic community and lay buddhists from across the world. Nalanda's resident teacher, Geshe Jamphel Gyaltsen, has begun explanations of Lama Tsong Khapa's Middle Length Lam-Rim, to be studied for the first half of 2018.

Geshe-la has encouraged students to set their motivations well and to appreciate the opportunity at hand: "We are representing many different countries, people coming together sharing the same interest in buddhism and the Dharma, it comes out of good karma, so we should consider ourselves very fortunate to be here and to be able to start this set of studies, this program. My wish is that we will all be able to complete this program of studies."

While the new BP started, the Master Program students continued with enthusiasm the Madhyamika module under the guidance of our precious abbot Geshe Losang Jamphel.
Other good news is that we welcomed several newly ordained monks as residents, some new statues arrived for the gompa, the dining room has been sound proofed and a new oven was purchased due to a generous sponsor.

We are also delighted that the Ganden Tripa (Losang Tenzin) Rinpoche will visit Nalanda at the end of May, in July we hope Khandro-la Rangjung Neljorma Khando Namsel Dronme will offer a retreat at Nalanda and during the summer a retreat will be offered by Venerable Rene Feusi.


Gelong Vinaya Course at Nalanda Monastery

From August 19 to August 31 Geshe Jamphel Gyaltsen will offer Vinaya teachings for gelongs at Nalanda. Geshe Tenzin Losel (Graham Woodhouse) will translate and will possibly lead question and answer and discussion sessions. The text will be from Jetsun Chokyi Gyaltsen; this is about to be finalized.

It will be part of the intention to organize yearly Vinaya classes in or around the Rains Retreat (this year at Nalanda the monks will abide in the later Rains Retreat, which starts August 26 and ends October 9). Monks are welcome to stay with us during this time.

All gelongs are very welcome to attend these precious teachings. If any getsuls are interested in joining, please contact Tendar: nalanda.tendar@gmail.com for more information.



Taiwan Nuns Community
Venerable Dechen reports from Taiwan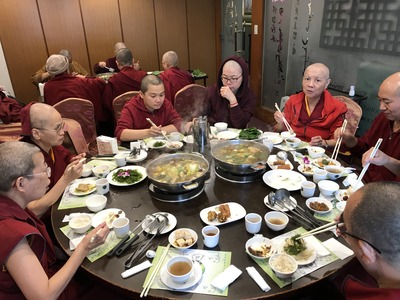 The FPMT Taiwan Centers' resident Geshes and nuns met for a losar lunch gathering on March 3 in a Mongolian steamboat restaurant in Taipei, Taiwan. There were fourteen of us, including Geshe Tashi Tsethar and Geshe Tenzin Choying from Shakyamuni Center, Geshe Jampa Sonam from Jinsiu Farlin Center, and eleven nuns, namely Vens. Choying Sangmo, Thubten Khadro (there are two with the same name), Thubten Jangchup, Thubten Osel, Thubten Khachoe, Thubten Legmon, Thubten Sangmo, Thubten Paldron, Tenzin Gyaltsen and myself Thubten Dechen.

The Geshes and nuns in FPMT Taiwan Centers had practiced the bi-monthly sojong for the years 2014, 2015 and 2016. Then there was a pause for several months in 2017. In August 2017 we resumed sojong again and offered this opportunity to the sangha members of the other organisations. Although this didn't last very long, for several sojong occasions we had around four to six gelong, ten to twelve gelongma and around ten getsulma gathered together for the purifying and restoring practice.

It had been a very meaningful group practice and experience. We are planning and are looking forward to starting sojong again before Saka Dawa this year.



Thubten Shedrup Ling Monastery
Venerable Gyatso reports from Australia


Amongst the countless preparations the monks are working on for Rinpoche's retreat which begins at the end of March, we have repaired an ancient cast-iron image of Buddha from China and built a house for him. As soon as we paint the eyes and face, he will be installed in the outdoor shelter that is shown above.



*** The upcoming retreat of Kyabje Lama Zopa Rinpoche in Bendigo, Australia from March 31st to May 12th, 2018 will be live streamed. Get more information about how you can listen in every day here! ***




Dorje Pamo Monastery
- A place for nuns to live and practice together, in the service of the community
Venerable

Chantal Dekyi reports from France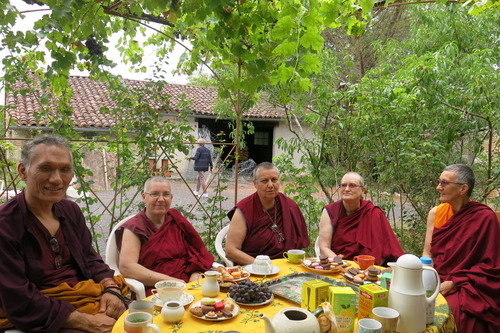 Yangsi Rinpoche visited the site, with Venerables Chantal Dekyi, Michele Peldreun, Tenzin Pema and Thubten Lhamo

After months of preparation, work on the building is starting now. It involves renovating the nun's quarters and creating a temple (gompa), library and reception area. The first nuns are expected to move in at the end of summer.

We were inspired with Lama Zopa Rinpoche's blessing and encouragement in the form of a message from Ven. Roger: "Rinpoche said ... He is so happy to hear it is working out and hopes all the nuns are also very happy to have such a great place and opportunity."

We are grateful to the kind benefactors who have donated funds to carry out these renovations. However, we are still looking for funding to complete the gompa and the library next to it.
THANKS a lot to all our volunteers who help maintaining the place, especially to nearby Nalanda Monastery monks and volunteers who helped emptying the house of all furniture and demolishing unwanted damaged items, such as old shower and wood paneling, in anticipation of the big building work starting now.

Watch short videos of the future gompa and offices: https://youtu.be/dlzkfNJnM9g, https://youtu.be/-QdPhNovb7g

For any inquiry, or if you are ordained and interested in joining the community, contact the Coordinator Ven Chantal at infos@monasteredorjepamo.org, Visit our website: www.monasteredorjepamo.org


Chenrezig Nuns Community
Venerable Palyon reports from Australia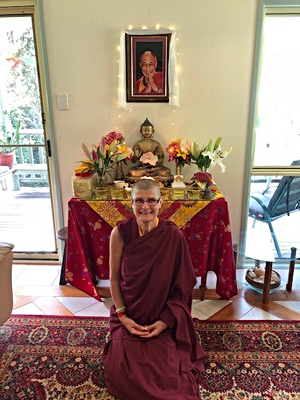 VenerableTenzin Dronsel - Photo Courtesy of CNC

Tenzin Dronsel has just returned from Dharamsala after having been ordained as a Getsulma on 23rd February, 2018, with His Holiness the Dalai Lama. We at CNC give a big wholehearted welcome to Dronsel and wish her all the best for her ordained life.

Busy, busy times here in preparation for Kyabje Lama Zopa Rinpoche's visit to Chenrezig Institute planned for May, following the Bendigo Retreat.

The gardens at CNC continue to come along well, recently we've had the help of Jane Shamrock who has come every Wednesday morning at 6am for the past six weeks or so and has been busy planting, weeding, mulching, and placing wire to protect the garden from the bush turkeys. Lots of rain lately has caused the dreaded weeds to emerge, thus lots of weeding is ongoing.

Some renovations are in progress in some of the huts, external painting of Tashi House and all of the cabins on 'the hill'. The cabins since have taken on a fresh glow, and also hopefully some purification of some obscurations along with it! Some internal painting and renovating also being undertaken in some cabins, making for some ease of use in the kitchen.

__________________________________________________________________________________
2017 Financial Report

On behalf of all the monks and nuns of the International Mahayana Institute, would like to let you know how very grateful we all are for your ongoing support of our community. Thanks to your kind contributions to the Lama Yeshe Sangha Fund, we have been able to support many Sangha activities in the last year. In order to be transparent on how we spend your donations, please take a look at the 2017 Financial report.


Announcements & Reminders for IMI Members:
1.

Are you looking for a place to do retreat, employment or a place to ask for prayer requests? All this (and more!) is on your IMI Forum in the Members Area.
2. The Grant application forms for Retreat, Study and Service are now accessible in the members area on the IMI website. There are also funds available for medical reasons, especially for medical emergencies.
3.

Please upload a photo to your IMI profile if you don't already have one up. We all would love to know what you look like! :)




4.

The I

MI is still seeking a monk or nun to help write articles and do interviews for the newsletter! Please let us know if you would like to help us out.




5.

Not sure who your IMI Regional Representative is? Take a look

here!
IMI eNews is published quarterly to communicate with the IMI monastic community.
If you would like to submit announcements or write an article for the IMI eNews,
please email:

office@imisangha.org

.

Copyright © 2018 International Mahayana Institute (Affiliate of FPMT)