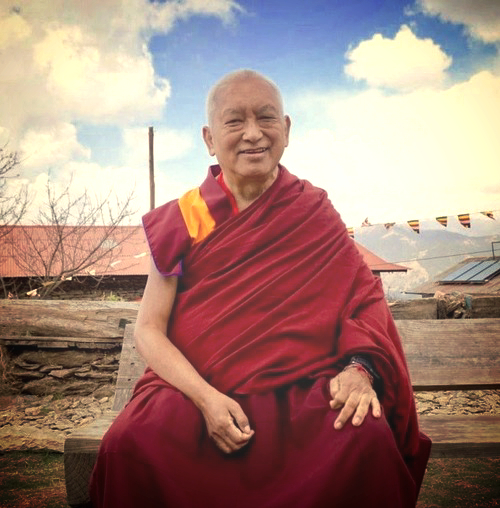 Photo by Ven. Lobsang Sherab

Kyabje Lama Zopa Rinpoche's advice for the present world situation:
"The strong practice of Dharma and the awareness of impermanence and death brings peace in your heart and no fear. It also makes you think, without any choice, of the incredible suffering of other sentient beings that one can hear and one can see. You don't have to read Dharma texts in order to discover and to see how this situation is unbearable. For yourself, it becomes a very strong persuasion to develop and generate compassion that leads to bodhichitta, which will lead you to enlightenment, lead you to create the causes of temporary and ultimate happiness, of enlightenment, for all the other sentient beings equaling the infinite sky."

Ven Tenzin Namdak becomes a Geshe!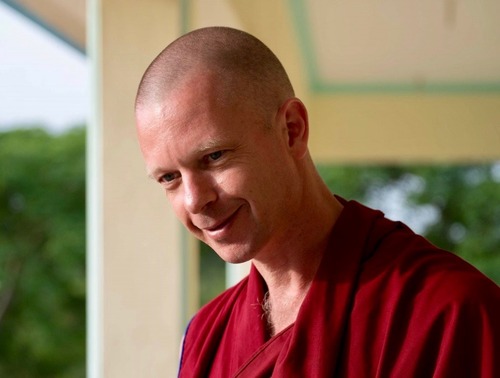 Geshe Tenzin Namdak - Photo by Deepthy Shekhar
Geshe Tenzin Namdak from the Netherlands finished the twenty year long study programme at Sera Jey Monastic University in South India to earn his Geshe degree. Geshe la kindly answered a few questions for us:

Can you please tell us how the Geshe ceremony went and how you feel about it? Read entire interview

here.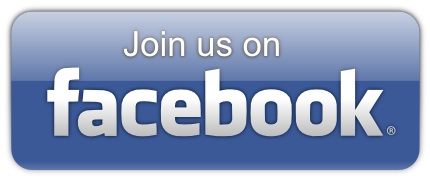 ________________________________________________________________________________
How to do Retreat - Part Two!
By Ven Champa Shenpen (Jesús Revert)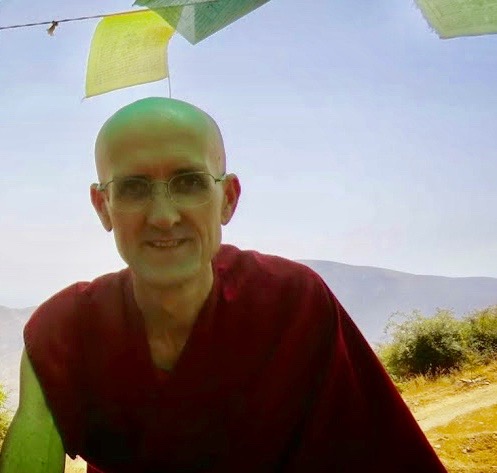 Venerable Champa gave a teaching in Nalanda Monastery in February 2017.
This follows Part One in the IMI March eNews
Maintening Bodhicitta is the best protection
When we worry about something for some years, have doubts, the best protection is to maintain love and compassion, maintain Bodhichitta. That is the best protection. I am sure you all know, you heard so many times about Bodhichitta, what it means and how to practice Bodhichitta. So that's something that we know, we can practice, we can try to do. Even if it's not spontaneous, not sincere, but we can try. We have that mind, we understand the benefits and we know the techniques and we know how to do. So if you try to meditate, to do the retreat, to think now I am going to spend three months meditating on Bodhichitta. That is the best protection. Read Part Two here.

________________________________________________________________________________
Ven Thupten Chodron teaches Sangha at ILTK
By Ven Drolma
Venerable Thubten Chodron with ILTK Sangha
Ven Thupten Chodron visited Institute Lama Tsong Khapa in Pomaia, Italy to teach the Sangha for
four days. Venerable taught on establishing the sangha in the west, building a healthy and
harmonious sangha and interdependence between the sangha and the laity.

Ven Thupten Chodron made a strong, positive and lasting impression on the ordained monks and nuns who attended her four days of teachings.

It was clear that the situation she described and derived most of her examples from; Sravasti Abbey where she lives is quite different from that in which the Sangha live in or near Institute Lama Tsong Khapa. Yet it was striking to listen to the way in which monks and nuns live in their vows at the Abbey.
The daily schedule combined to give the best opportunity to practice loving kindness at
the same time as being ordained was very inspiring. Read more...
Sangha Community News
Chenrezig Nuns Community
Venerable Palyon reports from Australia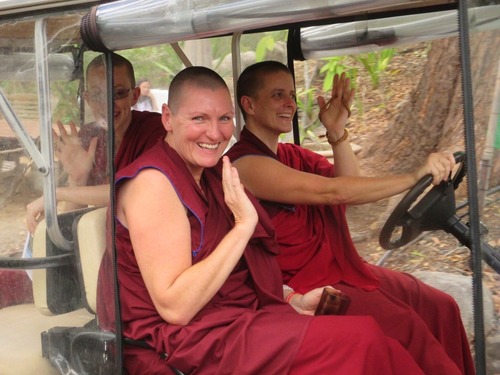 Chenrezig Nuns going up the hill in style

The year is certainly moving along quite swiftly! In April we welcomed a new nun to our community .... lovely to have Tenzin Drolkar join us. Drolkar was ordained by His Holiness the Dalai Lama in Dharamsala on 6th March, 2017.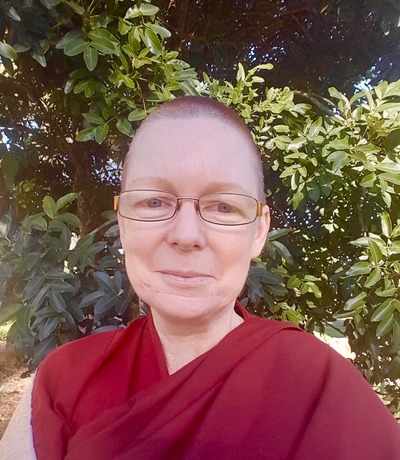 Venerable Tenzin Drolkar
Presently we are working towards a few projects. Finally after many years of having very poor internet, and occurrences of internet dishes being destroyed by lightning...very soon wifi will be available all over the hill, and everyone says yaaaay :)). We are also working on our gardens and landscaping making them more aesthetically pleasing.

We have regular visits from Gustav the Siamese cat from next door, he loves to come and visit, take in some teachings, do some meditation or just hang out at the nuns' huts.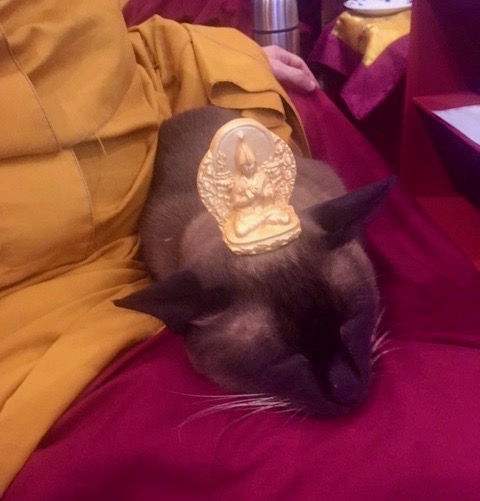 Gustav the very lucky Siamese cat
Recently Chenrezig Nuns' Community in conjunction with Chenrezig Institute purchased a "gogo mobile" or if you prefer a buggy, it assists us up the hill when needed or just when it's all a little too difficult. See how happy the nuns are!

A lot of us are looking forward to heading to Tasmania for the Saka Dawa weekend to take part in the Bhumtsog for the long lives of our precious gurus.

Thubten Shedrup Ling Monastery
Venerable Gyatso reports from Australia

Thubten Shedrup Ling Monastery's new prayer wheel house

Here at Thubten Shedrup Ling Monastery we have five monks and the Atisha Centre teacher, Geshe Rabten, and his interpreter, Losang Dorje, are living at the monastery. Life is running smoothly and happily and the teachings are superb. Jampa Choepal will soon be leading the first major retreat at the monastery, more than 30 people, mostly from Tara Institute, doing Yamantaka.

We will soon receive a large prayer wheel from Kathmandu to be installed in an outdoor building that is already completed. Our next two projects are a five-metre square celestial mansion to house the five Wisdom Buddhas superbly crafted in Saigon, and a chicken palace to rescue hens from death row at the local egg-farm. The Wisdom Buddhas are 1.2 metre high reproductions of magnificent holy images created by Jetsun Zanabazar in Mongolia several centuries ago.


Nalanda Monastery
Venerable Tendar reports from France

Nalanda Monastery's Gompa and accomodation block

Nalanda monks, nuns and students conclude five-year BP with a retreat.

While the Nalanda staff is preparing and advertising the upcoming 5 year Basic Program 2018 - 2022, the monks, nuns and students of the BP 2013 - 2017 are rounding up the BP with a concluding retreat.

The FPMT Basic Program Certificate will be awarded by the FPMT to students who successfully complete the final, comprehensive exam. Candidates must have completed all the subjects of the core curriculum and a three month-long Lam Rim retreat at the conclusion of the program, and also satisfy the criteria of ethical conduct and practice.
Monks, nuns and students of Nalanda's BP could choose to do an individual retreat, and about 7 persons chose for this option. The rest, about 12 people, chose to do it together during the months May, June and September (during July and August Nalanda welcomes guests to the Summer retreats).
Two big tents were connected together and a new decorated temple in the garden-forest was created. During the beautiful months of May and June one feels in the nature between the birds.
Read more...

Milarepa Center
Merry Colony reports from the United States
Only two nuns expressed a wish to take up residence at Milarepa Center. As two is not enough to take care of the basic needs of the place, Lama Zopa Rinpoche has advised that Milarepa continue on as a center. A new director has been identified and will be taking over the running of the center in Dec 2017.



Announcements & Reminders...
1.
The 23rd Western Buddhist
Monastic Gathering, a gathering for Buddhist Monastics in the West, will be held
at Heartwood Refuge, North Carolina, October 16 – 20, 2017
Theme: Social Engagement, Embodying the Dharma through Relationship - wbmonasticgathering@gmail.com. Registration is now open!
Find more information about the event
here.
2. The IMI Forum for the Light of the Path retreat in August is up. Please use it to find rides etc. (In the members area on the IMI website)




3.

Please don't forget to update your profiles whenever you move, change phone numbers or e-mail addresses! If there are any questions about this contact

office@imisangha.org
IMI eNews is published quarterly to communicate with the IMI monastic community.
If you would like to submit announcements or write an article for the IMI eNews,
please email:

office@imisangha.org

.

Copyright © 2017 International Mahayana Institute (Affiliate of FPMT)