DONATE



The Ohio Young Birders Club resently was named an "Outstanding Project"
by the Ohio EPA's Ohio Environmental Education Fund! We received this beautiful recycled glass award to recognize the accomplishment! We are so proud of this program and so very grateful to all of the people - of all ages - that support our efforts!
VISIT THE
YOUNG BIRDERS
NETWORK
The Ohio Young
Birders Club was founded and is supported by Black Swamp
Bird Observatory

6th ANNUAL OHIO YOUNG BIRDERS CONFERENCE
Saturday, November 3, 2012


8:30 a.m. Pre-conference Field Trip
10:30 a.m. - 4:00 p.m.



Sunday, Nobember 4, 2012


8:30 a.m. - Noon Field Trip
Aullwood Audubon Center & Farm
New Farm & Discovery Center
Dayton, Ohio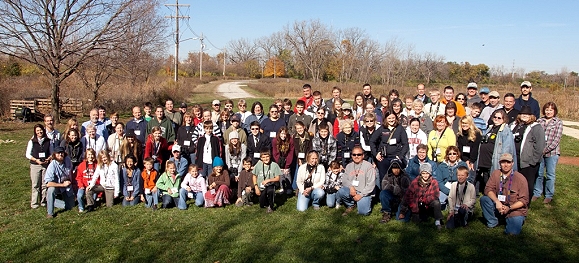 O

ur 2010 conference was held at the Aullwood Audubon Nature Center. This year, we'll hold the conference at Aullwood's new Farm Discovery Center, which opened in May 2012.
Saturday, November 3rd, activities include:
* Songbird banding demonstration
* Prothonotary Warbler nest box assembly for Hoover Nature Preserve
* Live birds of prey from Raptor Inc.
* Lunch prepared by Jerri's Catering
* Drawings for door prizes
* Drawings for raffle prizes that include three sets of binoculars
The opening remarks will begin at 10:30 a.m., and the conference should end around 4:00 p.m.
The OYBC student presenters for this year's conference are:
* Kristina Polk - "Birding and Conservation"
* Kayla Parry - "The Life of a Birdwatcher"
* Kathleen Seeley - "Auk! A Week of Coastal Seabirds in Maine"
* Doug Whitman - "Birding Without Birding: The Art of Passive Birding"
* Dakota Outcalt - "How Citizen Science Helps Birds"
Special guest speaker is Hope Batcheller who is a student at the Cornell Lab of Ornithology. Hope will discuss opportunities for young birders. Hope was the keynote speaker at the 2008 OYBC conference.
Our 2012 keynote speaker is Benjamin Van Doren from White Plains, NY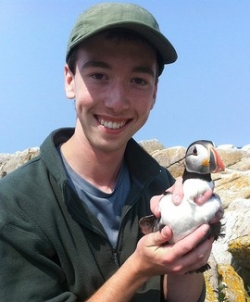 "Witnessing the Invisible and Understanding the Unexpected:
Nocturnal Migration and Morning Flight"
Benjamin is a freshman at Cornell University. He is a former president of the New York State Young Birders Club and is fascinated by avian migration. His research into the phenomenon of morning flight was recognized earlier this year when he won fifth place in the national Intel Science Talent Search in Washington, D.C.
Benjamin has spent time volunteering in Maine for the Seabird Restoration Program and for his local M.A.P.S. bird banding station. He has served on his city's Sustainability and Environmental Enhancement Committee, which recently helped to designate new parkland.
Benjamin's published writing includes articles in the journal "North American Birds" and "Birding" magazine. Benjamin is currently working with the Cornell Lab of Ornithology's BirdCast project to further examine and better predict seasonal migrations.
The Kaufman Bird ID Quiz
We expanded the Kaufman Bird ID Quiz from 10 species to 12, and we increased the number of students who will assist Kenn with explaining the bird identifications.
Assisting Kenn with this year's quiz, are:
Additional Field Trip, Sunday, November 4:
On Sunday morning, November 4, we will hold a field trip that is tentatively planned for Englewood Metropark, which is located near Aullwood and near the conference host hotel.
Several rooms have been reserved at a discount rate for conference attendees at the Best Western Dayton Northwest hotel, located at 20 Rockridge Rd; Englewood, OH 45322.
The room rate is $59.99 + tax per night. This discount applies if you stay one night or two nights, which would be Friday, November 2 and/or Saturday, November 3. This rate includes a full breakfast that is served on the weekends starting at 7:00 a.m.
To make reservations call the hotel directly at 937-832-2222 by Tuesday, October 16, 2012 and mention that you are with Black Swamp Bird Observatory. The hotel is located five miles from Dayton International Airport.
Student Rate: $10
Adult Rate: $20
You do not have to be an OYBC member to attend, and adults are encouraged to attend too.
For a mail-in registration form, click HERE.
Mail the completed form to:
Black Swamp Bird Observatory
Or you can register securely online using PayPal HERE
If you have questions about the conference, or if you would like to be a sponsor, contact us at 419-898-4070 or by email at info@ohioyoungbirders.org
Conference details can be found on our website HERE.
Thank you for supporting the Ohio Young Birders Club,
Education and Outreach Coordinator
OYBC Membership Coordinator
Conference Sponsors



Ohio Young Birders Club
Founded by Black Swamp Bird Observatory
13551 W. State Route 2
Oak Harbor, Ohio 43449
419 898-4070

www.ohioyoungbirders.org
The mission of the Black Swamp Bird Observatory is to inspire the appreciation, enjoyement,
and conservation of birds and their habitats through research, education, and outreach.