DON'T FORGET YOUR BOY'S LIFE MAGAZINE THIS SUMMER!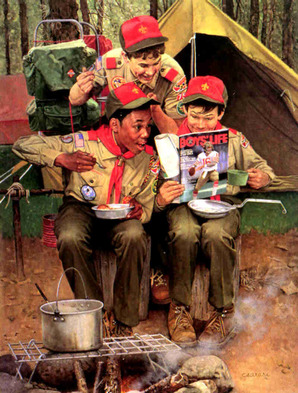 CLICK HERE TO SIGN UP FOR BOY'S LIFE MAGAZINE OR CALL 915-772-2292!!!
________________________________________________________________
Yucca Express Information!
Membership Policy Update – Next week will be the vote for the Membership Policy and the Yucca Council wants you to be the first to know what the outcome will be. Be on the look out next week for a Yucca Express Special Edition on the Membership Policy.
Popcorn – Special thanks to participating units that attended the Popcorn Sneak Peek in April. Attendees were surveyed and sampled new product that will be included in the 2013 sale. Trails-end will hold Popcorn Orientation Dinners in July as done in the past. Dates will be announced at June's roundtable and the next Yucca Express. The 2013 Popcorn Leader's Guide will be distributed at the Popcorn Orientation Dinners.

Journey to Excellence – Journey to Excellence is the BSA's standard for quality programs and designed to elevate and improve your unit's year-round program. Your unit is responsible for updating on-line: advancement and Good turn for America service hours. Please refer to www.yuccabsa.org for all resources. You can also cross-check and request copies of your unit advancement report and Good Turn for America service hour report from the council registrar to make sure that all information has been properly credited recorded.

Membership Update – Now is the time for your unit to start laying out your fall recruiting team. The council will again provide all recruiting material FREE to units. These materials and training of the best practices for increasing youth and adult recruitment will be shared and distributed at Fall Recruiting Training in August. Location and date will be announced at the June roundtable.

Friends of Scouting – Special thanks to units who have opened their doors to district representatives who have been working aggressively to raise much needed contributions that support 85% of our programs. We are only seven weeks away from our campaign deadline. If your unit has not scheduled a presentation yet, please contact our district executive. Our goal is 100% unit participation. Please make your personal contribution today.

Council Special Events – The council is holding a series of special events to help further grow our program, membership, and unit service. These events kick-off with the Construction "Good Scout" Dinner honoring C.F. "Paco" Jordan on June 21 at Grace Gardens. Other events include:
Education Builds Character, August 1, Marriott – Honoree Dr. Jimmy Vasquez
Woman of the Year, August 15, Marriott – Honoree Sue Woo
Scouting's Salute to the Military, September 11, Marriott
Golf Classic, October 7, El Paso Country Club
Healthcare Gala, October 11, Grace Gardens
If you would like to be apart or support any of these events, please contact Ernie Gonzalez at 915-772-2292, ext. 216. Event information will be added to the council website this month.
For more info visit www.yuccabsa.org
Check out our Social Network Sites! www.facebook.com/YuccaCouncilBSA www.YouTube.com/YuccaCouncilBSA www.twitter.com/YuccaCouncilBSA