Shape Up SF Coalition Meeting Reminder
WEDNESDAY, July 13, from 2-4 PM
1390 Market St., Suite 900, in The Mint
Featured Presentation by The Food Guardians
Dear Shape Up SF Member,
San Francisco was well represented at the bi-ennial Childhood Obesity Conference at the end of June. Two and a half days of fascinating research, successful programs, and provocative speakers left me inspired with much to ponder. Marianne and I were thrilled to see fellow San Franciscans from the school district, YMCA, Boys and Girls Clubs, Kaiser, Anthem, UCSF, DCYF, and others still!
The conference reinforced that the epidemic of childhood obesity is complex and multifactoral. The epidemic is the result, in part, of multiple market failures. The market has failed to allow for a true choice between healthy food and occasional unhealthy treats. Not only is water cheaper than soda; but the real price of soda has gone down since the 1980s and the real cost of fruits and vegetables has more than doubled. When you consider that the USDA has 1% the budget for healthy food compared to the industry's massive billion dollar budget the imbalance becomes patently clear. Now there is an opportunity to make your voice heard. Federal guidelines that would help limit junk food marketing to kids are under review. You can make your voice heard to the Interagency Working Group and let them know your opinion about foods marketed to kids.
https://ftcpublic.commentworks.com/ftc/foodmarketedtochildreniwg/
As written, if companies follow these guidelines, they will ensure that foods marketed to kids contain real food ingredients including fruits, vegetables, and whole grains; while limiting harmful nutrients such as sodium, added sugars and saturated fats. Though voluntary, these guidelines are an important step towards protecting kids from junk food marketing. Learning about the marketing influences was simply one fascinating track of the conference. There was so much more that captivated attendees - information and ideas we intend to put to use in San Francisco.
Lastly, in a nod to Soda Free Summer, a new campaign is out there encouraging young people ages 14-21 to "outsmart the advertisers! Create a rap, video or art work and talk back to marketers that want you to drink gallons and gallons of soda, no matter what it does to your health. The winning entries will be used in a campaign to spread the word". Deadline for entries is July 29, 2011. Check it out at: WhySodaSucks.com
With that, I wish you all a fabulous Soda Free Summer and see you on Wednesday at the Coalition meeting!
-Christina Goette
What is Shape Up SF doing?
JULY 2011
Forward this message to a friend
Thanks to our Gold Medal Partners:




By Cynthia Flock
After having completed data entry on 1,656 parent surveys and 207 classroom student travel tallies from 14 elementary schools, SF Safe Routes to School staff spent the month of June examining the data for lessons learned. While students responded enthusiastically to the walking and biking education they received throughout the two years, SRTS SF hopes to enhance our parent outreach efforts as we move forward into the new grant cycle. After all, it's the parents who are deciding how their children get to and from school at this age. As more parents become involved in SRTS SF efforts we believe we will see a bigger change in elementary student commuting habits.

In the coming school year, SRTS SF will be teaching classes to kindergarten, 2nd and 4th grade students at 15 SFUSD elementary schools, as well as an anti-idling campaign geared towards parents who drive children to school. To go along with our encouragement events, Walk to School Day and Bike to School Day, we will offer contests and periodic school and community trainings on Walking School Buses and Bicycle Trains which emphasizes the safety and fun of walking and biking to school in groups. We will continue data collection and analysis and will use this information to continually make improvements to our program.
SRTS SF partners have been busy in June discussing and coordinating details for the cycle 3 SRTS grant proposal that is due July 15th. If accepted, this grant funding will begin in 2013 and run for two years.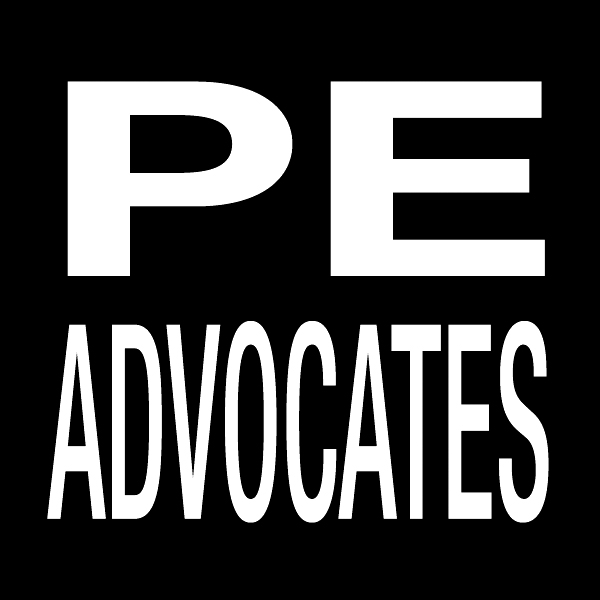 By Marianne Szeto
After nearly a year of planning, the Shape Up SF PE Advocates are pleased to present a series of informative and engaging sessions to share why PE is so important for health and academic achievement and how other school districts have successfully implemented PE. Shape Up SF will also be sharing the results of our PE study conducted by UCSF in 28 SFUSD schools at the August 11th session with Dr. Ratey. We hope you will join us!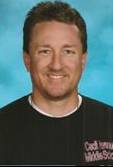 AUGUST 4 FROM 6:30-7:30 pm - KEN DYAR, Coordinator of Physical Education, Wellness, and Athletic Competition in the Delano Union School District, will talk about PE as a tool to help close the achievement gap, to improve the health and wellness of our students, and to advocate for your child to get the quality PE the s/he deserves. Ken has been the recipient of numerous awards, including California Teacher of the Year in 2006. This event is brought to you by Shape Up SF and Sports Basement and will be located at Sports Basement, Presidio, 610 Old Mason St.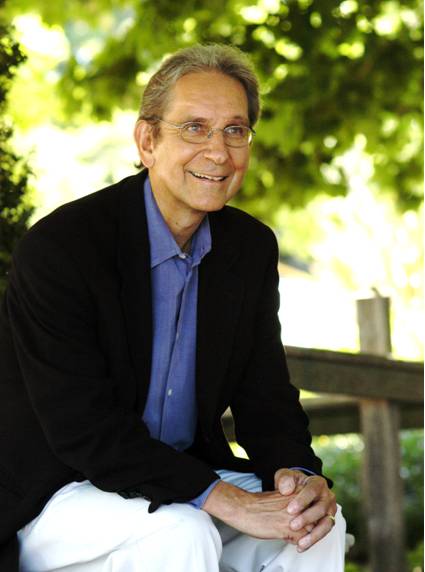 AUGUST 11 FROM 3-4:30 PM - DR. JOHN RATEY. DR. JOHN RATEY's book, SPARK: The Revolutionary New Science of Exercise and the Brain, explores the connection between exercise and the brain's performance. SPARK is fueling a movement to re‐engineer school practices and medical recommendations to establish curriculum, lifestyles and corporate practices based on scientific principles. Ratey's talk will appeal to educators, parents, providers, researchers, students, and adults of all walks of life who are interested in the positive benefits of healthy lifestyle choices.
This event is brought to you by Shape Up SF, SF Bay Health Improvement Program, and SF General Hospital's Community Wellness Program and will be located at Community Health Network, 2789 25th St., 2nd Fl., Room 2002.


AUGUST 11 FROM 6:30-8 pm - DR. RATEY will be speaking again, this time, focusing on the connection between exercise and the brain's performance and how exercise improves our ability to learn. After a new PE program was instituted at an Illinois school district, test scores soared—ranking first in the world in science and sixth in math. Ratey's research makes the case that PE should be an integral part of a well rounded education as well as a strategy for combating childhood obesity. This event is brought to you by Shape Up SF and Sports Basement and will be located at Sports Basement, 1590 Bryant St.


AUGUST 25 FROM 6:30-7:30 pm - DARIN CURTIS, Physical Education Teacher at Tierra del Sol Middle School in San Diego, and California's 2011 Teacher of the Year, will address strategies to create a school culture of health and fitness by providing a comprehensive and quality PE program that will instill a lifelong
love of fitness in our children. This event is brought to you by Shape Up SF and Sports Basement and will be located at Sports Basement, 1590 Bryant St.

Copies of SPARK: The Revolutionary New Science of Exercise and the Brain will be raffled
off and light refreshments will be provided. Admission is FREE. To RSVP for any of the events, go to: www.tinyurl.com/pe‐rsvp.
For more information or to download flyers, visit www.shapeupsf.org/pe/outreach.
Contact marianne.szeto@sfdph.org if you have any questions.
Please help us promote this series. Download and post the flyer (PDF) and send it to your networks.


By Tracey Patterson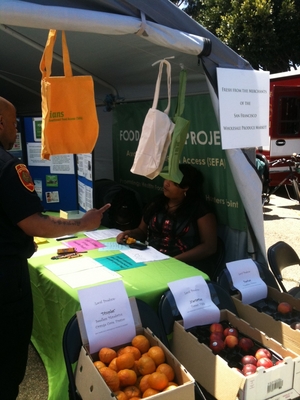 The SEFA Food Guardians were excited to see so many people out and enjoying the sunshine and great weather at the Sunday Streets and Bayview Music Festival event on June 12! The Food Guardians had a table at the Bayview Opera House, as part of the Sunday Streets Health Fair. Our table was packed with walkers, bikers and families stopping by to play our "Food Systems Knowledge" game or to share their thoughts and ideas as to what type of improvements they would like to see in their neighborhood that would make it easier to live healthy. All participants received a delicious piece of fresh, organic and local fruit generously donated by the SF Wholesale Produce Market. We had over 200 people participate in our tabling activities in just the first few hours! The day was a great success.
During the month of June, the Food Guardians pilot-tested their assessment tool that will rate grocery stores based on the SEFA Food Retail Standards for Health and Sustainability." We will be fine-tuning this assessment tool over the next few weeks, and will be out in the Bayview rating the grocery and corner stores against these standards in the upcoming months. We will use the results to give feedback to store owners about ways to improve their stores to benefit the community, and to give residents feedback on how these neighborhood stores are doing.
The Food Guardians look forward to sharing more information about our work during our presentation at the next ShapeUp Coalition meeting on July 13.
Looking for a simple and fun activity to motivate your staff or summer campers to drink more water? Check out our new Water Activity Poster! There are 8 boxes per row for 8 glasses a day. The directions at the bottom of the poster read:"For every glass of water you drink this week, fill in one box. When you fill the whole glass, start a new poster!"
This poster was designed with Rec Park Summer camps in mind, but is suitable for summer programs, classrooms, worksites, and even at home. Make it a challenge by having people write in their initials. Count them up to see who drank the most water, and offer a prize! If you're interested in getting some posters, let us know, or download your own (PDF) from the Shape Up SF website.
Shape Up SF also has a limited supply of Potter the Otter books for our partners.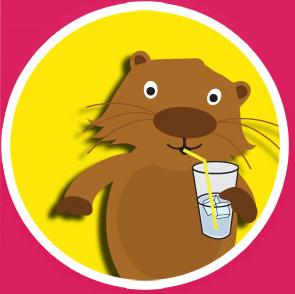 Potter the Otter is a champion for water and the newest mascot of the ReThink Your Drink campaign! Shape Up SF has a limited supply of Potter the Otter books. If you'd like a supply, let us know.
For more information about Potter the Otter and other available resources, visit www.potterloveswater.com.