Dear Shape Up SF Member,



Healthy eating and active living are the most fundamental elements for

improved overall health and well-being. And as we know, the evidence

continues to grow indicating that the prevalence of sugar sweetened

beverages negatively impacts overall health.

Through the generosity of the Metta Fund, Shape Up San Francisco will

launch a campaign to educate San Francisco residents about the negative health

impacts of sugar sweetened beverages. This outreach is particularly

important in our low income communities and communities of color where

access to healthy food and open spaces are limited and healthy choices

are not always the easiest choice. We are extremely grateful to the

Metta Fund for their support and look forward to changing the beverage environment.

Next Wednesday, October 9, we have the perfect opportunity to increase

our physical activity with International Walk and Roll to School

Day! In San Francisco, our Safe Routes to School Partnership provides giveaways and support for schools to host their own Walk and Roll events. This year, we have

over 70 schools signed up and over 12,000 students estimated to participate. See the update below for more information.

And of course, we

hope to see you at our quarterly Coalition meeting, where we will share our preliminary PE

assessment results. This is the PE Advocates' second PE assessment and it was

jointly funded by Shape Up San Francisco and PEEF, providing

longitudinal data for fifth grade. This is very important information

and we hope to see you there!


Chuck Collins, Shape Up SF Co-Chair

October 9, 2013 from 2-4 PM

50 California St. Suite 650
Please take transit to the Embarcadero Station.

Hannah Thompson, Doctoral Candidate at UCSF and
Graduate Researcher at UCB, will share lessons
learned from the San Francisco PE Assessment, and next steps for keeping PE moving in the right direction.

We will also have updates about Rethink Your Drink and unveil our new Coalition website!
By Katie Swidarski


Record Breaking Year for Walk and Roll to School Day!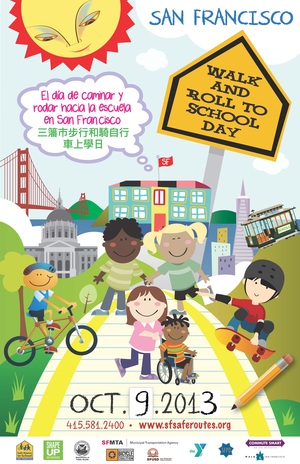 Over 70 schools in San Francisco have registered a Walk and Roll to School Day event with an estimated 12,800 students walking and rolling to school on October 9, 2013.
ER Taylor Elementary, the largest elementary school in San Francisco, will be the site of this year's media event. Students and their families will meet at the parking lot of the Church for all Nations and enjoy fun activities to get warmed up for the walk starting at 7:50 am. Special guests will include: District 9 Supervisor, David Campos; State Senator, Mark Leno; Rec and Park General Manager, Phil Ginsburg;
SF Police Department;
and representatives from the Safe Routes to School Partnership.
The school has already begun preparing for the Walk and Roll to School Day event with bi-weekly Walking Wednesdays, rewarding students and parents who walk or bike at least 15 minutes to school. The classroom with the most Walking Wednesday participants is awarded the coveted Golden Shoe award during a morning ceremony. Leading the way for the school's SRTS initiatives are ER Taylor Principal, Marlene Callejas, SRTS Liaison, Mario Vega, and Education Outside Corps Member, Elizabeth Reiff.
ER Taylor has demonstrated a sincere commitment to promoting safe and active walking and biking to school. Since beginning participation in the SRTS program 4 years ago, the school has seen a significant increase in the number of students walking to school. Walking has increased from 26% of students in September 2010 to 38% of students this fall, September 2013. Biking, although seemingly difficult due to the hills in the area, has also increased from 0.8% to 2%.
Mark your calendar for Wednesday, October 9 and join a Walk and Roll to School Day event. Find out more by visiting http://sfsaferoutes.org/events/walktoschool. After the event, check out the Shape Up San Francisco Coalition's Facebook and Twitter pages for stories and photos of Walk and Roll to School Day events.
Last year, 55 schools registered to participate and around 8,500 students walked and rolled to school the day of the events. For questions on planning or supporting an event, please contact the SRTS Partnership at
staff@sfsaferoutes.org
.
Special thanks to the San Francisco Unified School District administrators, faculty and staff for their commitment to student health and safety! Coordination for the Walk and Roll to School Day event is provided by Walk San Francisco, with support from the Department of Public Health.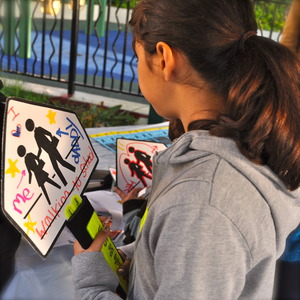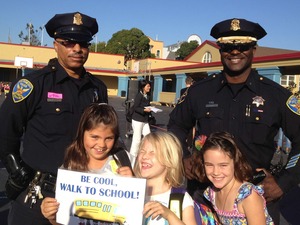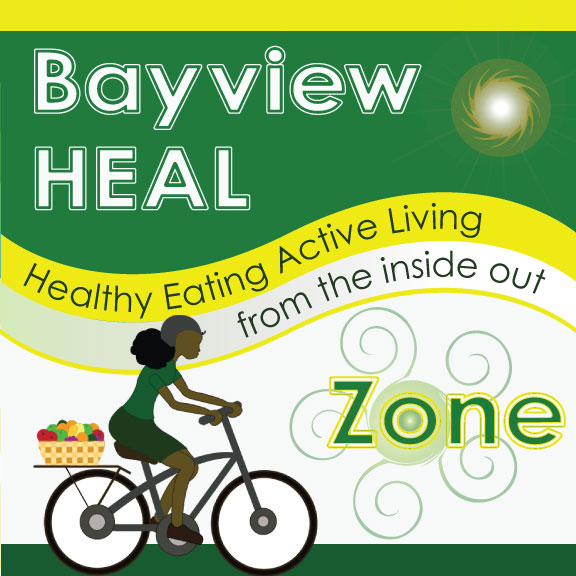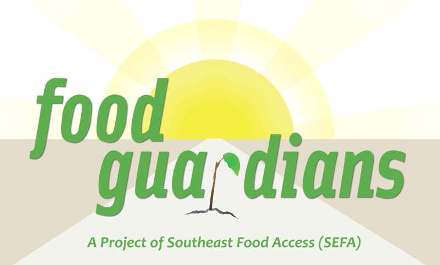 By Andrea Tacdol



Last month, the Bayview HEAL Zone had it's first successful Outdoor Dinner

and a Movie Night at MLK Park. Residents came out with blankets and chairs

to watch "The Wiz," listen to the sounds of 3rd Street Blues Band, and

learn about efforts being made to improve and activate the park.

Also in

September, Food Guardian, Kenneth Hill was included in KALW 91.7's Sights

and Sounds of Bayview, a radio project telling the stories of people who

live and work in the community. To listen to his story click here.

In October, the HEAL Zone will be working with Southeast Food Access

Alliance (SEFA) to hold 2 community focus, "Let's grow together!" to learn

more about the goals, strengths, successes and challenges of gardens in the

Bayview. The focus groups will be held on Tuesday, October 8 from 12-1:30PM

and Wednesday, October 16 from 6-7:30PM at the Bayview Library.

Participants will get a free meal and will be entered in a raffle for a

$100 gift certificate to a local gardening store. Please contact Mishwa Lee

(Northridge Coop Homes CommUNITY) at 415-821-4341 or Andrea Tacdol (Bayview

HEAL Zone) at 415-822-7500x29 to rsvp or if you have any questions about

the focus groups.

Also this month, the Food Guardians will be busy giving Kennedy Market (3rd

and McKinnon) a healthy makeover. The HEAL Zone will be supporting Carver

Elementary School with their Bike to School Day on October 9. On October 12, BCA/Rafiki Wellness, SF Bike Coalition and POWER will have their first HEAL Zone-sponsored community bike giveaway. And for Halloween, kids

can trick-or-treat for a healthy Halloween snack at Ford's Grocery Store

(1496 Oakdale Ave).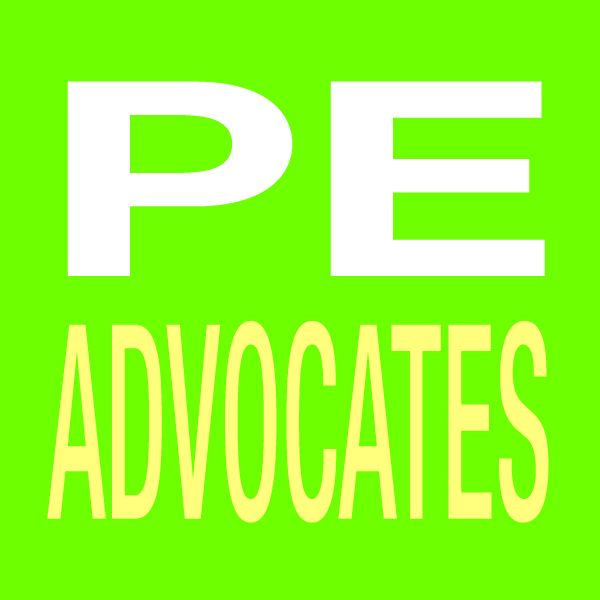 By Marianne Szeto

Preliminary findings from our second PE Assessment are encouraging and we are seeing modest improvements in several key areas. I hope you can join us for the Coalition meeting next week for a presentation by Hannah Thompson. More information will follow her presentation.

---
As you may know, the Public Education Enrichment Fund is up for reauthorization next year, and a lot of work is happening behind the scenes to ensure that it will pass to fund not just physical education, but other critical programs like pre-school for all, sports, libraries, arts, and music, and other services such as wellness centers, peer resources, translational services and more. Learn more.
---
Since Shape Up SF convened the PE Advocates in 2010, the PE Department has been a critical partner. We are thrilled to see them out in the community to remind families that PE provides not only important fitness skills, but that it is also a fun part of their child's school day. The photo below was taken at a recent Play Streets in the Excelsior. Read the full article. Photo: Raphael Kluzniok, The Chronicle. In the background is Gloria Sagastume, Physical Education Implementation Specialist for Elementary Physical Education. Go Gloria!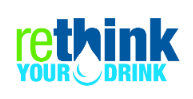 By Janna Cordeiro, Healthy Beverage Consultant

"You wouldn't eat 22 packs of sugar. Why are you eating them?"

I'm thrilled to announce that the Shape Up San Francisco Coalition was awarded a $250,000 grant from the Metta Fund to implement a media campaign to educate San Franciscans about the amount of added sugar in sugar-sweetened beverages (SSB), as well as to encourage San Franciscans to decrease their consumption of sugary drinks and increase their consumption of drinks with no added sugar especially water. The funds will be used to launch the Choose Health Campaign which asks, "You wouldn't eat 22 packs of sugar. Why are you drinking them?" There's the equivalent of 22 packs of sugar in a 20 oz container of soda! We focus group tested this campaign with youth, African Americans, and Latinos, and this campaign resonated with all groups. Keep your eyes out for the posters on buses, transit shelters, in BART trains, on billboards, at corner stores, in the voting guide this fall, and more! Alameda County is also implementing this campaign (Sonoma County is planning on implementing it in January), so you may have seen these posters on East Bay BART trains and AC Transit buses already. We hope to increase our collective impact by coordinating the campaign with other Bay Area counties.

The second phase of the media campaign will involve developing educational materials and messaging about the role of marketing and strategy in promoting sugary drinks ---particularly to youth and to communities of color. As a first step, we have been working with The Bigger Picture/YouthSpeaks to develop PSAs addressing these topics and they will be available very soon! Also, we will be doing more research and engaging in discussions with those most impacted by sugary drink consumption to develop effective messages. We plan on holding a meeting in November to highlight this issue at the January Shape UP SF Coalition meeting, so please join the discussion. For more information, check out the Yale Rudd Center for Food Policy & Obesity website called Sugary Drink Facts. In addition, if you haven't read Gary Taubes and Cristin Kearns Couzens' exposé in Mother Jones about how sugar has been marketed, it's definitely worth a read.

In addition to the two phase media campaign, we will continue to provide Rethink Your Drink presentations for organizations seeking to educate their staff, coalitions, or program participants about how to be sugar savvy, better understand the impact of sugary drinks on our health, and why it's an important public health goal to reduce sugary drink consumption. If you would like one of our staff or partners to provide your organization with an educational presentation, please don't hesitate to contact me at janna@jannacordeiro.com.

You may have heard that on September 24th, Supervisor Mar in collaboration with Supervisors Weiner, Cohen and Avalos requested a study from the Budget and Legislative Analyst's Office on what other cities are doing to reduce sugary drink consumption, the impact sugary drinks are having on the health of San Franciscans, and the economic impact of sugary drink consumption. We're excited to see the supervisors working together to better understand the issue so that they can make informed policy recommendations.

Lastly, don't miss the California Healthy Beverage Summit scheduled for Monday, October 21st at the Davidson Conference Center at USC in Los Angeles. It should be a lively and informative event that will help build momentum across California.


---
Be informed.
Today, the Public Health Institute announces a comprehensive new tool to help all sectors strengthen their capacity to address health and equity: Health in All Policies: A Guide for State and Local Governments. The Guide was created by the Public Health Institute, the California Department of Public Health and the American Public Health Association in response to growing interest in using collaborative approaches to improve population health by embedding health considerations into decision-making processes across a broad array of sectors. The Guide draws heavily on the experiences of the California Health in All Policies Task Force and incorporates information from published and gray literature and interviews with people across the country.


California renews commitment to Safe Routes to School, increases funding for walking and bicycling in the Active Transportation
Program
Gov. Brown has signed SB 99, boosting walking and bicycling spending AND setting aside dedicated funding for Safe Routes to School for next 3 years!

'Mountain Dew Mouth' Is Destroying Appalachia's Teeth, Critics Say
Appalachia has a distinct culture of sipping soda constantly throughout the day. "Here in West Virginia, you see people carrying around bottles of Mountain Dew all the time — even at a public health conference," says public health researcher Dana Singer.

Mayor McGinn suggests soft-drink tax for parks money
At a mayoral forum sponsored by the Seattle Parks Foundation, Mayor Mike McGinn proposed a 1-cent-an-ounce tax on sugary beverages as a way to support city parks.

McDonald's goes global on nutritional offerings
McDonald's on Thursday, in partnership with a nutrition-focused branch of the Clinton Foundation, revealed plans to begin offering side salads as substitutes for french fries in its value meals — at no additional cost — in the U.S market in 2014.

McDonald's also committed, on a near-global basis, to promote only water, milk or juice as the beverages that come with its Happy Meals, and promised to place nutritional messages on Happy Meal packaging. While soft drinks will still be available with the meals, they won't be promoted.
Participate.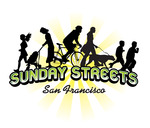 Richmond Sunday Streets, October 27th
On Sunday, October 27, Sunday Streets will visit the Richmond for the very first time, traveling on Clement Street between Funston and Arguello, and Arguello between Clement and Fulton. Come explore this wonderful neighborhood, full of delicious restaurants and unique shops!
From 11 a.m. to 4 p.m., the streets will be transformed into a safe, fun space for kids, families, friends, and neighbors to get outside and engage in healthy activities while exploring the neighborhood on foot or by bike. All Sunday Streets activities are free and open to all, so come out and enjoy the fun. Sunday Streets is excited to partner with the
Clement Street Farmers Market
. Just for this special collaboration, the market will spread out to four blocks of the route, from Arguello to 5th Avenue. They will be up and running from 9 a.m. to 2 p.m., so bring an extra bag or two and load up on healthy treats!
This great community event can't happen without scores of volunteers to ensure everyone has a safe and fun time. Each volunteer gets a tasty lunch, free t-shirt, and the appreciation of thousands of kids, families, and neighbors who come out to enjoy Sunday Streets. Click
here
to sign up!
Click
here
for a map of the Richmond route. For questions about volunteering, or local access during the event, call 415-344-0489 x 2, or email Liza@livablecity.org. If you are interested in hosting a program or activity, email Beth@livablecity.org.
---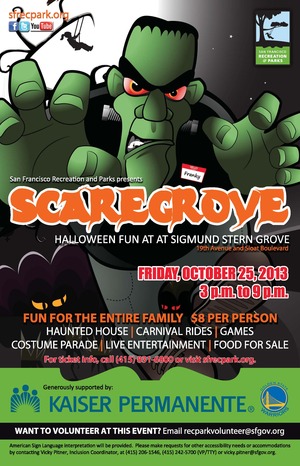 Join SF Rec and Park for a scary good time at Scaregrove, our annual Halloween event at Sigmund Stern Grove for San Francisco families, Friday, October 25, 2013, from 3 p.m. to 9 p.m. Enjoy carnival rides, a haunted house, hay rides, games, crafts, live entertainment and food for sale. Come dressed in your favorite costume and join our costume parade! $8 per person. For ticket information, visit us online at sfrecpark.org or call (415) 831-6800. Get out and play!
---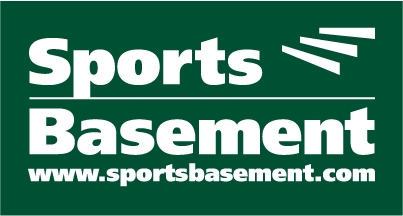 You already know that Sports Basement is a sporting-goods retailer with five locations in the San Francisco Bay Area; and that they take pride in selling the best brands at basement prices... But did you also know that they host events and speaker series each month?
Event: NormaTec Recovery Speaker Series with Marty Mattox
Thursday Oct 8th, 6-8pm
Sports Basement Bryant:
1590 Bryant street, SF, CA 94103
A new innovation in improving athletic performance through recovery:
The Normatec Recovery System will be presented by Marty Mattox, physical therapist, athletic trainer, and owner of Ultrahealth Sports Physical Therapy and Training, downtown San Francisco. She will address the use of recovery using compression materials, and/or the Normatec in improving athletic performance. The Normatec is now being used by cyclists in the Tour de France, triathletes in Ironman, professional athletes, both in football and
basketball.

---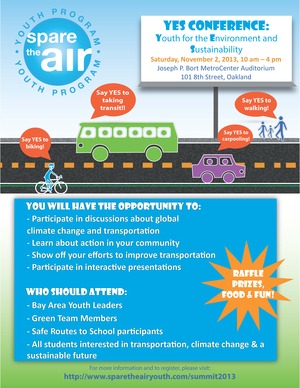 Save the date for the Youth for the Environment and Sustainability (YES) Conference!
Saturday, November 2, 2013, 10 am – 4 pm
Joseph P. Bort MetroCenter Auditorium
101 8th Street, Oakland
For more information and to register, visit:
http://www.sparetheairyouth.com/summit2013