Dear Shape Up SF Member,
Patience is critical to the work that we do, because most of our efforts need time to take root. With that in mind, we at Shape Up SF like to celebrate successes be they big or small. Most recently, we were thrilled that Shape Up SF passed Kaiser Permanente Northern California Regional office's nomination process and were invited to apply to their Healthy Eating Active Living (HEAL) Zone grant. Whether or not we get funded, I find it noteworthy and uplifting that our efforts are recognized by Kaiser Permanente. We'll hear in June if we are successful!
The issue of calorically sweetened beverages remains a focus of our efforts; and we have allies across the country working on reducing consumption of such drinks. The Center for Public Health Advocacy has once again worked with our state legislators (Assemblymember Bill Monning) to introduce a soda tax (AB669). A recent statewide Field Poll shows nearly 60% of Californians identify childhood obesity as a "serious problem" and a majority of the state's voters support the concept of a soda tax to fund the fight against childhood obesity.
Shape Up SF has also been working closely with UCSF's Bay Health Improvement Project, whereby UCSF is leading a collaborative process to bring the wealth of knowledge and experience residing in UCSF to our city and community efforts to make the healthy choice the easy choice. Three areas of focus have evolved from the process thus far: increasing opportunities for physical activity, decreasing unhealthy and increasing healthy food access, and increasing breastfeeding. We welcome this process as another way to build on Shape Up SF's efforts.
I urge you to consider going to San Diego to attend the Childhood Obesity Conference in at the end of June 2011 – more information here: http://www.childhood-obesity.net/
And lastly, lace up those walking shoes (slip into your bathing suit, grab your racket, etc.) because the last day of February kicks off our annual Walking Challenge! Invite your friends, neighbors and colleagues to start a team!
- Christina Goette, Shape Up SF
What is Shape Up SF doing?
What can I do?
February 2011

Mark your calendars for the next Shape Up SF Quarterly Meeting:

April 13, 2011
2-4 PM
1390 Market St., Suite 900
---
USDA Under Secretary Kevin Concannon visited E.R. Taylor Elementary School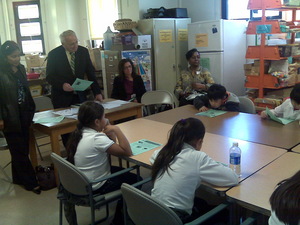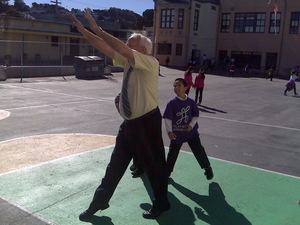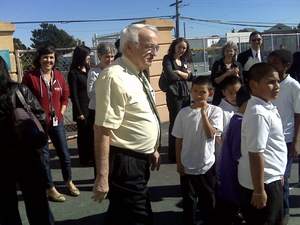 Forward this message to a friend
Thanks to our Gold Medal Partners:




By Amy Portello Nelson

The Shape Up SF Walking Challenge is starting soon!
February 28-May 6, 2011

There's still time to sign up a team or join one! Shape Up San Francisco challenges you, your family, neighbors, and colleagues to get moving with the annual Walking Challenge . Get a team together and log your physical activity over the course of 10 weeks. Participants can be active on their own or with their teammates, but the goal is for the team's collective total activity to add up to 1,016 miles, the equivalent of the California coastline. So far over 50 teams have signed up, but we've still got a long way to go! The Challenge is a great motivator for movers and shakers of any age and ability level because it allows you to set your own goals and use whatever physical activity is most fun for you. Sign up today at www.shapeupsfwalkingchallenge.com!
Don't forget, we're inviting ALL teams to participate in the Citywide Kickoff Event on the first day of the Challenge, February 28! Get your team together to do ANY kind of physical activity and take a photo of your team together. Send an email with a brief description of your kickoff event and a photo to shapeup@dcyf.org and your team will get a prize! It's also a great opportunity to make sure everyone is clear about what they're doing and to discuss activities the team might want to do together.
San Francisco Bike to School Day is Thursday, April. 7. Join friends and families across San Francisco as they pedal together for the 3rd Annual San Francisco Bike to School Day Celebration. 3000 students at over 40 schools are expected to participate. To find out more information, which schools are riding, or to volunteer, visit our website: www.sfbiketoschoolday.org.

School Community Hubs
On behalf of San Francisco's Safe Routes to Schools partnership, the Presidio Community YMCA Bicycle Program (YBike) is launching a new community-based safety education program this spring, funded by a 20-month grant from California Kids' Plates. The program will bring fun bicycle, pedestrian, and traffic education programs directly to San Francisco neighborhoods and communities, via San Francisco's School Community Hubs program, a joint-use agreement between the San Francisco Unified School District and the City of San Francisco that unlocks schoolyards on weekends for public recreational use. It's the perfect place for youth and families to learn how to ride a bike, cross streets safely, and walk or bike safely on city streets. As part of the event, 50 bicycle helmets will be given away free to youth in need, and families will receive education and practice on how to fit and wear a bike helmet safely and properly. Bring a bike to donate to the Bike Swap or pick one up for your family. It's the perfect way to enjoy a Safetyville Saturday! For more info or to volunteer, go to www.ybike.org/communityhubs or email volunteer@ybike.org.

Safe Routes to Schools' first community-based bicycle and pedestrian safety training was a huge success in its first weekend. Over 100 people came to Longfellow Elementary School to experience the new weekend program at San Francisco's newest School Community Hub. With guidance from experienced Safe Routes to Schools instructors, dozens of students practiced their bike skills on the skills course, earning their stripes as safe bicyclists, and earning the right to try out the giant Safetyville (mini-city) course, where they could practice their hand signals and learn about right-of-way at intersections. Many youth learned to ride a bike for the very first time. Families who needed bike helmets were given them free – all part of the new program, which is funded by California Kids' Plates. Kids who needed their bike tuned up or wanted to swap it for a different size bike visited the Bike Doctor on-hand to check over bikes, or participated in the Bike Swap. One lucky student won a bike for free in the raffle. It was a weekend to remember at the Longfellow School Community Hub!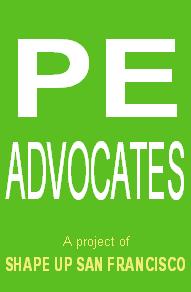 By Marianne Szeto
As you know, Shape Up SF has been funded by the California Obesity Prevention Program to increase physical activity through PE. Funding will support an assessment of the current status of PE and a PE Forum where we will share the results of the assessment, policy recommendations that will support the school district to meet state mandates for PE and that will help raise the value of PE among school administrators, teachers, parents, and youth.

The purpose of this study is to learn more about PE in SFUSD and to identify factors associated with a greater quantity of high quality physical education. Specifically, we'll be looking at how much PE students receive, how active students are during PE, and what factors facilitate having high quality PE classes. Data collection for the assessment is currently underway. UCSF researchers have diligently scheduled observations of PE classes at 20 elementary, 4 middle, and 4 high schools.

Support for Shape Up SF's PE Advocates is continuing to grow, thanks in large part to Patrick Heryford, Director of Major Gifts and Association Initiatives of YMCA SF, and Susan Roberts, former Executive Director of Girls on the Run Bay Area, who have headed up our sponsorships and endorsements. As of today, over 30 organizations have endorsed our work. Go to www.shapeupsf.org/PE and click on Endorsing Organizations at the bottom of the page to see the list.

If you would like to join our movement to increasing the quantity and quality of PE in our public schools, let us know! We need volunteers to present at PTA meetings to endorse our work.

Special thanks to Sports Basement, who has sponsored our PE Forum! Sports Basement has always generously supported Shape Up SF's initiatives by hosting our parties, donating incentive items and discounts, and we are so excited to continue strengthening our partnership by working together to raise the value of physical education in our public schools.

For more information about endorsements or sponsorship, please download our sponsorship packet (PDF).


By Tracey Patterson
The SEFA Food Guardians have been busy over the past month! The Food Guardians were invited to present their survey results and advocacy for improvements with the Foods Co. market on Williams St. at the HOPE Collaborative in Oakland in January. The people in attendance, from community-based organizations throughout Oakland, were very impressed with their community-based research and efforts to work with store management for bring healthier food and a better shopping experience to the Bayview-Hunters Point neighborhood. In late January, the Food Guardians worked with researchers on a project to collect follow-up data that assessed 6 BVHP retail food stores on the variety of healthy food options that they stock. This data will be used to see if local stores change their product offerings as new grocery options move in to a neighborhood.
SEFA co-chairs, staff and a Food Guardian met with District 10's new supervisor, Malia Cohen, who was very supportive of SEFA's work and promised to collaborate in the future.

SEFA is seeking a new part-time Food Guardian. Food Guardians are community residents who help advocate, promote and create a sustainable food system, including access to healthy food for all residents in the BVHP and southeast SF. Food Guardians will reflect the diversity of the BVHP community. We strongly encourage applicants with a variety of language and cultural competency skills to apply. The Food Guardians work as a team to represent the community and work under the supervision of the Food Guardian Project Coordinator. This position is open until filled. Download the job description (PDF).

By Marianne Szeto
On Thursday, the Bay Area Nutrition and Physical Activity Collaborative (BANPAC) will be holding its quarterly membership meeting in San Jose, and is very excited to have Harold Goldstein, Executive Director of the California Center for Public Health Advocacy come speak about BANPAC's role in creating healthier communities.

First 5 Santa Clara developed a new English/Spanish book for younger children titled: Potter the Otter: A Tale About Water. If your organization is interested in ordering any, let us know.
What can I do?
Be Informed.
USDA Praises ER Taylor Elementary's Healthy Habits
By Amy Portello Nelson
On February 8, 2011, USDA Under Secretary Kevin Concannon visited E.R. Taylor Elementary School in Portola to commend their health and wellness programming. The visit coincided with the one year anniversary of Michelle Obama's "Let's Move!" campaign which, much like Shape Up San Francisco, aims to end childhood obesity and chronic disease through environmental and cultural change. Mr. Concannon was joined by several USDA staff, SFUSD staff, CCSF staff and SFUSD Board of Education President, Hydra Mendoza, during his tour of the school.

Led by Principal Virginia Dold and ExCEL Site Coordinator Gabby Guinea, the group observed organized physical activity with Shape Up partner, Playworks, and Mr. Concannon even played a little 3-on-3 basketball with the youth. The tour proceeded to the afterschool program room where students prepared baked curry sweet potatoes with lemon herb yogurt dip which showcased both the Network for a Healthy CA Harvest of the Month vegetable and the delicious herbs grown in the ER Taylor garden--the final stop for the day. In the garden, students explained all of the different fruits and vegetables growing there and how they eventually would be used by their afterschool program in cooking classes. After the tour, Mr. Concannon expressed his sincere admiration for all the important work and community collaboration being done at ER Taylor and overall in San Francisco to make nutrition and physical activity a priority. He specifically noted that food access and hunger continue to be large problems in CA and encouraged the continued efforts of the SF Food Bank, CalFRESH and Summer Lunch Program.
SF ExCEL at E.R. Taylor and Sunset Elementary is one of only four programs in Northern CA to be a learning center as part of the Center for Collaborative Solutions' Healthy Behavior Initiatives. They host site visits, provide technical support and serve as a model school for helping other programs increase the healthy eating and physical activity of their students, staff and families. E.R. Taylor is also a regular participant in the Shape Up SF Walking Challenge and a new addition to the Safe Routes to School program.
Community Hubs - Family Bike Safety Training
Join the San Francisco Bicycle Coalition's Safe Routes to School staff and the YBIKE program for family bicycle and pedestrian safety training as part of the "Community Hubs" program. It's the perfect place for young and old to learn to ride, learn helmet fitting, safety skills, safe street crossing, and how to ride safely on the road. Bring a bike to donate to the Bike Swap or pick one up for your family. As part of the event 50 bicycle helmets will be given away. For more info or to volunteer go to www.ybike.org or email volunteer@ybike.org.

Sat., February 26th | 10am-3pm | Monroe Elementary School
Sat., March 5th | 10am-3pm | Cesar Chavez Elementary School
Sat., March 19th | 10am-3pm | Francis Scott Key Elementary School



By Elton Pon, Recreation and Parks
Parents, summer is just around the corner. Why not have your child experience what thousands of kids do each summer? Rec and Park offers a variety of summer camps, including traditional camps like sports camps, Silver Tree and Pine Lake, and a number of new and exciting offerings like Action X Camp, Early Childhood camps, Camp Gourmet, Camp Azure, fishing camps, arts camps, Eco Adventure Camp and Camp Improv. Our catalog comes out in early March and registration begins March 19. Stay tuned! Log onto www.sfrecpark.org for more information.
---
To CBOs and school staff who work with teens: The two summer 2011 programs below – LINC and the Restoration Youth Crew, both run by the Parks Conservancy – are for youth ages 15-18, selective but not impossible to get into, and very welcoming to disadvantaged young people. Please share them with promising teens. The application deadline is April 8, 2011. More information and a link to the application are below.
Spend the Summer Working in a National Park
This summer, you could be part of a team that works on outdoor service projects while exploring and learning about the local national park. Check out these two exciting program opportunities:
LINC (Linking Individuals to the Natural Community) > During this six week program, local students assist with service projects, attend leadership workshops, and take field trips to special park sites (like Alcatraz Island and Muir Woods). Projects and activities vary by week and include trail work, plant propagation, and habitat restoration. All activities are linked to park priorities and provide critical support to the park. Students also participate in a four day camping and service trip to Yosemite. High school students who are open to new experiences, eager to learn new skills, and interested in working outside are encouraged to apply. No previous experience necessary. Students will receive a $1,000 educational award and academic credit upon satisfactory completion of this six week program.
Restoration Youth Crew > This five week program is designed for students who have some experience and/or exposure to working outside. Students should be looking to deepen their outdoor experience and learn new skills while exploring and restoring local national park lands. Participants in this program will work alongside field staff from both the National Park Service and the Parks Conservancy on natural resource restoration projects throughout the parks. The program provides a combination of intensive service work and hands-on learning with a specific focus on ecology, restoration, and land management. To kick off the program, students will participate in a three day backpacking adventure. Students will receive an $850 educational award and academic credit upon satisfactory completion of this five week program
Link to announcement, application form and more info: http://www.parksconservancy.org/our-work/site-stewardship-program/about/summer-programs.html