Dear Shape Up SF Member,

We may not get those hot summer days here in beautiful San Francisco, but that doesn't change the fact that Shape Up SF will once again be promoting a Soda Free Summer! You may all know this, but it doesn't hurt to do a little reminder as to why Shape Up SF focuses on those sugar loaded drinks. There is overwhelming evidence of the link between obesity and consumption of sugary drinks. Research shows that in the last 30 years, the average American's daily caloric intake has increased by nearly 300 calories and 43 percent of those additional calories come from additional soda consumption.i A child's risk of obesity increases an average of 60 percent with each additional daily serving of soda or other sugary drinks.ii A 2009 study by CCPHA and the UCLA Center for Health Policy Research found that in California two out of five children ages 2-11 and three out of five adolescents ages 12-17 consume at least one soda or other sugary drink every day.iii

SUSF's goal is to reduce consumption of sweetened beverages and there are many ways to do so. We focus on two primary approaches: education and reducing access. Our beloved Otter promotes drinking water, the Soda Free Summer challenge promotes going soda free, and Shape Up SF has a "Drink Water" ad in the World Series Champions the SF Giants' 2011 Official Yearbook.

It's reducing access where we expect to have a strong impact on consumption; for example last year, Recreation and Parks first instituted their Soda Free Summer Camps policy. Currently, at the state level Assembly Member Monning (D-27th District) introduced AB 669, which would levy a penny tax per fluid ounce on soda and other sugary drinks. The State Board of Equalization estimates that the tax would raise around $1.7 billion annually.iv In San Francisco, it is estimated that the tax would contribute $16.8M to revenues; of that about $7.7M would go to classrooms, $6.4M would go to children's sports or afterschool programs and about $2.7M would fund physical education and healthier school food. While the funding that could result is intriguing, from a public health perspective, the biggest benefit to this approach is it will decrease consumption of these high-calorie, sugar-loaded, non-nutritional beverages. We take our cue from the tobacco control movement which has successfully used these approaches to decrease smoking.

Read more information about AB669 or the recent study on related revenues or visit California Center for Public Health Advocacy's website.

In the meantime, I invite you to join our Soda Free Summer challenge!

- Christina Goette

i. Woodward-Lopez G, Kao J, Ritchie L. To what extent have sweetened beverages contributed to the obesity epidemic? Public Health Nutrition. Published online 23 Sep 2010. doi:10.1017/S1368980010002375.

ii. Ludwig DS, Peterson KE, and Gortmaker SL. Relationship between consumption of sugar-sweetened drinks and childhood obesity: a proposective, observational analysis. Lancet, 2001. 357:505-508.

iii. Bubbling Over: Soda Consumption and its Link to Obesity. UCLA Center for Health Policy Research and the California Center for Public Health Advocacy; September 2009.

iv. State Board of Equalization Staff Legislative Bill Analysis on AB 669 prepared April 4, 2011. http://www.boe.ca.gov/legdiv/pdf/0669ab021711cw.pdf

Read the minutes from our April Coalition meeting.
What is Shape Up SF doing?
What can I do? Programs, conferences, important announcements.
Kaiser Permanente announces new priority areas for 2011 Responsive Grant Program.
Community Vital Signs Phase II: Moving the Needle
Rec and Park's Access to adventure
YBike scholarships for Bike Camps
Sunday Streets: May 8


2011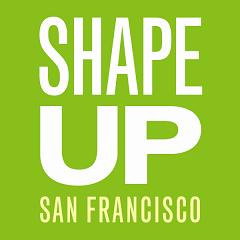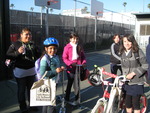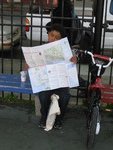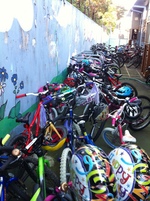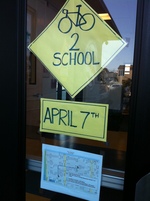 Forward this message to a friend
Thanks to our Gold Medal Partners:




There's just two more weeks left of the Walking Challenge! Remember to log your miles so your team can complete the 1,016 mile challenge by May 6. www.shapeupsfwalkingchallenge.org

Save the date for the Walking Challenge Closing Celebration: May 19 from 5:30-8 at Sports Basement (1590 Bryant St.). The party is open to all Walking Challenge participants where there will be a shopping discount, food, drinks, music, and raffle prizes.

Bike to School Day was a great success. Not only were we lucky with beautiful blue skies, but there was also a record 3,000 kids at nearly 40 schools across the city who biked to school on April 7. Check out a few photos to the right. Bike to School Day is an important "Encouragement" activity in the Safe Routes to School Program. www.sfbiketoschoolday.org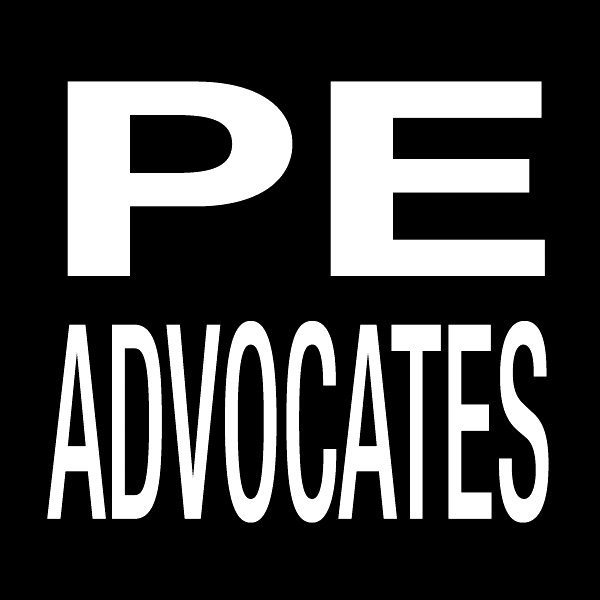 Subscribe to the PE Action Listserv (PEAL) to get updates on the work PE Advocates, news, research, and calls to action! Check out our first newsletter. Our next newsletter will explain how the following image makes the case that aerobic exercise has a positive impact on learning and brain functioning.



Let me know if you'd like to be added to the PEAL!

The PE Advocates are excited to have endorsements by schools, PTAs, and youth groups. Special thanks to the latest endorsers of our work: Galileo Wellness Youth Outreach Workers, SY 2010-2011 and James Lick Middle School! If you'd like to be an endorsing organization, please complete this form.





SEFA and the Food Guardians have been continuing the effort to increase healthy foods, especially produce, in the Bayview Hunters Point. Efforts with FoodsCo on Williams St, by the Food Guardians have resulted in an array of healthier products, such as low salt, baked chips, etc, on the shelves. Additionally, FoodsCo's "wall of value" now includes fresh produce, low fat and sugarfree baked goods. Not only are there healthier products on the shelves, but, more importantly, people are buying them up.

The Food Guardians and SEFA have also been working to support Super Save (on Third Street) expand the produce section at the store. Two Food Guardians testified recently at a BVHP Project Area Committee meeting in support of a low interest loan that will support the produce expansion. This loan would make it possible to have available an abundance of fresh produce on the northern end of Third Street. Fresh and Easy, which is expected to open sometime this summer on the southern end of Third Street, will also be offering fresh produce.

Register for a "Be Sugar Savvy" Train the Trainer workshop on May 4 from 10-11:30 AM at 30 Van Ness Ave., Suite 2300. Register online at www.sfdph.org/hetc. At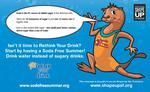 the training, you'll receive the tools you need to implement a Rethink Your Drink campaign at your own program or worksite, including the opportunity to get materials such as Drink Water! Said the Otter books, posters and more.

Check out the 2011 World Series Champions San Francsico Giants Official Yearbook for the Rethink Your Drink ad on page 271!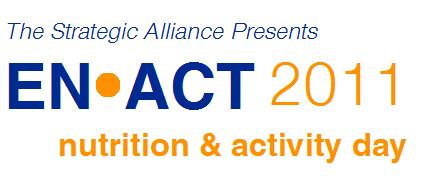 Today is the last day to register for ENACT Day! ENACT Nutrition and Activity Day is the Strategic Alliance's yearly, grass-roots lobby day held in Sacramento, CA. ENACT brings together advocates from across the state in an effort to educate policy makers about opportunities to improve California's nutrition and physical activity environments. This year's legislative agenda includes:
- Taxation of sugar sweetened beverages
- Expanding school breakfast programs
- Creating safe routes to school
- Improving state food procurement policy
- Financing to improve access to healthy foods
- Establishing joint use of buildings/spaces to improve nutrition and physical activity

If you'd like to register, don't wait! http://www.cfpa.net/ENACT2011/

Food Systems
On April 20, Mayor Edwin M. Lee signed into law an amendment to San Francisco's planning code that will explicitly allow for "urban agriculture" in all areas of the City and the sale of produce from urban
gardens in all non-residential zones.

The Urban Agriculture Ordinance amends the San Francisco Planning Code to recognize various scales and intensities of local food production, from small scale gardens to larger-scale urban agriculture. The legislation allows for the sale, pick-up and donation of fresh food and horticultural products grown on-site in all districts, and for the sale of "value-added products" such as jams or pickles where the primary ingredients are grown and produced on-site in all districts except districts zoned for exclusively residential uses. Food and horticultural products grown that are used for personal consumption remain unregulated.
The San Francisco Planning Department, in coordination with the Department of Public Health, Department of the Environment and San Francisco Public Utilities Commission, worked with numerous community stakeholders to draft the Ordinance which is an instrumental part of the City's efforts to encourage local food production in the region. In July 2009, former Mayor Gavin Newsom issued Executive Directive 09-03, Healthy and Sustainable Food for San Francisco, which directed all City departments to implement actions consistent with the goal of fostering local food production in San Francisco. The Ordinance, co-sponsored by Mayor Lee and Supervisors David Chiu, Eric Mar, Ross Mirkarimi and Malia Cohen, passed the Board of Supervisors on April 12th.

Kaiser Permanente San Francisco is now accepting applications to its Responsive Grants Program through June 10, 2011, in the range of $10,000 - $20,000.
For 2011-2013, Kaiser Permanente identified the following critical needs in San Francisco's culturally diverse communities:
Reduce obesity rates in children and adults.
Reduce alcohol and drug use rates in youth ages 12-24.
Reduce rates of community violence among youth ages 12-24.
In 2011, Kaiser Permanente San Francisco Community Benefit Program will accept only one request for consideration per agency - either an application for its Grant Program or a Community Event & Activity Support Request that matches the local priority areas.
Conference support requests are accepted only through the Community Event & Activity Support Request process.
Grant applicants may apply under only one funding priority area.
This is the only time period in 2011 that applications to the Responsive Grants Program will be accepted by the Kaiser Permanente San Francisco Community Benefit Program.

After April 25, 2011 the Grant Guidelines, required attachments and online application, will be accessible at www.kp.org/communitybenefit/sf.

To be included in the announcement list for the 2011 Responsive Grant Program and for questions regarding the guidelines and accessing the website, please contact Nancy Leung, Associate Community Benefit Specialist at (415) 674-7148 or Nancy.Leung@kp.org.
Community Vital Signs Phase II: Moving the Needle
Building on our success developing the Community Vital Signs framework in 2010, the Community Benefits Partnership has launched "Phase II: Moving the Needle," a series of monthly workshops in 2011. Each workshop will be devoted to discussion and networking around two of our 10 health goals/affinity groups. Join other passionate community health stakeholders in an effort to "move the needle" on the health indicators we developed in 2010. Workshops will be held at:
San Francisco Department of Public Health
101 Grove Street, Room 220 from 10 a.m. to noon
June 3rd Health Goals: Increase Physical Activity and Healthy Eating to Reduce Chronic Disease & Eliminate Health Disparities
Specific indicators to be discussed:
Adults Engaging in Moderate Physical Activity
Retail Food Environment Index Score
Proportion of households within 1/2 mile of a farmers market
Please RSVP to Eddie Kurtz at e.kurtz@circlepoint.com.
For more information about the Community Vital Signs project, visit: www.healthmattersinsf.org, and if there is a health goal that you are passionate about, join our effort:
Contribute your ideas and discuss assets, best practices, and resource gaps for each health goal
Network with other affinity group members
Help us map out San Francisco's many organizations and programs and create a pathway to reach our health goals
Participate.


Access to Adventure
On May 7, from noon to 3 p.m., at the Bandshell in Golden Gate Park, Rec and Park will be co-hosting Access to Adventure, an event highlighting the array of recreation programs, camps and organizations available to kids with special needs and their families. All are welcome to participate. Featuring workshops, activities, lunch (for pre-registered guests) and live entertainment.
For more information, folks can log onto www.supportforfamilies.org or sfrecpark.org.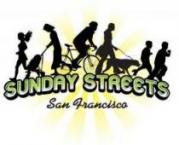 Sunday, May 8th, 11 AM - 4 PM, in the Mission
Celebrate Mother's Day at Sunday Streets!
www.sundaystreetssf.com


YBike offers scholarships to Bike Camp
The YBike Program is thrilled to be offering 15 total weeks of bike and mountain bike camps this summer, starting in mid-June and running through early August. These 1-week camps are loads of fun, they get kids active and outdoors all day, and they're staffed by YBike's skilled, experienced, and certified Program Staff. For more info, visit their website.

Bay Area Nutrition and Physical Activity Collaborative (BANPAC) Membership Meeting: May 11
Bike to Work Day: May 12
Chldhood Obesity Conference: June 28-July 1