The Potosi Foundation
and
The Dubuque Community Ice & Recreation Center
have teamed up for the Inaugural
Dubuque on Ice
BrewFest!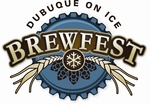 Date: Saturday, February 18th, 2012
Time: 12:30 - 4:30 PM
Place: Mystique Community Ice Center
Dubuque, Iowa
Price: $35



Tickets available online at dubuquebrewfest.com or at the Mystique Community Ice Center & the Potosi Brewery or by calling 608.763.4002 X 106
Live Music by Andy Wilberding & Shawn Cavanaugh

Wine & Cheese Pairing - additional fee

Beer & Chocolate Pairing - additional fee

Take a chance at "Chuck A Puck"
Partial List of Exhibitors

Breweries:
Potosi Brewing Company
Stevens Point Brewery
Lakefront Brewery
Capital Brewery
Millstream Brewery
Angry Cedar Brewery
Back Pocket Brewery
Great River Brewery
Hub City Brewery
Toppling Goliath Brewery
Schells Brewing Company
Brau Brothers Brewing Company
New Belgium Brewery
Breckenridge Brewery
Tommy Knocker Brewery
Rogue Ales Brewery
Boulevard Brewing Company
Big Sky Brewing Company
Sierra Nevada Brewing Company
Samuel Adams Brewery
Bent River Brewing Company
Galena Brewing Company
Goose Island Beer Company
Albita Brewing Company
Summit Brewing Company
Crispin Cider
Schlafly
Shock Top Beer
Widmer Brothers Brewing Company
Red Hook


Wineries:
Park Farm Winery
Stone Cliff Winery
Barell Head Winery
Ardon Creek Winery
Eagles Landing Winery
Wide River Vineyard & Winery
Cedar Ridge Vineyards

Distilleries:
Mississippi River Distillery
Cedar Ridge Winery & Distilleries
Specialty Meats
:
Haubers Lock Plant
Blue Sky Meats
Catfish Charlies
Cheeses
:
Shullsburg Cheese
Carr Valley
Montchevre
Sargento
Chocolates
:
JAS Candies
Stam Chocolate Shop
Specialty Coffee
:
Verena Street Coffee
For More information check us out at
www.DubuqueBrewFest.com
.
Get your tickets today!