Welcome to another edition of the EAC Action News, a publication of the Ecology Action Center, a central resource for environmental education, information, and outreach in McLean County. This newsletter serves as a resource for YOU. If you have questions that you need answered or suggestions for content, please let us know!
---
East Side Highway Corridor Study: Your Input Needed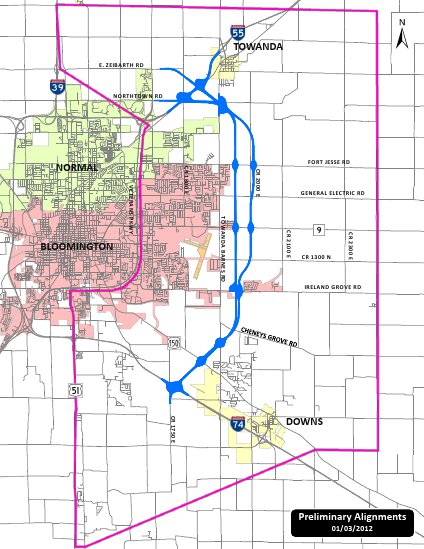 Your input is needed to ensure that the East Side Highway Corridor study unfolds in a manner that reduces any impact on Kickapoo Creek and the surrounding environment. Volunteer representatives looking out for environmental interests have served on the Community Working Group (CWG) for over a year, but now more voices need to be heard as to the community values guiding the selection of a corridor.
On January 11, there will be a public meeting from 6:00-8:00 pm at the Normal Community High School, 3900 E. Raab Road, Normal. An identical 30-minute presentation will be given at 6:10 and 7:10 pm; exhibits providing further information along with project team members to answer questions will also be there the entire time. The East Side Highway Corridor website (
www.eastsidehighway.com
) shows the remaining three core alternatives, which are from east to west: CR2100E, CR2000E, and the blue line between CR2000E and Towanda-Barnes Road. The map is located at their website
here
. A full pdf map of the alternatives under consideration can be downloaded
here
.
At the last CWG meeting, the information presented showed clearly that the CR2100E alternative would cause significantly more loss of Kickapoo Creek wetlands, loss of farmland, and sprawling development than the other two alternatives. Nevertheless, some community representatives at that meeting still thought that CR2100E should remain as an option. This information will be presented at the January 11 meeting.
SUGGESTED ACTION: If you believe that the corridor alternative selected should be one that minimizes the loss of Kickapoo Creek wetlands, the loss of farmland, and sprawl development, then you need to express those values to the East Side Highway study team. This can be done either in writing at the January 11 public meeting, or in the on-line Comment Form (click on "
Contact Us
" on the aforementioned website) within the next few days AFTER January 11.
---
ParkLands Foundation Administrative Director Opening

ParkLands Foundation is seeking applications for a paid, half-time Adminstrative Director. This person will help with maintaining and administering records and will be responsible for many of the day to day operations of the organization. In mid-January a detailed job description will be posted at
www.parklandsfoundation.org
. Interviews may begin as early as March 1 with the goal of filling the position by April 1.
Letters of interest and resumes can be sent to info@parklandsfoundation.org or mailed to ParkLands Foundation, PO Box, 3132, Bloomington, IL 61702-3132.
---
WGLT's Good To Go Seeks Ambassadors
The Good To Go™ Commuter Challenge is a free, friendly, week-long

competition between workplaces, organizations, groups and individuals to avoid driving alone for a week. Workplaces with the highest level of participation in their category can earn recognition. Individuals earn bragging rights by racking up the most miles and will be eligible to win a grand prize.
The focus for 2012 is to double 2011 participation through grassroots efforts, including Good To Go Ambassadors.
The Ambassadors work to increase awareness and boost registration and participation at their workplaces or in their organizations for the 2012 challenge May 12-18.
As a Good To Go Ambassador you would:
Publicize the challenge at your workplace/organization through appropriate means, including email, social networking and by posting marketing materials in key locations.
Indentify and enlist current green commuters as "cheerleaders" to help promote participation.
Hold at least one registration meeting where interested employees/members can learn more about the challenge and receive help (if needed) creating an account and joining the 2012 Commuter Challenge.
Work with your human resources department or wellness organization to create incentives for participation. For instance, all participants might receive a free pedometer or carpoolers could gain access to the best parking for the week.
Consider contacting a like-minded workplace/organization to develop a friendly competition during the challenge week.
Aim for 10% employee/member participation (participation defined as at least one, logged sustainable commute).
WGLT's Good To Go will provide marketing materials, on-site support for any registration meetings and a free Good To Go water bottle and Carl's ice cream cone to anyone who registers. Find more information at
www.wglt.org/goodtogo
or to sign up as an ambassador, contact Mike McCurdy at
mjmccur@ilstu.edu
.
---
Save Energy and Money This Winter
By Carl Roberts, EAC Volunteer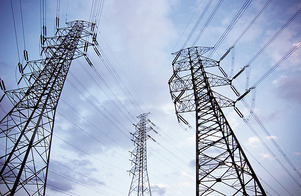 The weather outside is frightful, but there are ways you can save energy and money this winter.
Dress warmly and avoid the draft
Dressing warmly while inside your home is a practical way to reduce energy use and costs. Frugally Green(1) suggests: "Try putting on some thick wool socks, pajama pants, or even a comfy beanie to combat the cold. Your body heat will stay trapped against your skin when you bundle up."
Frugally Green also suggests sealing cracks around windows, installing heavy curtains and possibly purchasing replacement window panes. "Well-crafted windows won't only keep out the cold during the winter; they'll also keep your house cool in the summer.
Action steps for reducing natural gas or propane usage
The California Energy Commission(2) suggests five ways to save money by reducing natural gas or propane use:
Turn down your thermostat to 68 degrees when you are home during the day and 55 degrees during the night and when you are away from home.
Replace or clean furnace filters once a month. Dirty filters restrict airflow and increase energy use.
Set your hot water heater to no higher than the "normal" setting or 120 degrees.
In addition to caulking air leaks around windows and doors, look for air leaks in the bathroom, under the kitchen sink, and anywhere that pipes or conduits are located.
Consider replacing your water heater and furnace with newer, more-efficient Energy Star models.
Other ways to improve your winter energy use and costs
After taking the action steps above, some additional ways to save energy and money are proposed by the Midwest Energy Efficiency Alliance(3):
Let the sunshine heat your home. Keep the blinds open in the daytime and closed at night to conserve heat.
Rearrange your furniture so you are sitting near interior walls instead of drafty windows or exterior walls.
Avoid using traditional fireplaces because they pull heated air out of the house and up the chimney. As long as no smoldering embers are present, be sure to close the damper.
Idling is not an effective way to warm your vehicle
The best way to warm up your vehicle is to drive it. "With today's modern engines, and the advent of electronic engines, you need no more than about 30 seconds of idling before driving away, even on the coldest winter days," reports LEaP (Lowering Emissions and Particulates)4. "Driving a vehicle cuts warm-up times in half. This reduces fuel consumption and greenhouse gas emissions."
Other negative effects of idling a vehicle include:
Filling the air with carbon monoxide, nitrogen oxide, sulfur dioxide, benzene and several other toxic chemicals.
Burning your hard-earned dollars through the gas pipe.
Depleting non-renewable fossil fuels.
Possibly damaging your vehicle's cylinders, spark plugs and exhaust systems.
Keep your energy use and costs down all year
Some of the methods for reducing winter energy costs can be used in any season. The California Energy Commission(2) suggests you do the following year-round:
Turn off lights, ventilating fans, and even that spare refrigerator in the garage when not being used.
Cut your shower time in half, which will reduce your water heating costs by 33 percent.
Only use your dishwasher and clothes washer when you have full loads. Use the cold-water setting when you can and clean the clothes dryer's lint trap after each load.
Set your computer and monitor to go to sleep if you are away from them for 5 to 15 minutes. Disconnect the power to these devices overnight, rather than letting them use energy "sleeping."
Unplug your electronic devices or turn off the power strip when you are not using them. Many TVs, chargers, computer peripherals and other electronics use electricity even when they are switched "off."
Footnotes
---


As always, we look forward to seeing you at the Ecology Action Center! Please stop by anytime Monday - Friday 9 a.m. to 5 p.m. or call us at (309) 454-3169 for information on our latest programs and events or to get answers to questions on recycling, household hazardous waste, clean water, and more!
The Ecology Action Center is a not-for-profit walk-in information and environmental education center with a mission to inspire and assist residents of McLean County in creating, strengthening and preserving a healthy environment. EAC acts as a central resource for environmental education, information, and outreach in McLean County.
www.ecologyactioncenter.org