Welcome to another edition of the EAC Action News, a publication of the Ecology Action Center, a central resource for environmental education, information, and outreach in McLean County. This newsletter serves as a resource for YOU. If you have questions that you need answered or suggestions for content, please let us know!
---
Confused About Compostable Plastics?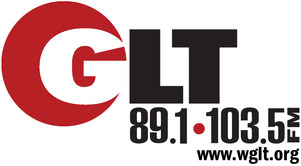 If not, maybe you should be - things are a bit of a mess in the world of so-called "biodegradable", "compostable" or "bio-plastics".
With the help of
WGLT's Uncommon Knowledge
team, the Ecology Action Center tries to
break down
the issue in a recent episode. You can listen to it online or download it as a podcast
HERE
.
---
You are Invited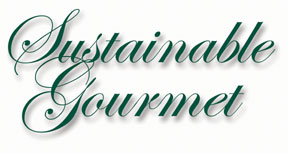 Join us at the 6th Annual Sustainable Gourmet Wine Tasting, to be held Thursday, November 3 at 5:30 p.m. This event, featuring hors d'oeuvres from local foods and donated by local farmers, is sponsored by Medici and will be held in their upstairs banquet room.
In addition to incredible wines and food, this event includes a silent auction of great prizes from local businesses.
Tickets are $35 per person and must be purchased by October 31 or whenever tickets sell out, whichever comes first. Get your tickets at the EAC during regular hours or buy them online
HERE
. Tickets are moving fast, so don't delay! Join us at this great event for a great cause. Call 309-454-3169 for more information.
---
Transition Strategies are Coming Alive in Bloomington-Normal
Vision 2020, a B-N Transition group, invites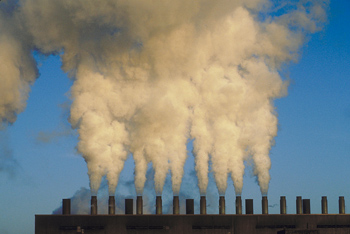 you to a public program:
Transition Strategies Coming Alive in Bloomington-Normal
. This will be held in the Bloomington Public Library community room on Tuesday, November 1st, at 7:00.
A panel of Vision 2020 members will present some of the ways we are already creating a sustainable, resilient, local community as we live with high cost energy and prepare for fossil fuel decline. The panel will describe the worldwide Transition movement and some Transition possibilities for B-N such as saving money by increasing home energy efficiency, permaculture, and rebuilding our local food economy. Discussion and time for sharing will follow; light refreshments will be served.
Interested in these ideas? Please come, and join in co-creating the kind of future we want to have for our community! For further information, contact the EAC at 309-454-3169.
Download the event flyer
HERE
.
---
Recycling Continues to Expand in Bloomington-Normal
With the recent opening of two new facilities in the area, opportunities to recycle just keep getting better and better. Central Illinois based
Midwest Fiber
just opened the first downstate single-stream sorting facility. This operation is able to accept loads of mixed recyclables and use both mechanical and manual sorting methods to separate the various materials before baling them and shipping them off to markets. Single stream recycling is a nationwide trend that has been shown to increase participation as no sorting of recyclables is required by residents. The City of Bloomington has already taken advantage of the new facility and is now sending all of its recyclables to Midwest Fiber.
In case you missed the open house a few weeks ago, EAC captured the experience for you. Check it out via YouTube: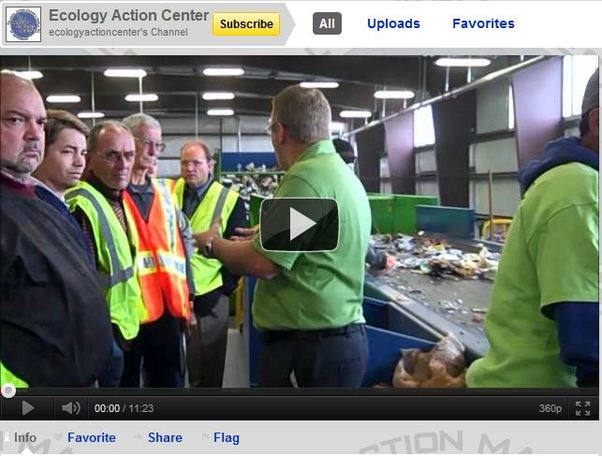 Meanwhile,
Henson Disposal
officially opened the doors to Central Illinois' first construction and demolition (C & D) recycling facility on Monday, October 3. While not yet operating at full capacity, the facility is currently able to accept and process loads of asphalt shingles and wood materials. As more processing equipment comes online in the next few months, Henson Disposal will be able to divert from the landfill many materials which typically come from construction, remodeling, and demolition sites. By recycling materials such as shingles, wood, concrete, metals, drywall and cardboard, the amount of construction debris hauled to local landfills will be drastically reduced and more natural resources are conserved, ultimately reducing energy spent and pollution associated with the extraction of new raw materials.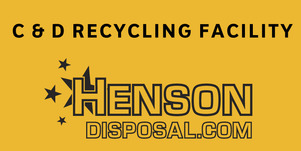 This new facility, located at 2148 Tri Lakes Road in Bloomington, will not only help the local environment
but also help stimulate the local economy. Henson Disposal is constructing this new facility with private funding and has a goal to be fully operational within the next several months. It is anticipated the resulting operation will create 12-16 new jobs. Illinois Environmental Protection Agency permit restrictions prevent any acceptance or processing of hazardous waste or asbestos containing materials in addition to requiring a minimum recycling rate of 75% of all of the incoming materials.
Hours of operation for the new facility are Monday through Friday from 7:00 a.m. to 4:30 p.m. More information is available at 829-5022 or at
www.hensondisposal.com
. This facility is open to all local residents, businesses, and contractors who wish to make a difference through recycling.
---
Green Drinks: Tuesday, November 1 at Medici
Looking for conversation or networking opportunities with like-
minded individuals? Join us at Green Drinks, the monthly environmental get-together. With no agenda and no membership or admission fees,
Green Drinks
is a nice way to have some informal conversation on whatever environmental topics you want to bring to the table. Join us at Medici in Normal at 5:30 on the first Tuesday of every month!
---
Recycling: Did You Know...
The EAC gets a lot of questions about recycling on a daily basis. All too often we hear from people who want to recycle items for which there is no existing recycling systems. The lack of programs is frequently due to either the economic or technical barriers to recycling certain materials. All too often the consumer goods we use in our daily lives are not designed with the full lifecycle of the item in mind, but rather responsible disposal or reclamation of those materials is an afterthought.
However, increasingly there are some other options and EAC wants to help let you know about them. If you know about recycling programs that are not listed on EAC's website and want to help spread the word, let us know!
This issue our focus is plastic bags. What to do about them - everything seems to come wrapped in plastic nowadays. While plastic bags of any kind are NOT recyclable in our residential recycling programs, many people know that local grocery stores will usually take back plastic shopping bags at the front of their stores. But did you know that at those same plastic bag drop-offs inside grocery stores you can also recycle the plastic sleeve that your newspapers arrive in as well as your dry cleaning bags?
Avoiding plastic bags altogether always remains preferable; waste reduction is the highest priority in the hierarchy of waste management. But recycling those annoying plastic shopping bags as well as your newspaper sleeves and dry cleaning bags is definitely your best backup plan!
---


As always, we look forward to seeing you at the Ecology Action Center! Please stop by anytime Monday - Friday 9 a.m. to 5 p.m. or call us at (309) 454-3169 for information on our latest programs and events or to get answers to questions on recycling, household hazardous waste, clean water, and more!
The Ecology Action Center is a not-for-profit walk-in information and environmental education center with a mission to inspire and assist residents of McLean County in creating, strengthening and preserving a healthy environment. EAC acts as a central resource for environmental education, information, and outreach in McLean County.
www.ecologyactioncenter.org