Hello EAC Action News Readers!

This is a special bonus mid-month edition of the EAC Action News to inform you about next week's Energy Conservation Workshop at the EAC with Green Irene. Find more details below!



Go Green Workshop - Energy Conservation with Green Irene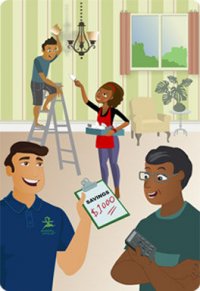 Rebecca Rossi, local Green Irene Eco-Consultant and the Ecology Action Center are holding a free workshop on energy conservation on Tuesday, February 23, at 5:30 p.m. Join us at the EAC to find out if there are vampires lurking around your house. No, not the toothy, sun-shunning kind, but the sort that suck energy! Vampire power, also called "phantom load", is the power consumed by electronics and appliances while they are switched off or in a standby mode. Rebecca will talk about vampire power and the many ways you can cut energy consumption in your home! This event will also benefit the EAC through any sales of green merchandise.


The Illinois Sustainable Living and Wellness Expo is seeking Exhibitors and Workshop Presenters
Time is running out, but we are still seeking exhibitors and presenters for this year's Illinois Sustainable Living and Wellness Expo which takes place on Saturday, April 10. Join the many diverse exhibitors and presenters celebrating different dimensions of Living Well and Living Green at the 2010 Illinois Sustainable Living & Wellness Expo. This interactive event invites its guests to participate in Creating Healthy Communities by blending ideas for green alternatives and embracing the many services that promote health and healing. Don't miss the opportunity to be a part of this exciting event!

Exhibitor and presenter spaces are limited; application deadline is March 13, 2010.
Click here for an invitation to participate as an exhibitor or presenter


Please Support the EAC
The Ecology Action Center is a nonprofit membership-based organization. Your contribution helps support:
• In-school recycling and clean water education
• After-school programs
• Environmental education throughout the community
• Eco-summer camps for children
• Hands-on workshops for adults to help you build your own composter or rain barrel
• The annual Illinois Sustainable Living and Wellness Expo
• This free informational email newsletter
• A variety of educational resources for all ages

If you are a current member of the EAC, thank you for your support. If you are not, please consider joining or making a contribution. As a 501(c)(3) organization, your donation is tax deductible to the extent allowable by law. For more information, please call us at 309-454-3169.



As always, we look forward to seeing you at the Ecology Action Center! Please stop by anytime Monday - Friday 9 a.m. to 5 p.m. or call us at 309-454-3169 for information on our latest programs and events or to get answers to questions on recycling, household hazardous waste, clean water, and more!

The Ecology Action Center is a not-for-profit walk-in information and environmental education center with a mission to inspire and assist residents of McLean County in creating, strengthening and preserving a healthy environment.


www.ecologyactioncenter.org