Welcome to another edition of the EAC Action News, a publication of the Ecology Action Center, the primary resource for environmental education, information, and outreach in McLean County.
Green Gifts
This time of year we are deluged by constant advertising encouraging us not so subtly to buy, buy, buy, and more, more, more. Longtime friends of the EAC know that the last thing we want to encourage is more consumption. Meanwhile greenwashing is at an all-time high, with many items at stores everywhere proclaiming that they are environmentally friendly; some of these claims likely have some validity while others are just trying to take advantage of interest in environment to make a buck. For many items, you can do your own research and make your own determination - if the product has some sort of "green" certification, don't just take this at face value, but look it up - Google it! Is it a valid certification with some meaning and third-party testing or verification or is it just a marketing ploy?
At the same time there are some consumer items items that truly can potentially help in reducing waste, conserving water, saving energy, reducing pollution, and other important functions to protect our environment. Here at the EAC we try to find and then offer to you a few good quality items at reasonable prices to help you in your own efforts to reduce your impacts. Please consider the EAC as you do your holiday gift shopping this year - all profits from merchandise sold at the EAC help support our ongoing education and outreach efforts. EAC members get a discount on select items; you and your family can join anytime to take advantage of this discount.
Green gifts you will find at the EAC right now include:
Come shop at the EAC anytime during our regular business hours - Monday through Friday, 9 am to 5 pm.
(RED and) Green Drinks - December 7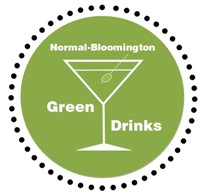 Join us for the Holiday edition of Green Drinks - the monthly environmental networking opportunity! Green Drinks is an informal, social networking group for people working on or interested in environmental issues. Green Drinks groups meet in over 500 cities across the globe. The groups have no political affiliation and no agenda. They serve as a forum for green professionals and other interested community members to meet, socialize and share ideas. Join the conversation!
This month, we will have representatives from multiple environmental groups present; each will give a short overview of their efforts in our community. Groups represented include Heartland's Green Institute, Ecology Action Center, Illinois Chapter of the US Green Building Council, ParkLands Foundation, and more.
Join us, Tuesday, December 7 at 5:30 p.m. at Medici in Normal. Look for the Green Drinks sign in the downstairs bar.
Green Institute Online Courses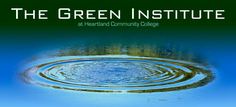 The Green Institute at Heartland Community College is now offering online courses. According to Rebecca Rossi, Associate Director, "We understand that it can be a real challenge to fit traditional courses into a busy schedule. Our online courses offer folks an opportunity to learn with more flexibility and convenience." A broad array of courses are available on topics like energy conservation, waste reduction and sustainable living. Course are available for those with a general interest, as well as people looking to expand their professional skills or earn a green certification. For more information, visit the Green Institute at www.heartland.edu/greenInstitute or send a message to greeninstitute@heartland.edu.


Some courses and pricing:
Home Energy Fundamentals $29
Achieving Solar - An Introductory Guide $59
Senior Certified Sustainability Professional $2,495
Principles of Green Buildings $595
Building Analyst Quick Start $1,195
Certified Green Supply Chain Professional $1,595
Certified Indoor Air Quality Manager $795
Certified Indoor Environmentalist $895
Performing Comprehensive Building Assessments $695
The Green Institute at Heartland Community College

As always, we look forward to seeing you at the Ecology Action Center! Please stop by anytime Monday - Friday 9 a.m. to 5 p.m. or call us at (309) 454-3169 for information on our latest programs and events or to get answers to questions on recycling, household hazardous waste, clean water, and more!
The Ecology Action Center is a not-for-profit walk-in information and environmental education center with a mission to inspire and assist residents of McLean County in creating, strengthening and preserving a healthy environment.
www.ecologyactioncenter.org