Welcome to another edition of the EAC Action News, a publication of the Ecology Action Center, the primary resource for environmental education, information, and outreach in McLean County.
Green Reminder: Proper Leaf Collection = Clean Water Protection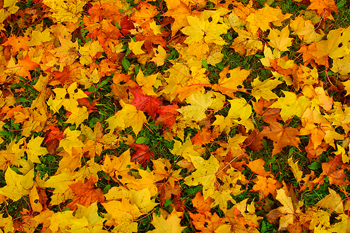 So the leaves are falling and something's got to be done with all of them. One easy option is composting; raking your leaves into a large pile, perhaps surrounded by some scrap wood or four wooden pallets fastened together, mixed with some grass clippings and/or vegetable or fruit scraps or peelings, and bingo - you'll eventually have some nice compost fertilizer for your lawn or garden.

If you live in Bloomington or Normal, free curbside pickup of leaves is available. Crews have already begun this seasonal collection. However, per directions from both municipalities, please do not rake your leaves into the street. In addition to being a possible safety issue, leaves just like silt can act as a stormwater pollutant. Washed into the storm sewer system and eventually into creek, streams, and lakes, the additional nutrients from the massive amounts of leaves breaking down can remove oxygen from the water, suffocating plants and wildlife.

You may find yourself questioning this - after all, leaves are natural and have been falling into creeks, streams, and lakes long before we had water pollution issues. This is true; what has changed is the sheer volume of nutrients that we are directing to our water bodies via our storm sewer systems. If we were considering only the volume of leaves that would normally fall directly into our area creeks, streams, and lakes, the natural processes should be able to handle this level of nutrients. But when we consider all of the leaves falling in the streets or even being raked into the streets of Bloomington and Normal that get washed into the storm sewer systems and discharge into bodies of water, now we have a problem.

Please help us keep our local waters clean - either compost your leaves or pile them neatly near the curb for collection - but keep them out of the streets!
2010 Energy Expo Starts Today!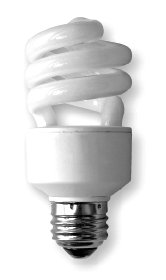 The 2010 ILLINOIS ENERGY EXPO, featuring money saving energy efficiency technologies, is coming to the Marriott Conference Center Normal. All events are free and open to the public.
This statewide event which will bring together business leaders, building energy managers, building contractors, energy industry experts, energy educators and residents to explore energy conservation options that will help reduce energy costs and positively impact the Illinois economy. A full program of speakers and workshops is posted on the event website at http://www.apec-online.org/2010_expo.html.
Don't forget to visit the EAC booth and take a ride on the Energy Bike! In addition, the EAC will be accepting residential CFLs for recycling, so bring yours to our booth!
Hosted by the Association of Professional Energy Consultants in partnership with Heartland Community College.
Green Reminder: Rain Barrel Winterizing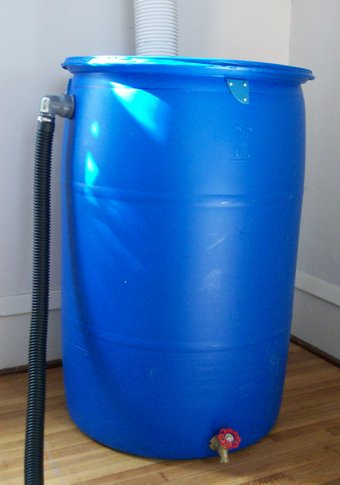 If you have install a rain barrel on your home, remember to winterize it so it doesn't get water freezing inside it. To do so, first drain any remaining water from it, ideally to gardens or other landscaped areas that can absorb all of the water without causing any runoff. If need be, empty it gradually over the course of a few days. Once it is completely empty, remove it and either store it in a garage or shed or upside down outside, so it won't collect any water. Finally, reinstall your original downspout arrangement to handle rain and snow melt through the colder months so it doesn't all go in your basement!
Some people install a two-way diverter on their downspout so they always have a full downspout in place; in this case, just winterize the barrel as above, but then switch the valve on the diverter to the downspout.

Don't forget to reinstall in the spring so you can again resume harvesting rainwater and reducing stormwater runoff pollution. For more information on rain barrels, call or stop by the EAC.
Green Drinks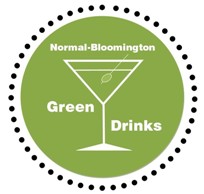 Join us for Green Drinks - the monthly environmental networking opportunity on Tuesday, November 2 at 5:30 p.m. at Medici in Normal. Green Drinks is an informal, social networking group for people working on or interested in environmental issues. Green Drinks groups meet in over 500 cities across the globe. The groups have no political affiliation and no agenda. They serve as a forum for green professionals and other interested community members to meet, socialize and share ideas. Look for us on the upstairs patio if the weather is good, otherwise find us at a table in the bar. Join the conversation!
You're invited - the Sustainable Gourmet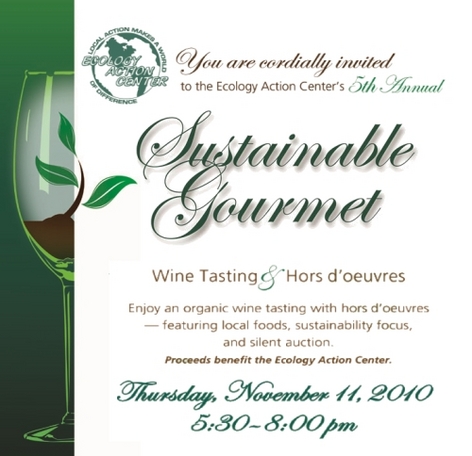 Join us at the 5th annual Sustainable Gourmet Organic Wine Tasting featuring hors d'oeuvres from local foods. This year the event is sponsored by Medici and will be held in their upstairs room.
Tickets are $35 per person and must be purchased by November 8. Get your tickets at the EAC during regular hours or buy them online at
www.ecologyactioncenter.org/sg.shtml
. Join us at this great event for a great cause. Call 309-454-3169 for more information.
Celebrate America Recycles Day at the Children's Discovery Museum November 13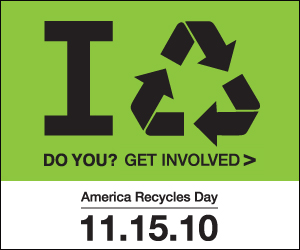 Come to the America Recycles Day Celebration at the Children's Discovery Museum on Saturday, November 13. The event, cosponsored by the EAC and CDM, will also feature activities for children and families. Activities will be free with regular paid admission to the museum. For more information, the CDM at 309-433-3444.
More than a celebration, America Recycles Day is the only nationally recognized day dedicated to the promotion of recycling programs in the United States. One day to inform and educate. One day to get neighbors, friends and community leaders excited about what can be accomplished when everyone works together. One day to make recycling bigger and better-365 days a year.

As always, we look forward to seeing you at the Ecology Action Center! Please stop by anytime Monday - Friday 9 a.m. to 5 p.m. or call us at (309) 454-3169 for information on our latest programs and events or to get answers to questions on recycling, household hazardous waste, clean water, and more!
The Ecology Action Center is a not-for-profit walk-in information and environmental education center with a mission to inspire and assist residents of McLean County in creating, strengthening and preserving a healthy environment.
www.ecologyactioncenter.org