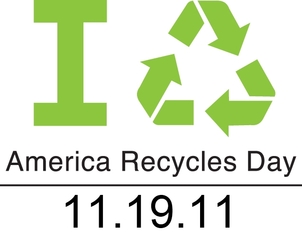 Saturday, November 19, 8 a.m. - 1 p.m.
Illinois Wesleyan University
HANSEN CENTER PARKING LOT
300 E. BEECHER STREET
(ACROSS FROM THE SHIRK CENTER)
PLEASE ENTER THE LOT FROM BEECHER STREET


Due to the IWU Football team's great success this season, they now have a playoff game tomorrow at the Shirk Center. As a result, the America Recycles Day Mega Recycling Event has been moved across the street to the Hansen Center Parking lot. Please enter the lot from Beecher street.
IWU Wellness and the Ecology Action Center want to help make recycling easier for you on America Recycles Day. While most families recycle the usual – plastic food containers, glass bottles, newspapers, and such, what about other items?
Well, for one day only, residents can recycle "the other" recyclables all in one place, all at the same time.
Bring us your:
Electronics
Compact fluorescent Bulbs (CFLs)
Household Batteries (alkaline, watch batteries, rechargeable batteries)
Clothes and textiles (usable or not)
Shoes (usable or not)
Plastic Garden Pots
This event is free and open to the public for residential waste only (no business wastes). All items will all be properly recycled. Please DO NOT bring any household hazardous waste items – chemicals, paints, automotive fluids, car batteries, tires, pesticides, fertilizers, etc. These items cannot be accepted at this event but must wait for a future household hazardous waste collection event. If you have any questions about acceptable items or household hazardous waste, please contact the Ecology Action Center at (309) 454-3169.
This event is brought to you by Home Sweet Home Ministries, Springfield Electric, the Illinois Plastic Pot Recycling Project, Illinois Wesleyan University, and the Ecology Action Center.