Welcome to another edition of the EAC Action News, a publication of the Ecology Action Center, the primary resource for environmental education, information, and outreach in McLean County.
Celebrating 40 Years with 40 Green Ideas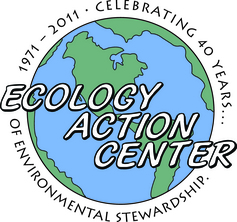 The Ecology Action Center is celebrating the 40th anniversary of the one-time recycling drive that grew into the active community organization that we all know and love today.
To celebrate, we are taking forty days to share forty good ways to help protect our environment. Every day a new green idea is published on our
website
as well as being posted to our
Facebook page
and our
Twitter Feed
.
These 40 Green Ideas cover a broad range of topics, from solid waste issues, clean water, energy efficiency, transportation, and more! If you haven't been keeping up, catch up now and start watching for the daily new green idea.
Celebrating 40 Years with 40 Green Ideas will culminate in a ribbon cutting at our 40th birthday party and open house, from 4 p.m. to 6 p.m. on Thursday, May 26. And of course, as a friend of the EAC, we would love to have you at our party - come celebrate with us!
Green Drinks: Tuesday, May 3 at Medici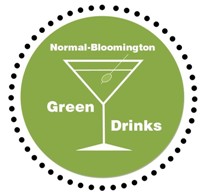 Looking for conversation or networking opportunities with like-minded individuals? Join us at Green Drinks, the monthly environmental get-together. With no agenda and no membership or admission fees, Green Drinks is nice way to have some informal conversation on whatever environmental topics you want to bring to the table. Join us at Medici in Normal at 5:30 on the first Tuesday of every month.
Get going 'cause its time for Good to Go: May 14-20
The Go to Good Commuter Challenge is a weeklong event designed to encourage healthy living and promote the use of alternative transportation instead of driving alone.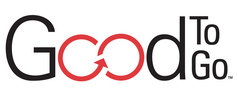 The Challenge is a friendly competition to see w
ho
can tally
the most miles. During the week, participants track and report their commutes online. Public transit, walking, bicycling, car sharing, carpooling, vanpooling, and telecommuting all count for the competition. The annual challenge is open to anyone who lives, works, goes to school, or regularly commutes in or to McLean County. Get started now to save money and earn bragging rights!
By driving less, we can all save money on gas and vehicle maintenance as well as reduce the vehicle emissions that cause air pollution. Walking and biking also are good exercise, and carpooling and riding the bus are great ways to build community.
Registration is now open for the Commuter Challenge May 14-20, so begin thinking about how you'll spend your dollars that otherwise would have been pumped into the gas tank.
Register for the May 14-20 Commuter Challenge now at the
Good To Good website
; it's quick and easy to do. Every participant provides a little basic information about their commute and then during the challenge will log their commutes online. Commuters will be able to track mode of transit used, number of miles traveled, calories burned, and avoided emissions. At the end of the week the results are tallied to determine the winners in each category.
Would you rather compete on a team but don't have any willing coworkers? Join the Ecology Action Center's team! When you sign up, chose Ecology Action Center as your "employer". No worries -we're not trying to cheat, we just to make sure everyone has a team to participate on and the good people at Good to Go endorsed our team recruitment strategy. Game on - we're good to go!
Rain Barrel Time
As we near the official frost-free date for central Illinois, it is finally time to get your rain barrels installed again to help conserve water and help
reduce storm water runoff pollution
.
If you don't have a rain barrel yet, EAC has you covered. We have in stock rain barrels from Prairie Rain Harvester. These locally constructed rain barrels are made from a re-purposed food grade 55 gallon drum and are currently on sale at $80 (including sales tax) or only $70 for EAC members.
Alternately, a cheaper means to get your own rain barrel is to attend one of our popular build-your-own rain barrel workshops. EAC provides all of the materials, tools, and know-how, and you go home with your own rain barrel. Watch this email newsletter or our website calendar for dates to be scheduled very soon!
Finally, as you go to hook up your rain barrel this year, consider putting in a downspout diverter. This device makes it easier to winterize your rain barrel and then put back into service as it gives you a Y-fitting and valve to direct water towards your rain barrel or towards a traditional downspout. A simple flip of the switch means water will be directed away from your rain barrel at the end of the season. Downspout diverters are available from local gutter installers or from the EAC ($30 each or $25 for EAC members).
Learn more about rain barrels at the
EAC website
or by stopping by during regular business hours.

As always, we look forward to seeing you at the Ecology Action Center! Please stop by anytime Monday - Friday 9 a.m. to 5 p.m. or call us at (309) 454-3169 for information on our latest programs and events or to get answers to questions on recycling, household hazardous waste, clean water, and more!
The Ecology Action Center is a not-for-profit walk-in information and environmental education center with a mission to inspire and assist residents of McLean County in creating, strengthening and preserving a healthy environment.
www.ecologyactioncenter.org