Welcome to another edition of the EAC Action News, a publication of the Ecology Action Center. The EAC is a central resource for environmental education, information, and outreach in McLean County. This newsletter serves as a resource for YOU. If you have questions that you need answered or suggestions for content, please let us know!
---
Municipal Electricity Aggregation Saves Households 25-30%
By Carl Roberts, EAC Volunteer
Aggregation has brought savings to many Illinois communities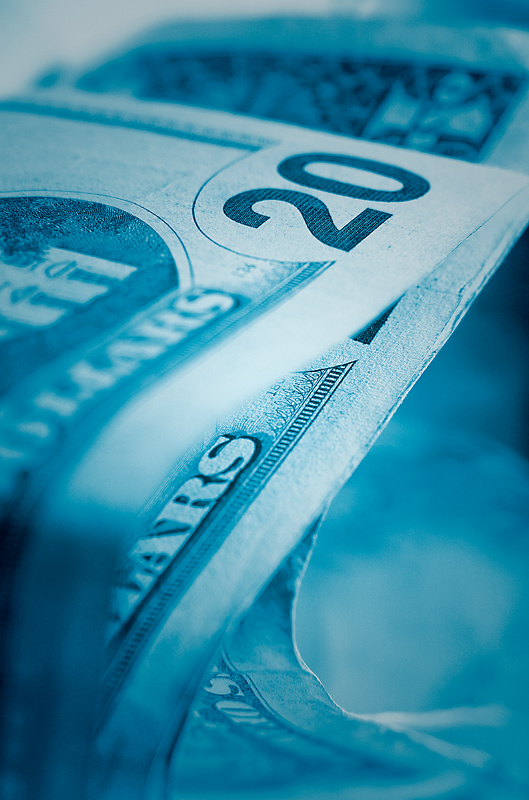 "By leveraging the combined electricity demand of their communities, Illinois CCAs [Community Choice Aggregations] are negotiating average rate savings of 25 to 30 percent," reports Lean Energy U.S., an energy aggregation partner.1 These savings are in the cost of the supply of electricity. The delivery costs will not be affected.
The savings from aggregation come from a large block of electricity buyers having considerably more influence than a small block. Lean Energy U.S. explains that aggregation "allows communities or groups of communities to pool their electricity demand in order to purchase power on behalf of their residents, businesses, and municipal accounts." In the past year, 257 Illinois communities have approved aggregation referenda [also called referendums].
Individuals who do not want to be part of an aggregation group may opt out and stay with their current electricity source. Even when the community has approved a referendum, there is no obligation for residents to participate.
Peoria is a nearby example of aggregation savings
Peoria residents will be saving 34% in the cost of their electricity because of the passage of an
aggregation referendum. The City of Peoria reports on their website: "Homefield Energy (www.homefieldenergy.com) was selected as the winning supplier. Homefield offered the lowest price with a two-year contract price of $0.0408 per kilowatt hour (kWh). This price is more than two cents lower than the current Ameren tariff rate of $0.0620 per kWh. The price is also based on the electricity being sourced from 100% renewable electric production."2
The purchase of electricity in this case was by a large block. Peoria plus 53 other communities combined their purchasing power to form the largest buying group in Illinois, the Central and Southern Illinois Buying Block. Households that did not wish to participate were given the opportunity to opt out.
Three out of four Cool Cities approve aggregation referenda
The Sierra Club reports that 31 out of 40 Cool Cities with an aggregation referendum approved it. That's
77.5 percent. These cities are not necessarily cool because they are "fashionable and attractive at the time."3 They are cool because they are "re-energizing their cities with innovative energy solutions" to address global warming and have signed an agreement to meet global warming reduction targets.4 The town of Normal is designated as a Cool City.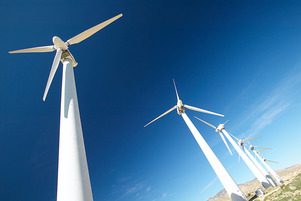 "Aggregation has proven to be a real benefit for renewable energy because of the number of cities, Cool and otherwise, that purchased 100 percent renewable," says the Illinois Sierra Club.5 "The renewable component is through the purchase of renewable energy certificates which provide a reliable revenue stream for mostly wind generators." Of the Cool Cities that approved aggregation, 55 percent of them are using 100 percent renewable energy, 10 percent are using 50 percent renewable energy, and three percent are using 25 percent renewable energy.
The cost of renewable energy is in many instances comparable to, and often lower than, the cost of energy from traditional sources at this time. It is possible that the cost from traditional sources will decrease significantly when long-term, high-priced contracts expire. Most aggregation agreements are prepared for this possibility. They typically include a stipulation that if the energy cost for the traditional supplier (Ameren or ComEd) falls below the aggregated cost, the aggregation supplier will be required to meet the lower cost.
Editor's Note: Normal residents may have the opportunity to vote for Municipal Electricity Aggregation again, but Bloomington is not revisiting the topic right now.
Footnotes
---
Rain Barrel Workshops Scheduled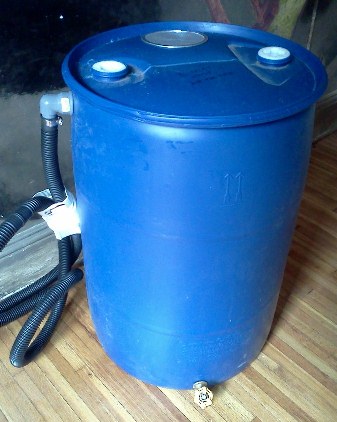 While it seemed counter-intuitive at first for interest in our rain barrel workshops to increase this year, now it makes perfect sense. Although as we all know it is truly harder to fill up a rain barrel during a drought, that's exactly what makes every single drop of rainwater all the more precious.
So to meet the ongoing demand, we have a couple more workshop dates. In case you are not familiar with our workshops, these are the most cost-effective way to get a high-quality, durable rain barrel. These are the same exact design as our popular retail rain barrels that you can buy at the EAC for $80 (or $70 if you are an EAC member). But if you have about an hour to spare and want to come build your own with our help, then sign up today for one of these upcoming workshops. For the low cost of $38 (or only $28 for EAC members) we will set you up with all the materials, tools, and know-how, and you will go home with your 55-gallon rain barrel built from a reclaimed food-grade plastic drum.
For more details, call the Ecology Action Center at (309) 454-3169.
---
McLean County Household Hazardous Waste Collection - IT'S ON!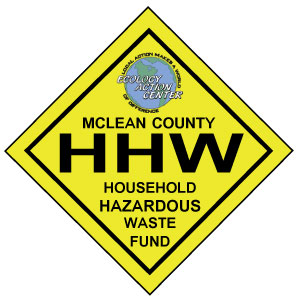 The Ecology Action Center is excited to announce that the highly anticipated HHW Collection Event is on for September 29, from 8 a.m. to 2 p.m. at the Interstate Center! With nearly three-quarters of the needed funds raised, we are moving forward with the confidence we can reach the $150,000 goal to pay for this event. But we couldn't have made it this far without your help. We owe our success with this campaign to the numerous individuals, families, businesses and other community partners who have contributed to the effort.
But much work remains including finding the remaining $41,000 as well as staffing the event. We invite you to help us:
Please help us spread the word about the September 29 event and also that we still need donations (tax deductible) to pay for it. We know that 2000 households took advantage of the last HHW event here in 2007. If 2000 households would right now each donate only $21 each to the HHW Fund, we would reach our fundraising goal immediately.

You can forward this email to friends, neighbors, and colleagues, or direct them to the EAC's HHW page at http://www.ecologyactioncenter.org/events/HHW_fund.shtml or send them an invite via Facebook. We also have print materials available for sharing - just let us know if you need some.


We need volunteers to help work the HHW event on September 29. Please sign up HERE. (Volunteers must be 18 years old or older). For a limited time, we are giving away our fancy HHW T-shirt to 5 lucky volunteers. We will draw 5 names from the next 20 volunteers who sign up to help. NOTE: Volunteers will NOT be handling hazardous waste - that's what we pay the contractors for.


We need volunteers to help with the We Care Twin Cities Half Marathon also on September 29. This brand-new running event not only promotes fitness but also our local nonprofits that provide so many important services to our community. The Ecology Action Center is a partner on this event; EAC board members and volunteers are working hard to help put it all together to create a great local running event. Net proceeds from the We Care Twin Cities Half Marathon will go to support the McLean County Household Hazardous Waste Collection Event.

Volunteer to help at the We Care Twin Cities Half Marathon

Sign up to run the half marathon, 10K, 5K, or Children's Fun Run
McLean County HHW Fund Sponsors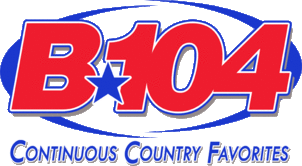 MIDWEST FIBER
COUNTRY Financial & GROWMARK
Connoisseur Media


For more information on sponsorship opportunities, contact
Michael Brown
.
---
West Nile Virus and Rain Barrels
According to the
Bloomington Pantagraph
, the McLean County Health Department just recently found a bird in Normal that tested positive for West Nile Virus. This virus can cause encephalitis which can be fatal to those with comprised immune systems. West Nile Virus is spread by mosquitoes, who lay their eggs in stagnant water.
So the question is, do rain barrels contribute to the spread of West Nile Virus? The answer? It depends. It depends completely on the design and condition of your rain barrel. If you have a rain barrel installed at your home and haven't taken a good look at it lately, now is the time, in order to reduce the spread of West Nile Virus. Examine your rain barrel for any gaps, cracks, or openings small enough to allow a mosquito in. A well designed, well maintained rain barrel should have no openings to allow entry by these pests. However, it is likely that many of the rain barrels in our community have seen better days.
If this is the case with your rain barrel then you have a couple options:
Fix it. Seal all cracks, gaps, openings, or holes with silicone caulk, screening, sheet metal, or other materials.
Get rid of it. Drain it completely and put it to use as a trash can instead.
Find help in repairing it. You could sign up for one of our rain barrel workshops and bring your old one in to get help in making it more mosquito-proof.
Replace it. Sign up for one of our upcoming workshops and we will help you build a better rain barrel. Our current design does not remove the lid and also includes mosquito barriers in the top and in the overflow hose.
Don't chance it if your rain barrel is in poor condition - fix it up or get a new one to protect the health and well being of family and neighbors.
---
As always, we look forward to seeing you at the Ecology Action Center! Please stop by anytime Monday - Friday 9 a.m. to 5 p.m. or call us at (309) 454-3169 for information on our latest programs and events or to get answers to questions on recycling, household hazardous waste, clean water, and more!
The Ecology Action Center is a not-for-profit walk-in information and environmental education center with a mission to inspire and assist residents of McLean County in creating, strengthening and preserving a healthy environment. EAC acts as a central resource for environmental education, information, and outreach in McLean County.
www.ecologyactioncenter.org