Welcome to another edition of the EAC Action News, a publication of the Ecology Action Center, a central resource for environmental education, information, and outreach in McLean County. This newsletter serves as a resource for YOU. If you have questions that you need answered or suggestions for content, please let us know!
---
McLean County HHW Fund Grows by Leaps and Bounds

We are excited to announce that as of mid-February, the Ecology Action Center has raised over $33,000 towards the September Household Hazardous Waste Event! This unique public/private partnership is necessary due to the absence of state funding that formerly covered most of the costs of Household Hazardous Waste (HHW) Collections in McLean County and other communities across the state of Illinois.
While we have quickly reached 26% of our goal, we need your help to get all the way. Household Hazardous Waste Collection is critical to prevent improper disposal of many varied toxic wastes, from oil based paints to mercury-containing thermometers, to old herbicides and insecticides. Improper disposal can lead to indirect contamination of our aquifer or direct contamination of our surface water supplies. In either case, this jeopardizes the safety of our drinking water as well as that of those who live downstream.
In order to ensure we have enough funds to pay for a HHW event for McLean County residents this September, we need your assistance. Please consider making a tax-deductible contribution to the HHW Fund. No contribution is too small or too large. Contributions can be made by credit card through the
EAC website
or by mail. Please make checks out the Ecology Action Center and make a note designating your contribution for the HHW Fund. Mail your donation to:
Ecology Action Center
Attn: HHW Fund
202 W College Ave
Normal, IL 61761
For businesses and other entities we are offering sponsorship options which can help increase the visibility of your support for this important community event. For more information, contact
Michael Brown
.
---
EAC Seeks Nominations for McLean County Green Awards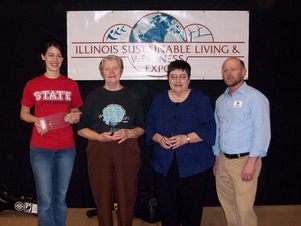 The Ecology Action Center wants to know who is making a difference in McLean County. Nominations for the World of Difference Award and the Recycling and Waste Reduction Award are now being accepted. The recipients of these awards will be announced on April 14 at the Illinois Sustainable Living and Wellness Expo held at the Shirk Center at Illinois Wesleyan University.
These annual awards recognize outstanding projects, activities, or individuals in McLean County that promote environmental awareness or conserve natural resources. Any business, organization, school, or individual may be nominated for either award.
Applications are available online at www.ecologyactioncenter.org or by stopping by the Ecology Action Center at 202 W College Avenue in Normal; all submissions are due by March 31, 2012.
---
Lessons from Jeremy Rifkin's The Third Industrial Revolution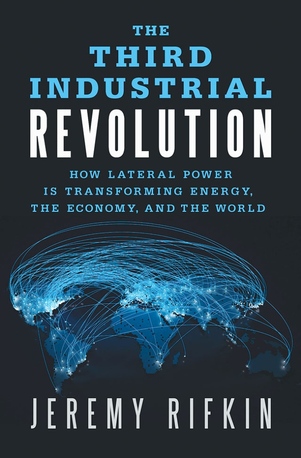 By Anne McGowan
When each building is generating its own clean power with geothermal and solar energy, shared on a smart grid, power will be in the hands of us producers and users. We'll then be able to thumb our noses at Big Oil and its current grip over our economy and government.
Talk about creating jobs! Instead of working at digging a short-term polluting pipeline, a laborer can earn more by learning to install geothermal heating and cooling systems, and have work available for years to come. Rather than smashing shale with toxic chemicals to extract the last gasp of gas, a worker can reskill toward building a long-term clean energy future with insulation and solar installation.
Builders who put these technologies together in the new, tight building techniques will have work throughout the century. Wind farms are springing up all around us, and they need operators and repair personnel. Classes are available here at Heartland Community College's Green Institute. Unions, educate your members.
Banks and Credit Unions, help homeowners and businesses with low-interest loans so they can invest in their buildings for a free-energy future. That's right, free. After installation is paid for, the natural energy generated is free. Meanwhile, the cost of power from fossil fuels will continue to climb.
Your neighbors who don't insulate and move to green power are projected to pay double the energy costs by the end of this decade (2020) and triple by the end of the next. Nobody knows exactly when we'll run out of fossil fuels altogether.
Every parking lot offers a perfect place for a solar emplacement, which can power the adjacent store, school, church or factory as well as power the electric vehicles under it. The post-carbon era does not have to mean travel by ox-cart and reading by candle light. We know how to capture the natural renewable energies of the sun, earth, wind and water. The sooner we move toward using what we know, the less need to continue polluting the earth and changing the climate.
What are we waiting for? Government leadership? Current legislative gridlock is not going to improve under the present system of funding our elections. By its very nature, a republic only responds to the will of those who elect its legislators.
Only in an emergency will a democratic government take the reins and retool from the top down, as we did in WWII. And some of us, and our representatives, can't even agree that climate change constitutes an emergency.
Let's step up to the plate and do it ourselves. We Americans have always been a can-do people, ingenious and innovative. Nothing is stopping us. Many places in Europe are already retooling for the clean-energy future, enjoying its benefits right now. We can learn from their experience and avoid mistakes.
If you think it isn't yet possible to create a better, more wholesome world, please read Jeremy Rifkin's latest book The Third Industrial Revolution. Don't be put off by the title, as I almost was. Rifkin agonized about turning people away with the dirty word "Industrial". This book is inspiring, energizing, and hopeful. It lays out the why and how to a beautiful future for humankind and all living beings—
if we get to work on it right away.
---
Creative Entries Sought for the Renewable Fashion Challenge.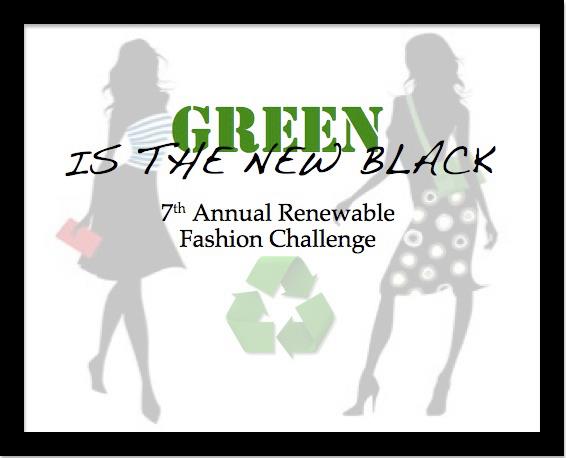 For six years, the Illinois Sustainable Living and Wellness Expo has featured the Affordable Fashion Challenge, which invites area residents to create new garments out of old or outdated textiles. This year, we are continuing the tradition but have given the event a new name: The RENEWABLE Fashion Challenge. This name change acknowledges the fact that not only is re-purposing of clothing affordable, it is also a way to stretch our planet's limited resources.
By using existing clothing or other textiles to create a new garment, the raw materials and all the energy of producing the original cloth and shipping the original garment are saved. Past entries have ranged from simple modifications which update a look to complex garments crafted from unrelated items. There are fashion categories for all ages, as well as separate categories for accessories and home décor.
Items will be judged in the "Green is the New Black" fashion show held at the Expo on April 14, but the deadline for entries will be on March 22. Please visit www.islwe.org for more details, or call the EAC with questions.
---
Green Drinks - Environmental Meet Up
Looking for conversation or networking opportunities with like-minded individuals?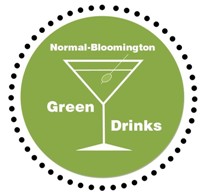 Join us at Green Drinks, the monthly environmental get-together. With no agenda and no membership or admission fees, Green Drinks is nice way to have some informal conversation on whatever environmental topics you want to bring to the table. Join us at Medici in Normal at 5:30 on the first Tuesday of every month.
Tuesday, Mar 6, 2012
Starts at 05:30 PM
Location:
Medici
120 North Street
Normal
,
IL
61761
---
As always, we look forward to seeing you at the Ecology Action Center! Please stop by anytime Monday - Friday 9 a.m. to 5 p.m. or call us at (309) 454-3169 for information on our latest programs and events or to get answers to questions on recycling, household hazardous waste, clean water, and more!
The Ecology Action Center is a not-for-profit walk-in information and environmental education center with a mission to inspire and assist residents of McLean County in creating, strengthening and preserving a healthy environment. EAC acts as a central resource for environmental education, information, and outreach in McLean County.
www.ecologyactioncenter.org