Hello EAC Action News Readers!

Welcome to another edition of the EAC Action News, your local source for information on environmental happenings. Please feel free to submit feedback or article suggestions to us at eac@ecologyactioncenter.org.

Join us for Green Drinks - TONIGHT

Green Drinks is a monthly, informal networking event for environmental professionals and anyone interested in "green" things; gatherings are held in almost 500 cities around the world. Green Drinks has no political affiliation and gatherings have no agenda.

What mixes better than a spirited discussion and spirits (or for that matter, ales, ciders, or lattes)? EAC will provide the conversation starter by suggesting an article (downloadable from the link below) then we'll all meet up for an open discussion and general good time. No need to sign up, just show up, get yourself a beverage whether it be espresso, or an espresso stout, and join us for good green conversation on Tuesday November 3 at 7 pm! Hope to see you there!


Curt White Book Signing to Benefit EAC: The Barbaric Heart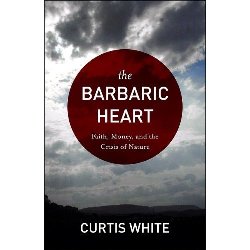 The Ecology Action Center invites you to attend:

Local author, ISU professor, and frequent contributor to Orion Magazine Curtis White will read from his newest release, the Barbaric Heart, followed by a book signing on Thursday, November 12 at 7 p.m. on the Bank of Illinois's top floor at 200 W College Avenue in Normal. Copies of The Barbaric Heart will be available for $10 each, with all proceeds benefiting the Ecology Action Center.

Smart, funny, and fresh, The Barbaric Heart argues that the present environmental crisis will not be resolved by the same forms of crony capitalism and managerial technocracy that created the crisis in the first place. With his trademark wit, White argues that the solution might very well come from an unexpected quarter: the arts, religion, and the realm of the moral imagination.




America Recycles Day at the Children's Discovery Museum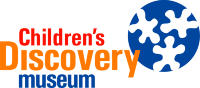 The Ecology Action Center will present "Michael Recycle" – a super hero story at the Children's Discover Museum on Friday, November 13 and Saturday, November 14. The two day event will include a variety of special games and activities to recognize America Recycles' Day. An award ceremony at noon on Saturday will announce the winners of the 2010 Ecology Action Center Waste Reduction Calendar contest with free lunch and the premiering of the 2010 calendar. General admission to the Children's Discovery Museum will apply.


Fill in the Gaps on Energy Efficiency
It is quite obvious that cold weather is upon us and colder days are just around the corner. Winter days mean heated homes and apartments. The extra use of heat and energy not only adds on to electric bills, but causes addition air pollution and can contribute to climate change. It is about time to start thinking about weatherizing your house; it's good for your wallet and good for our local and global environment.

Many of the changes that may need to be done to successfully prepare your home could be accomplished by you. There are three major attributors to lost heat and energy.


1. Inefficient furnaces caused by dirty filters. This is often caused by homeowners not changing their heating and cooling filters. Filters should be changed, at least, twice a year, more if you have pets. The dirtier the filter the less efficient the furnace works, making it run longer for the same effect. A programmable thermostat can also help by automatically turning the heat down during hours you are normally out of the house or asleep in bed.

2. Cracks, holes, and gaps. It is important to realize than any little crack, hole, or gap, is an exit point for the heat you are trying to harbor. Check around baseboards, corners, doors, and windows for any possible leak points. Also, check the exterior for entry points you cannot see from inside. These can easily be filled with caulk from the local hardware store. "It's easy to use, customizable and low in costs" (Hageman).

Also, be aware that electrical sockets can cause cold, winter air to draft through the house. A simple fix would be socket covers to stop the draft.

3. Weak Insulation. Although this could be a big project simple additions could help with the winter months. Remember that heat rises so "laying down a few extra layers in the attic will eliminate a large amount of heat loss"

Check for gaps where pipes enter the wall. If the gap is small caulk as stated above; however, you may find larger holes, use canned foam insulation to fill in the space.

These simple steps could help you keep your home warmer and energy bill down this winter. Also, be aware that the darker winter causes lights to be left on. Installing timers or motion sensors could help save energy when the light is not necessary. For other information visit your local hardware store. Some, like Home Depot, offer Energy Efficiency Workshops.

Article by Kristen Urchell, EAC Intern

Works Cited
Hageman, Brittany. "Save Energy and Money by Weatherizing Your Home Today." Billings Gazette 11 Oct 2009: n. pag. Web. 28 Oct 2009. .



Green Reminders: Rain Barrel Winterizing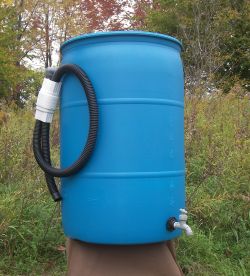 If you have install a rain barrel on your home, remember to winterize it so it doesn't get water freezing inside it. To do so, first drain any remaining water from it, ideally to gardens or other landscaped areas that can absorb all of the water without causing any runoff. If need be, empty it gradually over the course of a few days. Once it is completely empty, remove it and either store it in a garage or shed or upside down outside, so it won't collect any water. Finally, reinstall your original downspout arrangement to handle rain and snow melt through the colder months so it doesn't all go in your basement! Some people install a two-way diverter on their downspout so they always have a full downspout in place; in this case, just winterize the barrel as above, but then switch the valve on the diverter to the downspout.

Don't forget to reinstall in the spring so you can again resume harvesting rainwater and reducing stormwater runoff pollution. For more information on rain barrels, call or stop by the EAC.


Green Reminders: Leaf Collection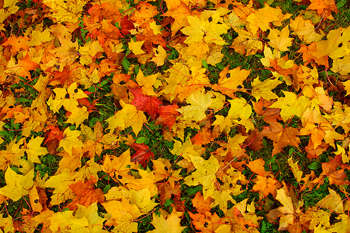 So the leaves are falling and something's got to be done with all of them. One easy option is composting; raking your leaves into a large pile, perhaps surrounded by some scrap wood or four wooden pallets fastened together, mixed with some grass clippings and/or vegetable or fruit scraps or peelings, and bingo - you'll eventually have some nice compost fertilizer for your lawn or garden.

If you live in Bloomington or Normal, free curbside pickup of leaves is available. Crews have already begun this seasonal collection. However, per directions from both municipalities, please do not rake your leaves into the street. In addition to being a possible safety issue, leaves just like silt can act as a stormwater pollutant. Washed into the storm sewer system and eventually into creek, streams, and lakes, the additional nutrients from the massive amounts of leaves breaking down can remove oxygen from the water, suffocating plants and wildlife.

You may find yourself questioning this - after all, leaves are natural and have been falling into creeks, streams, and lakes long before we had water pollution issues. This is true; what has changed is the sheer volume of nutrients that we are directing to our water bodies via our storm sewer systems. If we were considering only the volume of leaves that would normally fall directly into our area creeks, streams, and lakes, the natural processes should be able to handle this level of nutrients. But when we consider all of the leaves falling in the streets or even being raked into the streets of Bloomington and Normal that get washed into the storm sewer systems and discharge into bodies of water, now we have a problem.

Please help us keep our local waters clean - either compost your leaves or pile them neatly near the curb for collection - but keep them out of the streets!


Holiday Sale at the EAC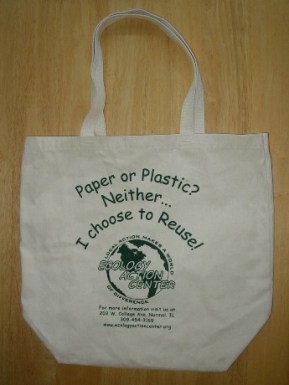 As those among us that are better organized begin to do some holiday shopping, we should all consider giving green gifts this holiday season. A good example is rain barrels from Prairie Rain Harvester. These ready-to-use 55 gallon rain barrels are made from a heavy-duty recycled food grade drum and are made in central Illinois. Now on sale at the EAC for $90 including sales tax.

Also now on sale are our traditional heavy-duty canvas shopping bags made from recycled cotton fibers, now available for only $5 including sales tax. These large size bags are much more durable and long-lasting than many of shopping bags being distributed nowadays. Since the point of reuse is to reduce waste, doesn't a more durable shopping bag make more sense?
Give more without spending more
Share your passion and donate to the Ecology Action Center with your everyday purchases. We've partnered with Capital One® Card Lab Connect to bring you our newest fundraising program, which helps us earn money effortlessly every day! Just carry one of our custom credit cards (it comes with a competitive rate and no annual fee), and 1% of purchases made with the card will be donated to our organization. We'll also receive a $25 bonus donation when you make your first purchase. And not only will you be donating to our cause with each purchase you make, you'll be helping to spread the word when people see your unique card, one of three designs created specifically for the Ecology Action Center.
Click here for more information or to apply
As always, we look forward to seeing you at the Ecology Action Center! Please stop by anytime Monday - Friday 9 a.m. to 5 p.m. or call us at 309-454-3169 for information on our latest programs and events or to get answers to questions on recycling, household hazardous waste, clean water, and more!