Welcome to another edition of the EAC Action News, a publication of the Ecology Action Center, a central resource for environmental education, information, and outreach in McLean County. This newsletter serves as a resource for YOU. If you have questions that you need answered or suggestions for content, please let us know!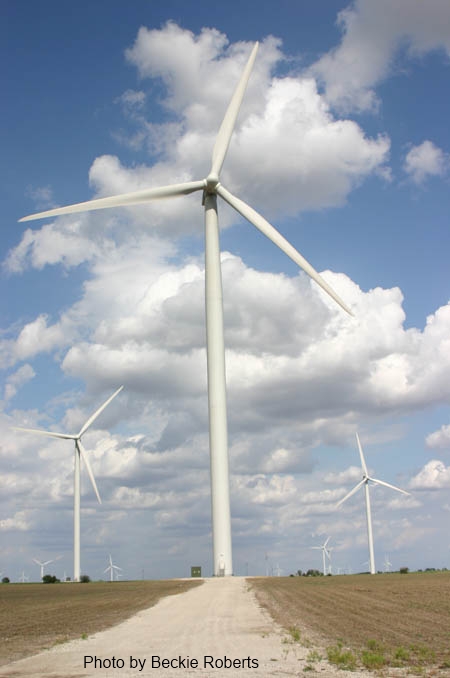 By Carl Roberts, EAC Volunteer
Windmills are popping up all around McLean County faster than dandelions. As you drive through the area, you see large clusters of churning windmills along the horizon. Do you ever wonder when you will be able to power your own home with environmentally friendly, affordable energy generated by those windmills?
Wind power has come to McLean County
You will not have to wait for some future day of flying cars and snow-shoveling robots to take advantage of wind-generated power. 100% wind-powered, renewable energy is available today from Blue Star Energy1 for customers of Ameren Illinois.2 The energy from windmills has come down in cost to be competitive with traditional, coal-powered energy.
Corn Belt Energy3 is an electric cooperative, where the customers are members and owners. Energy from Blue Star or other third-party power providers is not available to members of Corn Belt or other electric cooperatives. An article about Corn Belt's green energy and energy-conservation programs will appear in May's electronic EAC Action News.4
Blue Star provides windmill power & Ameren delivers it
Ameren Illinois customers can select electricity from Ameren's normal power source or from a number of alternative suppliers like Blue Star Energy. Ameren is indifferent about where the power comes from. Power companies like Ameren Illinois are somewhat similar to delivery companies like FedEx or UPS. They do not make the electricity; they just deliver it to your home or business.
Customers choosing Blue Star Energy receive a bill from Blue Star which includes the price for the electricity and the price for the delivery. Blue Star then passes the delivery portion of the payment on to Ameren. The customer pays the same amount for Ameren's delivery regardless of which power source they use. If there is a disruption in the delivery of electricity – such as a downed power line during a winter storm – the same Ameren crew will restore your power, regardless of which power source you chose.
Endorsement from a windmill-power customer
"The quickest and easiest way to immediately cut a home's CO2 footprint by 50% to 75% is to stop buying dirty, coal-fired electricity and purchase wind power instead," said Blue Star Energy customer William C. Rau, retired associate professor of sociology at Illinois State University. "A move to renewable energy reduces not only CO2 emissions, but also the release of mercury, arsenic, sulfur and radioactive elements contained in coal."
"You used to have to choose between cheap, coal energy or expensive, green energy." Rau said. "Now you can get green energy that is cheap." Rau's comparison of a Blue Star windmill-energy bill with an Ameren bill showed that there was not a significant difference in the cost. In fact, the windmill energy was slightly less expensive than traditional energy.
"We should be able to have 40% of electricity come from renewable energy (wind/solar) by the year 2030," Rau said. "They will be able to store unused wind power in batteries at night and draw from it during peak-demand periods and when the wind is not blowing."
Footnotes
1. http://www.bluestarenergy.com/
2. http://www.ameren.com/sites/aiu/Pages/Home.aspx
3. http://www.cornbeltenergy.com/
4. http://ecologyactioncenter.org/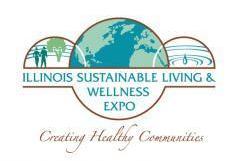 In case you haven't already heard, the biggest green event in Central Illinois is about to return. April 14 brings the
Illinois Sustainable Living and Wellness Expo
back to the IWU Shirk Center. This free event is a collaboration between Illinois Wesleyan University Wellness and The Ecology Action Center.
Together, we bring you:
Over 80 exhibitors
A dozen workshops
Live music
EV cars

electronics
CFLS
plastic garden pots
textiles and clothing
bicycles
household batteries
confidential paper shredding

Local food and cooking demonstrations
Sustainable transportation with Good to Go
Waste reduction, recycling and composting

Construction and Demolition Recycling
Food Scrap Composting
City of Bloomington automated curbside single stream recycling
Vermicomposting
McLean County Freecycle Free-For-All
Zero Waste
Renewable Fashion Challenge

Rainwater Harvesting
Environmental Health

Sandra Steingraber's Living Downstream
Clearing the Hurdles of Household Hazardous Waste

Energy efficiency
Kids' Green Zone

make recycled paper
learn to compost
ride the energy bike
engage in "Adventures of the Wild World" with Storyteller Brian "Fox" Ellis

And so much more!
Bike, walk, carpool, or ride public transportation to the event to get an early start on the
Good To Go Challenge
. But no matter how you arrive, don't miss the
2012 ISLWE
, from 9 a.m. to 4 p.m. on Saturday, April 14.
The Illinois Sustainable Living and Wellness Expo is sponsored by WGLT/Good To Go, Prairie Signs, WJBC, Heartland Community College's Green Institute, Midwest Fiber/COPS, Sims Recycling, and Ameren Illinois.