Welcome to another edition of the EAC Action News, a publication of the Ecology Action Center. The EAC is a central resource for environmental education, information, and outreach in McLean County. This newsletter serves as a resource for YOU. If you have questions that you need answered or suggestions for content, please let us know!
---
America Recycles Day MEGA Recycling Event
Saturday, Nov 17 8 a.m.— 1 p.m.
Illinois Wesleyan Hansen Center Parking Lot
300 East Beecher Street, Bloomington
One Day, One Time, One Place ‐ recycle many things at once!
Electronics (TVs, computers, VCRs, phones, small kitchen appliances, etc.)
Household Batteries (alkaline, watch batteries, rechargeables)
Clothing and textiles (usable or not)
Shoes (usable or not)
Compact Fluorescent Bulbs (CFLs)
Plastic Garden Pots
And as an added bonus ‐ FREE confidenal paper shredding
Terracycle, according to their website, "upcycles and recycles traditionally non-recyclable waste (including drink pouches, chip bags, tooth brushes and many more) into a large variety of consumer products. These products keep waste out of our landfills and contribute to a cleaner world."
Residential Wastes ONLY—no business wastes accepted
NO HAZARDOUS WASTES, CHEMICALS, PAINTS OR LARGE APPLIANCES ACCEPTED
America Recycles Day MEGA Recycling 2012 is sponsored by:
EVENT PARTNERS
---
Bloomington Recycling Upgrade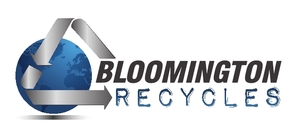 The City of Bloomington is
rolling out
new recycling carts to households across the community. Households that were already utilizing the curbside system in Bloomington should receive a cart for the new system before Thanksgiving. The new system utilizes an automated truck to empty the city-issued recycling carts. With now greater capacity for your recycables in combination with the ease of single-stream recycling (no sorting required!), you can now recycle more than ever!
FREQUENTLY ASKED QUESTIONS
Q: How soon after receiving the new recycling cart do I start using it?
A: Please begin using these new carts right away on the same date that you previously recycled.
Q: I didn't receive a recycling cart when my neighbors did - how do I get my new recycling cart? How soon can I expect it?
A: Please order a recycle cart right away if you didn't already. The timing of the second order will depend upon how quickly people request more carts. The latest delivery of the second round with be in the Spring of 2013. Carts could be delivered sooner if a lot of residents order their carts. If you didn't get a cart in the initial order, you can sign up to get one in the next order, which will take place soon. Call City of Bloomington Public Works at 309-434-2225 or 309-434-CART or sign up online.
Q: My household doesn't generate enough recyclables to need the 95-gallon size cart; can I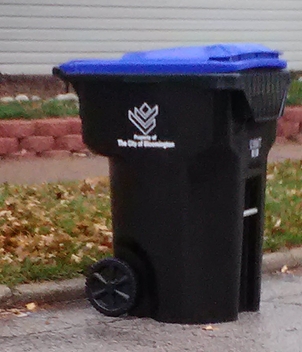 trade it in for a 65-gallon cart?
A: The City is asking that people give at least a 60 day trial with their 95 gallon cart. The City doesn't have extra carts at this time to switch out to a smaller size. If after 60 days, residents would like to switch carts then they need to contact the Public Works Department at 309-434-2225 with their address and request to switch to a smaller cart.
Q: Can I continue to recycle using my old blue bins? Will there be a transition period?
A: For those that missed the original cart order window, the City will allow for them to use the old blue bins assuming they have ordered a new cart. Once the second round of carts are delivered, the City will stop allowing the use of older blue bins.
Q: Is there a way to donate my old blue bin to be used by area schools for recycling?
A: Residents are encouraged to bring their older blue bins to the Public Works Drop off facility at the corner of East Street and Jackson Street during regular business hours. Residents can also leave a note on their blue bin at the curb so it can be taken by our crews or call in and give their address so we can collect the blue bins. City crews won't collect blue bins without this notice so there is no error in collecting a blue bin that the resident still wants.
Q: Does every household in Bloomington qualify for the curbside recycling program?
A: No. You must be in the refuse billing program.
Q: What is recyclable in the City of Bloomington?
Q: I am a resident of Normal. What are my options for recycling?
Q: What about other things that I can recycle, in addition to the usual items?
A: Consult the Ecology Action Center's website for many resources on nontraditional recycling programs in our community including household batteries, plastic garden pots, textiles, CFLs, automotive fluids, and more!
---
Municipal Electricity Aggregation Passes in Normal - Hearings Scheduled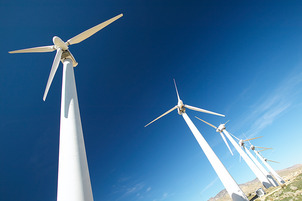 On November 6, Normal residents passed a referendum allowing the Town of Normal to aggregate the purchase of electricity for its residents, potentially leading to significant savings on their utility bills. On top of this, there is also potential for purchase of cleaner, renewable energy, which will reduce air pollution including climate-changing greenhouse gases.
Normal residents are invited to give their input through public hearings to be held on Monday, November 19 at 2:30 p.m. and 6:45 p.m. in the Normal Council Chambers (4th Floor) at Uptown Station, 11 Uptown Circle. The public hearing is for the purpose of receiving public input on the Plan of Operation and Governance for Municipal Opt-Out Electricity Aggregation. Find the draft copy of the Plan at
http://normal.org/DocumentView.aspx?DID=1402
.
For more information, contact Sally Heffernan, Assistant to the City Manager, at (309) 454-9503.
---
New EAC website!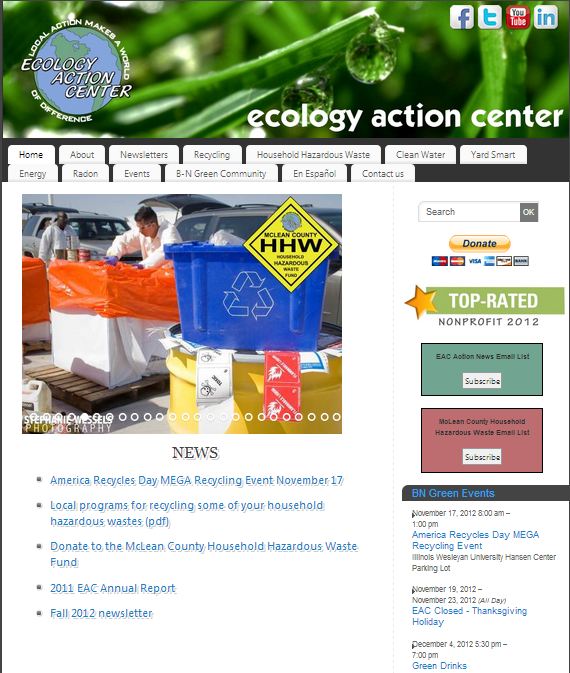 If you haven't visited us online lately, you might not have noticed the roll out of our
new website
! The new-and-improved virtual EAC brings multiple benefits:
Clean and fresh easy-to-navigate user interface
Comprehensive search function of all indexed site content
Adaptability for future growth needs
Better integration of social media and services such as the BN Green Events Calender
Automatic adaptation for use on mobile devices such as smart phones and tablets
Optional Google translation to over 60 languages
Easier maintenance means more up-to-date information available to the public
Some content may not be in the same location as you previously found it, but using the navigation tabs at the top or the search function on the right, you should be able to find everything you need. If there is any information that you cannot find, please feel free to contact us at (309) 454-3169 or
online
.
---
Winterize your rainbarrels NOW
Don't delay - if you haven't already prepared your rain barrels for winter, now is the time. To best protect your rain harvesting investment from damage this winter from freezing and thawing, follow these steps:
Completely drain your rain barrel, ideally into your garden or lawn (not into your driveway or the street where it will become a medium for transporting stormwater runoff pollutants). Better yet, using a section of hose, slowly drain it at the base of a nearby tree, which still may be suffering from the effects of this year's drought.
Move your rain barrel into your garage or at least turn it upside down for the winter so it doesn't accumulate any more water.
Reconfigure your downspout to the original arrangement to direct water away from your house and foundation so you don't have a wet basement this winter. If you have a downspout diverter, this is as easy as switching the valve to direct rain water to the downspout instead of the rain barrel. If you don't have a downspout diverter, consider installing one next spring when you put your rain barrels back out to start harvesting again. EAC has them in stock now for 2"x3" downspouts in white, at $30 each or $25 for EAC members.
Call us with other questions - (309) 454-3169.
---
Radon Refresher
On a chilly but sunny Sunday, October 28, 2012, 30 radon professionals from across the state enjoyed an educational and entertaining field trip to Matthiessen State Park., near Starved Rock. This group was lead by outstanding geologists from Illinois State University, Dr. Robert Nelson and Mr. Bill Shields. This was a continuing education course with IEMA approval, sponsored by the Radon Program at Ecology Action Center.
Comments and evaluations were brimming over with enthusiasm and praise for the " awesome geology" and the knowledge of the instructors about rock and mineral formations over millions of years. Sources or radon, granite formation, glaciers, finding fossils, visiting quarries were some of the topics and sights of the day. To see so many structures and rock formations required extensive hiking through the Park and surrounding land.
Radon is an invisible gas that continuously seeps through ground and rocks and enters our homes. All homeowners are encouraged to test homes for the presence of radon. Test kits are available at the EAC for $10.00. Walk in and purchase a kit or use the form at
http://www.radonmclean.org
to order by mail. Contact Ruth Ann Lipic, radon program director, at 454-3169 for information and questions.
---
Thanksgiving Holiday
The EAC will be closed November 19 through November 23.
Happy Thanksgiving!
---
As always, we look forward to seeing you at the Ecology Action Center! Please stop by anytime Monday - Friday 9 a.m. to 5 p.m. or call us at (309) 454-3169 for information on our latest programs and events or to get answers to questions on recycling, household hazardous waste, clean water, and more!
The Ecology Action Center is a not-for-profit walk-in information and environmental education center with a mission to inspire and assist residents of McLean County in creating, strengthening and preserving a healthy environment. EAC acts as a central resource for environmental education, information, and outreach in McLean County.
www.ecologyactioncenter.org