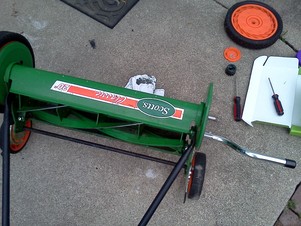 The type of lawn mower with the smallest carbon footprint, reel mowers are those engine-less, motor-less contraptions that generally come to mind with thoughts of 1950s lawn maintenance. But don't let memories of heavy equipment and archaic machinery fool you, the reel mowers of today are lighter and easier to use than ever before.
For all of the same reasons you support the ideals of the EAC, a reel mower can be a great addition to your lifestyle. Aside from the initial purchase, maintenance costs are practically zero so they make financial sense. Instead of merely walking behind a self-propelled mower, the reel mower takes a little more effort to push, so you're keeping your body healthy in addition to your lawn. Best of all, there's no pollution with the use of a reel mower, no emissions, no waste from oil-changes or replacing spark plugs, and no noise pollution either!
Like most technologies that become more compact and lightweight throughout time, reel mowers can now weigh as little as 16 pounds depending on the model. Parts have been upgraded and they are now more durable and easy to maintain, helping your reel mower to last for decades. What hasn't changed are the simple mechanics of the reel mower that can save you money, and that do not require the use of any household hazardous wastes.
Unlike a gasoline rotary motor, there's no exhaust from gas or need to maintain oil levels. Unlike electric motors, there's no need to worry about charging a battery or running over an extension cord. In fact, aside from sharpening the blade, maintenance is negligible when it comes to reel mowers. And, now you can't even let blade sharpening prevent you from purchasing a reel mower, because the EAC has its own sharpening kit available for you to use today!
Sharpening your reel mower blades is an easy process that takes about 20 minutes and a few, simple hand tools in addition to the EAC's reel mower blade sharpening kit. Our kit is a recent acquisition, suggested by an EAC member who pointed out that while this is a useful tool, one only needs to use it every couple of years. To borrow the EAC's kit, just come check it out from our library. As we currently only have one kit, it wouldn't hurt to call ahead and make sure it is in before stopping by. However, if this proves to be a popular item, we will happily add a couple extras to our collection.
Though you can see how smart and easy reel mowers can be, a final thought may be: What will I do with my old mower? If you have the space, keep it on hand for instances where heavy rains and thick grass make the use of a reel mower too difficult, or for edging work on the boarders of your property. If you'd prefer to just get rid of that old gas-guzzling or power-sucking model, you can give it away on McLean County Freecycle or drop it off at Morris Tick Scrap Recyclers.