Hello EAC Action News Readers!

Welcome to another edition of the EAC Action News, your local source for information on environmental happenings. Please feel free to submit feedback or article suggestions to us at eac@ecologyactioncenter.org.

A brief summary of the American Clean Energy and Security Act
The American Clean Energy and Security Act is a bill that has been circulating in discussion in Washington D.C. for the past several months. Accepted by both the House Energy and Commerce Committee and the House of Representatives, the bill proposes to set limitations, allowances, and requirements for energy uses and emission changes. There are four major sections the bill addresses that will make a big impact in the upcoming years.

They key elements approved by the two entities include, but are not limited to:

1. A clean energy requirement, which not only sets new standards for current types of power but aims to accelerate the development and use of new clean energy technologies.

2. An efficiency requirement, which provides finding for energy efficient programs. This includes setting stronger building codes and produce effective standards.

3. A cap and trade program, which aims to lower and cap 87 percent of U.S. greenhouse gas emissions. This includes electric power and oil and gas sectors. Companies can buy or sell permits to release these gases but the cap is reduced over time to eliminate more greenhouse gases.

4. A transition to a low carbon economy, which is to aid those impacted by the previously mentioned cap which includes industry, American workforce, and low income households. (Larson)

There are plenty of reputed advantages and disadvantages of the act. Supporters of the act include many environmental organizations such as Defenders of Wildlife, The National Wildlife Federation, and the Sierra club, to name a few. The American Clean Energy and Security Act is set to affect total emissions over the 2012-2050 period. The bill actually looks at a 17% decrease from 2005 levels which is 3% higher than the proposed reduction level by President Barack Obama. Not only is the act an environmental safety but consumer safety as well, as it aims to protect consumers from unreasonable energy price increases. Arguments against the bill question the long-term effects of climate change and if they will be as significant s anticipated. In addition, many economists worry about of the costs of capping emissions and the effect of that on businesses.

For more information one can visit www.opencongress.org and search for H.R.2454 Bill for full official summary of the bill. Or a more readable summary is available by visiting www.wikipedia.org and search for the American Clean Energy and Security Act.

Story by Kristen Urchell, EAC Intern

Works Cited
Larson, John. "The American Clean Energy and Security Act: Key Elements and Next Steps." World Resources Institute (2009): n. pag. Web. 5 Oct 2009. .
Upcoming Presentation: What would Jesus Do About Climate Change?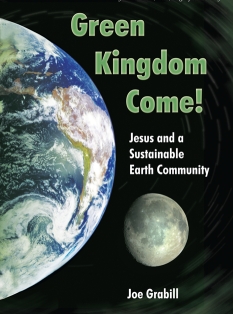 Who — Joe Grabill
—Retired ISU professor
—He has walked 7 times where Jesus walked on seven research trips to Galilee
—Author of Green Kingdom Come!

Where — Ecology Action Center, 202 W College Avenue

When — Wednesday, Oct. 14, 2009, 7 p.m.

Why — The lifestyle and teaching of Jesus about the following topics support sustainability
—Earth and planting
—Crows
—Mustard seeds
—Death and time
—Water and rain drops and sun
—Breath and air
—Children
—Snakes and doves
—Feet and clothes
—Nests
—Money

This presentation is free and open to the public. Copies of Green Kingdom Come will be available for sale. For more information, call 309-454-3169.
Don't miss the 4th Annual Sustainable Gourmet!

Friday, October 23 from 5:30-8 p.m. is the Ecology Action Center's annual wine-tasting fundraiser on the top floor of the Bank of Illinois. Featuring organic wines and hors d'oeuvres from local and organic foods, this popular event is a great way to have a fun evening and support the important work of the Ecology Action Center. The event also includes a raffle of great prizes; orders may be placed for your favorites of the wines you have sampled at the event.

Tickets are $30 per person in advance or $40 at the door. Tickets may be purchased at the Ecology Action Center at 202 W College Avenue in Normal.
America Recycles Day at the Children's Discovery Museum
Saturday, November 14 from 10 a.m. to 2 p.m.: Celebrate the three Rs and investigate composting with FREE activities such as recycled paper, recycle bracelets, compost worms and more located on the 2nd floor in the Oh Rubbish! exhibit. Presented by the Children's Discovery Museum, Ecology Action Center and University of Illinois Extension. Don't miss the release of the EAC's brand new 2010 Waste Reduction Calendar and announcement of the winners of the calendar art contest!
Join us for Green Drinks

Green Drinks is a monthly, informal networking event for environmental professionals and anyone interested in "green" things; gatherings are held in almost 500 cities around the world. Green Drinks has no political affiliation and gatherings have no agenda.

What mixes better than a spirited discussion and spirits (or for that matter, ales, ciders, or lattes)? EAC will provide the conversation starter by suggesting an article (downloadable from our website or Facebook page) then we'll all meet up for an open discussion and general good time. No need to sign up, just show up, get yourself a beverage whether it be es-presso, or an espresso stout, and join us for good green conversation on Tuesday November 3 at 7 pm! Hope to see you there!
As always, we look forward to seeing you at the Ecology Action Center! Please stop by anytime Monday - Friday 9 a.m. to 5 p.m. or call us at 309-454-3169 for information on our latest programs and events or to get answers to questions on recycling, household hazardous waste, clean water, and more!