Welcome to another edition of the EAC Action News, a publication of the Ecology Action Center, a central resource for environmental education, information, and outreach in McLean County. This month we have a few upcoming events to bring to your attention.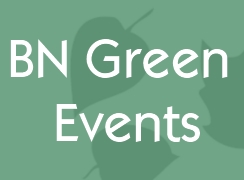 Speaking of events, if you aren't using it already, you can stay in the loop on environmental events in Bloomington Normal with the BN (Bein') Green Events Calendar. Hosted by the EAC,
BN-
Green.org
is a free resource to help put all local happenings in the environmental realm in one place. Check it out to find some great upcoming events, workshops, and classes. You can also follow EAC's Twitter Feed or Facebook page or subscribe to an RSS feed to receive updates of new events. Furthermore, if your organization is coordinating a green event in our community, feel free to submit it to the BN Green Events Calendar to spread the word!
---
Green Drinks: Tuesday, September 6 at Medici
Looking for conversation or networking opportunities with like-
minded individuals? Join us at Green Drinks, the monthly environmental get-together. With no agenda and no membership or admission fees,
Green Drinks
is a nice way to have some informal conversation on whatever environmental topics you want to bring to the table. Join us at Medici in Normal at 5:30 on the first Tuesday of every month!
---
Build your own Rain Barrel Workshop: Tuesday, Sept 20, 5:30 p.m.

Our rain barrel design has undergone a continual evolution and is now the best model ever, with design features rivaling or surpassing commercially available rain barrels which cost 2-3 times as much.
The workshop includes:
55 gallon reused food grade heavy gauge plastic barrel
A flexible elbow to direct rain water from your downspout to your rain barrel. Fits on 3" downspouts.
A 6" heavy duty screen to prevent entry of mosquitoes and leaves
High quality fittings and rubber O-rings for long life
Overflow hose and fittings with mosquito barrier
Instruction and use of all tools needed for the project
Workshop
excludes
installation materials for your specific home which may include concrete blocks, hacksaw, screwdriver, sheet metal screws, etc.
OR
---
McLean County Freecycle Free For All: Saturday, Sept 17, 9 a.m. -noon
Items accepted for donation from 8:30 a.m. to 10:30 a.m. only

Where: Anderson Park, Normal
What: An in-person version of our always online McFreecycle service for placing unneeded stuff!
How: Bring unwanted items like toys, household items, clothing, books or other things you no longer need but someone else might want. Then, browse items others have brought and take what you''ll use. You are not required to drop off items in order to pick up new ones. No appliances or large furniture, please. Additionally, no firearms, animals, foods, medicines or other consumables are permitted. All items must be free, legal & appropriate for all ages.
Why: Freecycle is an online gifting exchange open to everyone who wants to find a new home for items that can still be used to keep them out of the landfill.
For more information call the EAC at 309-454-3169.
Download the event flyer HERE
---
Composting Workshop: Monday, Sept 26, 5:30 p.m.
Commercially available composters can range in price from $40 - $200 but the Ecology Action Center will teach you how to make your own composters for as little as $5!
Workshop includes:
Instruction on conventional composting and how to get started
Discussion of different types of composters
Overview of vermicomposting
Materials and instruction to build TWO 25-gallon composters to take home and start the magic!
BONUS! Each participant will also receive a one gallon lidded bucket for handy kitchen compost collecting!
Special Offer: With the Town of Normal delivering new garbage carts to all residents, many homeowners find themselves with old plastic containers which may no longer be used for garbage. These are perfect to turn into composters! Bring them to the workshop, and we''ll discount the price even further! (Each person should bring 2 plastic, lidded garbage containers, between 25 and 60 gallons.)
Workshop Cost:

Price per person with containers: EAC Members: $20 Non-members: $28
Price per person if you bring your own containers: EAC Members: $5 Non-members: $13
---
Vermicomposting Workshop: Tuesday, October 4, 5:30 p.m.
Do any of these statements describe you?
Your children want a pet, but you don't want to deal with a dog to walk, a noisy parrot, or a cat box to clean.
You have an outdoor compost bin but don't like to haul things outside when everything is cold and frozen in the winter.
You generate a lot of carrot peelings, coffee grounds and banana peels, and hate to just throw them away.
You would love to grow bigger, better plants in your garden next year.
Never fear. The Ecology Action Center is here, with a fabulous solution. WORMS!!!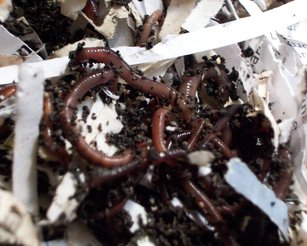 Yep. The answer to all the challenges above involves worms. Red wigglers, to be precise.
These amazing, tiny creatures will actually eat your garbage and turn it into wonderful fertilizer for your garden. Thousands of these worms can live in shredded paper bedding in a relatively small plastic bin in your closet, basement or heated garage. They might not be cute or cuddly, but most kids think they are fascinating pets. They are certainly easier to care for than any traditional pet!
Would you like to learn more about this type of composting, and make and take home your very own vermicompost bin and worms? Then join us for our fall workshop. For a fee of $45 ($40 for EAC members), you can come to our workshop, learn about vermicomposting, construct a simple container, fill it with worms, take it home and let the magic begin! Workshop fee includes all materials including one pound of worms. Each registered participant may bring one guest who is at least 8 years old, so feel free to bring your spouse, daughter, grandson or friend, and come learn about the magic of vermicomposting!


---


As always, we look forward to seeing you at the Ecology Action Center! Please stop by anytime Monday - Friday 9 a.m. to 5 p.m. or call us at (309) 454-3169 for information on our latest programs and events or to get answers to questions on recycling, household hazardous waste, clean water, and more!
The Ecology Action Center is a not-for-profit walk-in information and environmental education center with a mission to inspire and assist residents of McLean County in creating, strengthening and preserving a healthy environment. EAC acts as a central resource for environmental education, information, and outreach in McLean County.
www.ecologyactioncenter.org