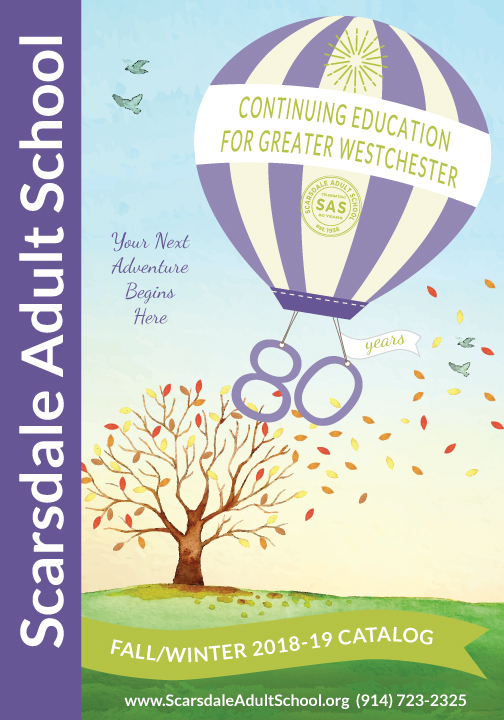 ---
In this Issue
---
Quick Links
---

Like us on Facebook and post to our page.
---
---
Peruse the course catalog and register for upcoming classes by visiting our secure website:
ScarsdaleAdultSchool.org
---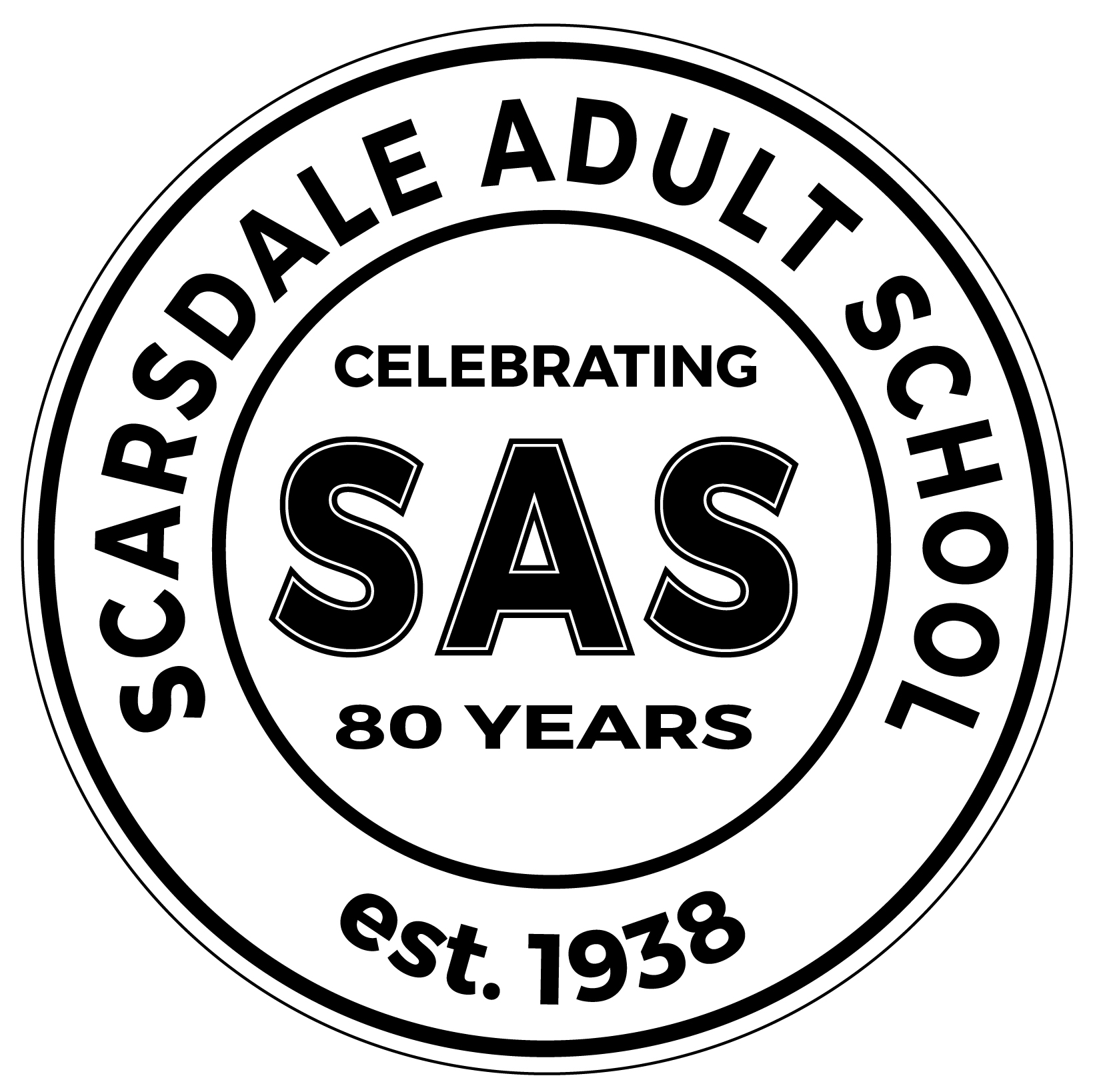 ---

Scarsdale Adult School E-News
Greetings Lifelong Learners,

By now, you should have received our newest catalog in the mail, detailing our many exciting options this fall. We are thrilled to host 80th Anniversary Academy on Sunday, October 14, 2018, at Hitchcock Presbyterian Church. Our keynote for the event is Professor Laurie Santos of Yale University, known for her widely popular class, Psychology and the Good Life. After the one-hour mini-version of her course, we will offer two concurrent lectures in separate rooms; students may choose between Alfred Hunt's Around the World in 80 Days with Mark Twain and Page Knox's Alfred Stieglitz and His Circle. The celebration ends with Daniel Blake and his jazz ensemble, the Digging, for an annotated concert of Benny Goodman's 1938 hits as well as delicious appetizers prepared by cooking instructor, Jensina Olson.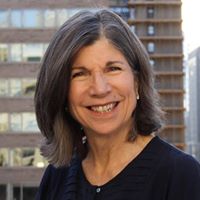 On Wednesday, October 24, 2018, we are pleased to present An Evening with Anna Quindlen, from 7:30 to 9 pm at Scarsdale Middle School. Among other things, this celebrated writer and former columnist for The New York Times will discuss her most recent novel, Alternate Side, her ninth book of fiction in her highly successful career. Registration in advance is highly recomended. Seating cannot be guaranteed for walk-ins.

If you have taken a class this spring/summer semester, please follow this link to fill out a completed course survey form online. With a few clicks of a button, you can provide feedback anonymously. Should you ever need it, the link also appears at the bottom of every page of our website and in the Quick Links menu at left in every e-newsletter.

Looking forward to seeing you in the classroom!

Regards,
Jill Serling, Executive Director
Catalog Addendum and Changes
Please note the following post-printing catalog additions, open for registration: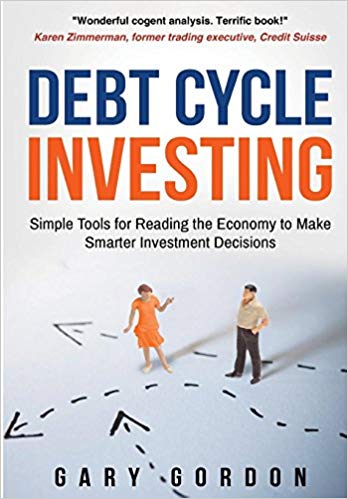 Modern Art for a New India --
Exhibit Preview
(Course 7168) and
Walking Tour
(Course 7169)
Debt Cycle Investing
(Course 7173)
Mindfulness 101
(Course 7165)
Mindful Parenting
(Course 7166)

Please also note that the instructor bios for
Jill Kiefer
(Italian Renaissance, Series 60) and
Michael Malina
(Revisiting Genesis, Course 6975) were omitted from the print catalog but are available online. In addition, all classes appearing on page 40 of the print catalog will be led by Marc Sky.

Page Knox's
Museum Preview: Jewelry: The Body Transformed at the Met
(Course 6983) will start at 1:15 pm rather than 1 pm.

The Tuesday evening
Zumba
class (Course 6895) with Lauren Corrigan now has an additional skip date of October 9, 2018. Class will still run for 10 weeks and will now end on December 11, 2018.
Crochet for All Levels
(Course 7157) with Melissa Shinsato now has an additional skip date of October 25, 2018. Class will still run for 6 weeks and will now end on November 15, 2018.
---
Totally Awesome 80s and More Music Appreciation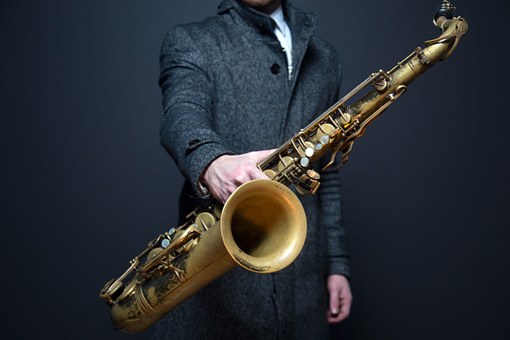 Expanded music appreciation offerings this semester include a few nods to commemorate our 80th birthday. Daniel Blake will lead
1938 and the Swing Era
as well as
From Spirituals to Swing
. Both courses focus on the music popular at the time of SAS's founding. In addition, John King will teach
80: A Musical Birthday Celebration
. In that four-week course, students will examine great classical orchestra, chamber, choral, and piano pieces bearing opus number 80.

This year also marks the 100th anniversary of Claude Debussy's death. In honor to this French impressionist composer, internationally-acclaimed pianist Michael Boriskin will lead
Magic, Mystery, and Anarchy: The Music of Claude Debussy
on Friday October 12, 2018. Then on Friday, October 26, 2018, students can enjoy
An Evening of Claude Debussy
, a concert of works for flute, piano, violin, cello, and voice performed by faculty members from Hoff Barthelson School of Music. For more in depth discussion, John King will offer a six-week course,
Impressionism: The Sound and Style of Debussy and Ravel
, starting Tuesday, October 30, 2018.

Beyond the themed classes, Richard Knox returns to SAS with music appreciation courses that survey the music of
Jerome Kern
,
Cole Porter
, and
Leonard Bernstein
, and the careers of
Shirley Jones, Howard Keel
,
Nat King Cole, and Florence Henderson
. His multimedia presentations include video and sound clips to enhance the experience. The first of his lectures is on Wednesday, September 26, 2018.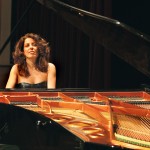 On Friday, September 28, 2018, students may tap their toes to
An Evening of Jazz
, featuring the all-star Hoff Barthelson School of Music faculty on sax, guitar, drums, and piano. Be sure to also mark you calendar for
An Evening Concert of Classical Greatest Hits with Cristiana Pegoraro
on Tuesday, October 30, 2018. Pegoraro will feature the world's best-loved pieces and enlighten the audience in this annotated performance.

The monthly Sunday afternoon chamber music concert series also resumes this fall. SAS students may register to attend performances by the
Ying Quartet
, the
Alexander String Quartet
, the
Calidore String Quartet
, the
Amerigo Trio
, and the
American String Quartet
when they each come to town.
---
Not to be Missed
View all classes in our catalog
. Starting up again in Septemberthe are classes in the following categories:


Humanities
History, Culture and Current Events

Literature and Film

Museum Previews, Exhibits, and Walking Tours

Music Appreciation

Religion
Skill Development and Enhancement
Arts and Crafts

Computers, Technology, and the Internet

Cooking and Baking

Languages

Performing Arts

Photography and Videography

Writing
Personal and Professional Growth
Career and Business Development

Health, Wellness, Stress Reduction, Nutrition

Hobbies and Edutainment

Home and Garden

Personal Finance, Aging, Retirement Planning
Recreation
---
Don't Delay -- Register Now!
Guarantee your seat in our hottest courses by signing up early. Classes do fill on a first-come/first-served basis. If you happen to be closed out of a class, please add your name to the waiting list. We do our best to open additional sections of best selling classes whenever feasible
.