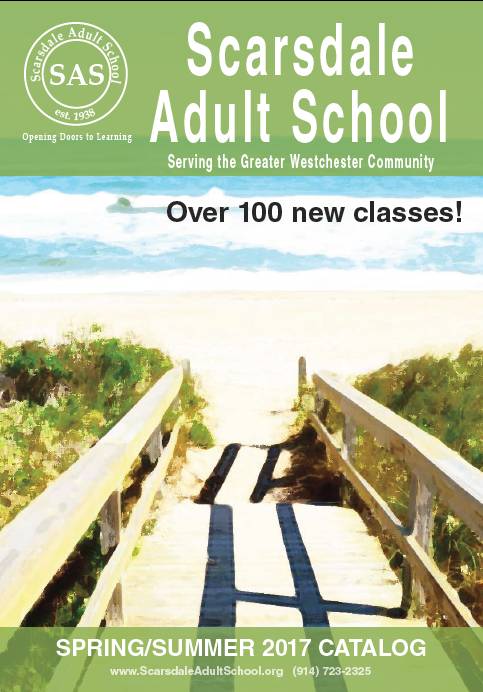 ---
In this Issue
---
Quick Links
---

Like us on Facebook and post to our page.
---
---
Peruse the course catalog and register for upcoming classes by visiting our secure website:
ScarsdaleAdultSchool.org
---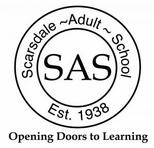 ---

Scarsdale Adult School E-News
Greetings Lifelong Learners,

At the May 8, 2017, annual meeting, SAS ushered in several new directors while bidding farewell to others for their longstanding service on the SAS Board of Trustees.

Joining the Board for their first renewable three-year terms are Nan Berke, Joan Mazur, and Sue Peppers. Lisa Tretler was elected as incoming Secretary, stepping into the shoes of Florie Wachtenheim, who has completed her term on the Executive Committee and will remain on the Board. Co-Chairs Ann Sacher and Leesa Suzman, Vice Chair Terry Singer, and Treasurer Carole Princer Levy will continue in their current roles as officers on the Executive Committee.

Our thanks extend to longtime board member Nancy Alderman, who has completed her term on the Board and will now roll onto the Advisory Committee. She has been an enthusiastic and valuable board member for six years, including two years serving as Co-Chair with her trusty and ever-present sidekick Liz Gruber. We also thank Eric Rothschild for his service and wish him well in the future now that he has completed his term on the Board.

To all members of the Board, Advisory Committee, and all students, past, present, and future, I look forward to seeing you in the classroom!

Regards,
Jill Serling, Executive Director
Museum Previews, Exhibits, and Walking Tours
SAS will have ample opportunities to tour historic sites in the city. Coming up next is a visit to Gracie Mansion on Tuesday, May 23, 2017. Before it became the official residence of the Mayor of the City of New York in 1942, the home and its surroundings had served as a residence for a successful shipping merchant, a fortification for George Washington's troops during the American Revolution, a source of escape tunnels for its prior resident, a British loyalist, and a farm owned by a Dutch settler. Please note that today is the last day to register for that tour.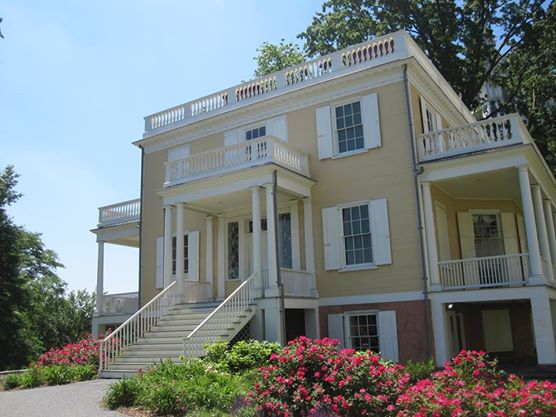 Later this semester, students may see Hamilton Grange National Memorial on Friday, June 16, 2017, and the Grand Concourse Historic District in the Bronx on Tuesday, July 25, 2017.

With sunshine and warm weather, we have welcomed the return of our outdoor walking adventures. Yesterday, students enjoyed a visit at Stonecrop Gardens. On Friday, June 2, 2017, we offer two feasts for the eyes and one for the belly in a daytime tour in the upper East Side. The Conservatory Garden in Central Park and Todd Webb at the Museum of the City of New York includes a docent-led exploration of Central Park's three formal gardens before students cross the street for a boxed lunch at the Museum of the City of New York and then a docent-led tour of the exhibit After the War: Photographs by Todd Webb (1945-1960). On Tuesday, July 18, 2017, Susan Birnbaum will guide students on a tasting tour along the most culinarily diverse streets in the city. Walking Tour: Astoria Queens and the Museum of the Moving Image will end with a "Behind the Screen" tour with a museum educator.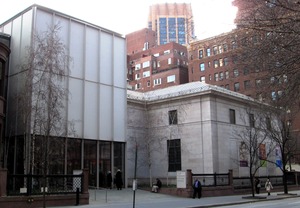 On Wednesday, July 12, 2017, students may enjoy Walking Tour: Henry James and American Painting and Afternoon Tea at the Morgan Library. The exhibit emphasizes the fascinating intersection between James's friendships with American artists and his literary work. The tour is also available as a stand alone event without the tea.

Arrangements exclusive to SAS have been made for all of our guided visits; students enrolled will receive specific instructions on when and where to meet at those destinations in New York City. Please note that, particularly with out-of-town tours, early enrollment is essential and class sizes are limited.

Upcoming museum previews include Rei Kawakubo/Comme des Garçons at the Met, presented by Page Knox on Wednesday, June 7, 2017. For art enthusiasts and fashionistas alike, the lecture will highlight and provide background information on Kawakubo's avant-garde designs that are being exhibited. The following week, on Wednesday, June 14, 2017, Elizabeth Thompson Colleary will preview Robert Rauschenberg at the Museum of Modern Art. This much anticipated retrospective exhibit includes nearly six decades of Rauschenberg's work in various media.
---
Even More Summer Classes Added to the Catalog
Scarsdale Adult School offers year-round edutainment for our students. Our summer classes provide plenty to keep your minds and body active and engaged from June through mid August.

In addition to the classes already printed in our catalog, we have just added the following additional courses to keep you engaged in our own rendition of "summer camp."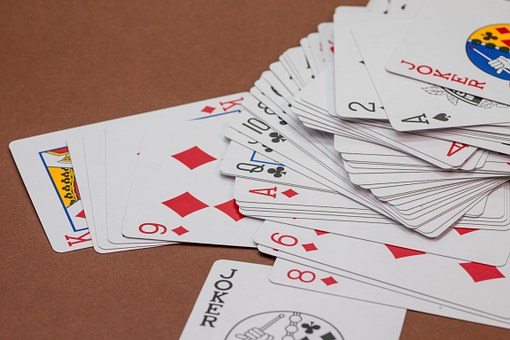 Good news for gamers -- card gamers, that is. In store for the summer are two more bridge courses as well as two more canasta courses, all at Westchester Reform Temple. Rich Laufer leads a new eight-week session of Beginner Bridge (Course 5245) from 10 a.m. to 11:45 a.m. starting Thursday, June 15, 2015, and also Bridge: Supervised Play (Course 5253) on Fridays from 19 a.m. to 11:45 a.m. for eight weeks starting June 16, 2017. Beginning on Wednesday, June 28, 2017, Canasta: Beginner Series (Course 5240) will meet from 11 a.m. to 1 p.m. and Canasta: Strategy and Supervised Play (Course 5241) will meet from 1:30 to 3:30 p.m.; classes will be taught by the dynamic duo of Emma Foster and Amy Katz.

Arts & Crafts will now include two more offerings from Quincy Egginton: Thursday morning Expressive Landscapes: Draw, Print, Paint (Course 5243) and Thursday afternoon Printmaking (Course 5244), both beginning on July 6, 2017. Naomi Shriber will teach Landscape Drawing En Plein Air (Course 5251) on Monday mornings starting June 12, 2017.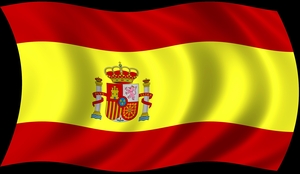 Teach your tongue a few new tricks with any of our newly added daytime Spanish classes, all led by Señor Stephen Jackson. Beginner Spanish II (Course 5247), Beginner Spanish III (Course 5248), Intermediate Spanish (Course 5246), and Coffee and Conversation (Course 5249) all have start dates in the last week of June.

Jeannine Palermo will keep you in shape with a four-week summer session of Fit Blast: Cardio, Strength and Abs (Course 5242) at the Girl Scout House on Mondays from 1 to 2 p.m. starting July 10, 2017. And by popular demand, Tap with a Twist (Course 5240) has been added as a four-week extension to the currently running class. New students are welcome to join starting Tuesday, May 30, 2017.

Jordana Kagen joins SAS to help keep your mind in shape with a new Poetry Writing Workshop (Course 5252) over two Tuesdays from 1 to 3 p.m. starting July 11, 2017.

Please also note the following changes to the online catalog:

The make-up date for Movie Matinees: Films About Artists -- Hudson River School (Course 5025) will be Tuesday, June 6, 2017. The start date for Slavery: America's Slumbering Volcano (Course 4961) with Alfred Hunt has been postponed one week and will now begin on Wednesday, June 14, 2017, with the last class on July 5, 2017.
---
Reinventive Richard Knox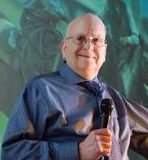 Our newest addition to our music appreciation faculty, Richard Knox is no stranger to the classroom. His teaching career began with mathematics, having taught the subject to junior high school students in Brooklyn for 18 years before serving as the kindergarten through eighth grade math coordinator for 21 years in Copiague School District and then as a district wide math supervisor in Oyster Bay-East Norwich School District. Once he retired from the public school system, he was able to turn more of his attention to his longstanding passion for performing arts.

Particularly enamored with Broadway musicals, Knox has been enjoying musical theater productions ever since his youth, when he was involved in his sleepaway camp's annual productions of shows such as South Pacific and Guys and Dolls. As he got older, he began to study more of the behind-the-scenes elements, such as the musical scores and composers, as well as direction and cinematography of film.

Knox's enthusiasm for arts and his talent for teaching spawned his second career as a lecturer. He has developed more than 20 different multimedia presentations on subjects ranging from musicals, film, opera, and radio and television programs of the "Golden Age." Among his many interests, his lectures have paid tribute to big bands of the 1930s and 1940s, the Great American Songbook of standards by Jerome Kern, George Gershwin, Cole Porter, Rodgers & Hart, and the artistry of Astaire & Rogers and Gene Kelly. His film classes have covered topics such as Gregory Peck, film noir, and great directors past and present such as Alfred Hitchcock, Stanley Kubrick, Martin Scorsese, and Steven Spielberg.

All of his talks include plenty of student engagement and opportunities for questions, comments, and other contributions. His ultimate goal is to make the student's overall experience both entertaining and informative.

Earlier this week, Knox enlightened SAS students on the Great Operatic Voices of the Twenty-First Century. There is still time to catch him this spring in his next class, Sight and Sound — Integration of Montage and Music in Films. Meeting on Tuesday, June 13, 2017, from 1 to 3 p.m. at Scarsdale Public Library, the class will explore the iconic film scores associated with dramatic motion pictures from Gone with the Wind to The Natural.
---
Not to be Missed
The following spring/summer semester classes all begin in the next few weeks:
---
Honor Thy Father with the Gift of Adult Education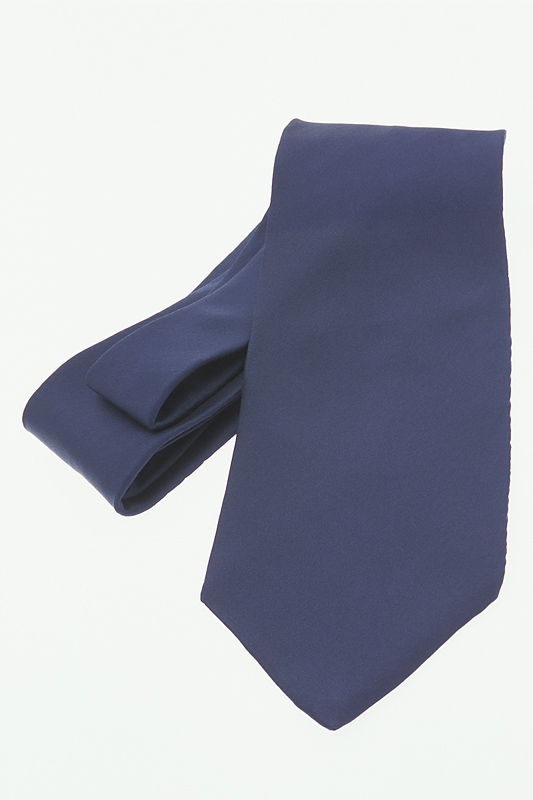 Now that Mothers' Day is in the rear view mirror, the road ahead is clear for a Fathers' Day gift of adult education. Give that special dad an eGift card in any amount so he can pick a class to suit his fancy. Once you purchase the eGift on our secure website, we send it by email or USPS and the happy recipient may choose from a wide selection of interesting classes at any time that fits his schedule.