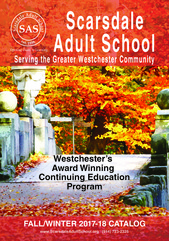 ---
In this Issue
---
Quick Links
---

Like us on Facebook and post to our page.
---
---
Peruse the course catalog and register for upcoming classes by visiting our secure website:
ScarsdaleAdultSchool.org
---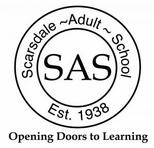 ---

Scarsdale Adult School E-News
Greetings Lifelong Learners,

We are pleased to announce that we will once again celebrate our homegrown SAS artists with our fourth Student/Teacher Art Show, running throughout the first half of November in the Scott Room of the Scarsdale Public Library. We originally conceived of the event in 2013 as we began a full year of themed activities in honor of our 75th anniversary. Two years later, we decided that we did not need a special occasion, judges, or awards, to entice you to share your artwork. Now, the show has become a much anticipated tradition.

The opening reception, FREE FOR THE ENTIRE COMMUNITY, is scheduled for Wednesday, November 1, 2017, from 6 to 8 p.m. in the Scott Room. Please do invite your friends and family to join us that evening and continue to stop by the Scott Room through November 15, 2017, to view the magnificent drawings, paintings, and photographs proudly on display. Join us to celebrate our community in a feel-good event with wine, cheese, and light snacks and not a hint of pressure nor a whiff of politics.

Drawing, painting, mixed media, photography, and art appreciation instructors have all shared some of their fantastic original creations but our students are often the artists who steal the show. We encourage everyone who has taken an SAS photography or arts & crafts class within the past year, from novice to expert, to contribute to the exhibition.

We will be accepting one piece of artwork (drawings, paintings, photographs, or mounted mixed media pieces) from each SAS art student who would like to participate.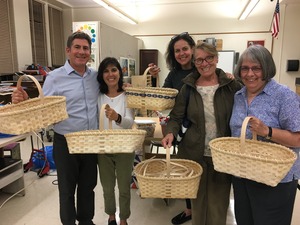 Please note that all items must be WIRED to be hung on a wall. We cannot accept pieces that have "claws" for hanging or that require a stand or a display case. As a result, we will not be displaying baskets or jewelry made in any of our classes, but I will share this photo of our fall basket weaving class. I enjoyed the class I took over the summer so much that I took yet another one earlier this month!

Please let us know if you plan to participate in the show. Send an email to Director@ScarsdaleAdultSchool.org with the following information:

Your name
Title of your submitted piece
Medium of your submitted piece
Artwork d
rop off will be on Wednesday, November 1, 2017, from 12 to 2 p.m. in the Scott Room of the Scarsdale Public Library.

And if you like the idea of showing off your artwork but do not yet have anything ready, we still have plenty of Arts & Crafts and Photography classes coming up in the next few weeks so you can prepare your portfolio for next year's show!

See you out and about and in the classroom!

Regards,
Jill Serling, Executive Director
Late Breaking News
This just in -- even more new classes have been added to our online catalog!

In light of the growing wait list, Katie Goldberg has opened yet another section of Mah Jongg: Beginner Series (Course 5553), meeting Mondays from 1 to 3 p.m. starting October 2, 2017. Class will have a skip date on October 9, 2017 (Columbus Day). Grab your spot in this popular and social class while seats are still available.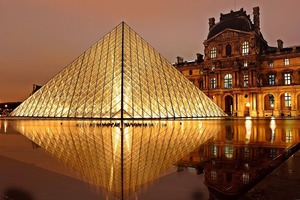 On Tuesday, October 10, 2017, at 7 p.m. at the Bronxville Public Library, David Brashear will enlighten us on the Invention of the Museum as Public Institution in the 18th and 19th Centuries (Course 5552). The Louvre and the Altes Museum served as the conceptual and architectural models for many national museums to follow.

New York Times Editorial Board Member Carol Giacomo returns to SAS for a one night lecture with Q&A on Hot Topics in Foreign Policy (Course 5551) on Tuesday, October 24, 2017, at 7 p.m. at the Bronxville Public Library. A former diplomatic correspondent who traveled the globe with eight different U.S. Secretaries of State during her long career, Giacomo will address recent the political turmoil involving Iran, Myanmar, and other nations.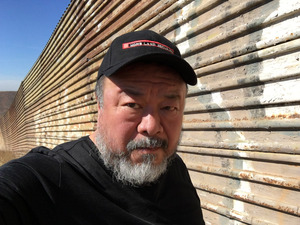 On Wednesday, October 25, 2017, at 7 p.m., Elizabeth Thompson Colleary will introduce students to Chinese dissident Ai Weiwei's public art installation, Good Fences Make Good Neighbors, on view from October 12, 2017, through February 11, 2018, at sites throughout New York City. The installation takes its name from Robert Frost's classic American poem Mending Wall, which explores the role and impulse for boundaries in society, where tradition and habit often mask fear and narrow mindedness, Weiwei's upcoming exhibition was inspired by the international migration crisis and tense sociopolitical battles surrounding the issue in the United States. Weiwei transforms the metal wire security fence into a powerful artistic symbol of division. Colleary's one-session lecture, Mending Wall: Preview of Weiwei's Good Fences Make Good Neighbors (Course 5554), will prepare students to see the exhibition as well as provide background on the artist and his other compelling public works.
---
On the Move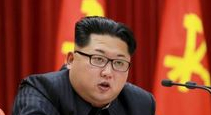 Marjorie Miller's highly anticipated return to SAS could not be more timely. Not surprisingly, Korea, Land of the Morning Calm in the Eye of the Storm (Course 5273) has many interested takers -- so many that we have moved its location to accommodate a larger class size. The course will now take place at Temple Israel New Rochelle, beginning on Thursday, October 19, 2017 and ending on November 9, 2017. Miller's class will include "up to the moment" insights into the current situation in this part of the globe that has been making headlines daily.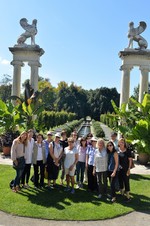 In addition, coming up on Thursday, October 12, 2017, is an opportunity to delve into the History of Westchester's Untermyer Gardens (Course 5278). The lecture is suitable for those who have never been to the gardens at Greystone in the City of Yonkers as well as for those who attended our recent walking tour. The grounds were magnificent and students enjoyed beautiful weather to take in what Untermyer had hoped would be "the greatest gardens in the world," complete with ancient Roman monolithic cipollino marble columns from the estate of Stanford White.
---
More Changes to the Catalog
Please be aware of these previously announced scheduling changes:

Body Sculpting (Course 5409), which began two weeks ago, now has a skip date of October 10, 2017. The make-up will be on Tuesday, December 12, 2017.

Hula (Course 5530) had a skip date last week, and will have a make-up on Monday, November 6, 2017.
Museum Preview of Delirious: Art at the Limits of Reason, 1950-1980 at the Met Breuer (Course 5299) with Page Knox has been moved to Wednesday, October 4, 2017.
Acting and Improv (Course 5372), beginning on Wednesday, October 4, 2017, will have a skip date of October 25, 2017. The make-up will be on Wednesday, November 29, 2017.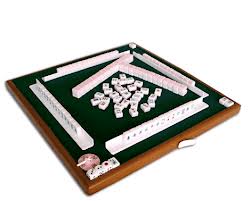 Let's Play Mah Jongg: Beginner Series (Course 5283) with Katie Goldberg on Wednesday afternoons has a skip date of November 1, 2017. The make-up will be on November 8, 2017. Let's Play Mah Jongg: Supervised Play (Course 5279) on Thursdays will have a skip date of November 2, 2017. The make-up will be on November 9, 2017.

As a result of these make-ups, the start dates for the next set of Katie Goldberg's Let's Play Mah Jongg: Supervised Play have been pushed off by one week. Specifically, the Wednesday afternoon Course 5280 will begin on November 15, 2017, and the Thursday afternoon Course 5281 will begin on November 16, 2017. Both of those classes will run for 5 sessions rather than 6, at a reduced tuition of $125.

Understanding the Newly Enacted New York State Estate Tax and Asset Protection Laws with Neil Lubarsky on Tuesday, October 24, 2017, is now Course 5536.

The price for Grant Writing: How to Get Funding for Your Organization (Course 5447) is $75, and not $50, as previously indicated in the printed catalog.
---
Not to be Missed
All coming up in the next few weeks are classes in the following categories:


Humanities
Architecture

Art Appreciation

History, Culture and Current Events

Literature and Film

Museum Previews, Exhibits, and Walking Tours

Music Appreciation

Religion and Philosophy
Skill Development and Enhancement
Arts and Crafts

Computers, Technology, and the Internet

Cooking and Baking

Languages

Performing Arts

Photography and Videography

Writing
Personal and Professional Growth
Career and Business Development

Health, Wellness, Stress Reduction, Nutrition

Hobbies and Edutainment

Personal Finance, Aging, Retirement Planning
Recreation
---
Help Someone Discover a New World of Adult Education with a Columbus Day eGift Card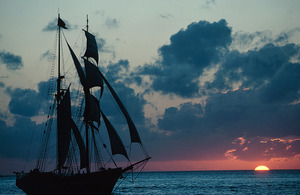 Encourage someone special to take an adult school course from our treasure chest. Send an eGift today and your explorer friend or family member can set sail through our exciting fall catalog in search of golden knowledge. Follow the link to purchase an eGift card in any amount on our secure website. Our Niña, Pinta, and Santa Maria are dry-docked for the season, so we will send the gift by e-mail or USPS, your choice. Crosswinds are no impediment to delivery!