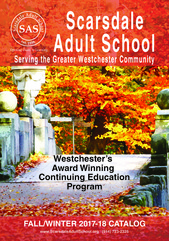 ---
In this Issue
---
Quick Links
---

Like us on Facebook and post to our page.
---
---
Peruse the course catalog and register for upcoming classes by visiting our secure website:
ScarsdaleAdultSchool.org
---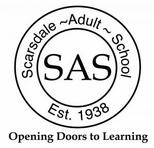 ---

Scarsdale Adult School E-News
Greetings Lifelong Learners,

Thank you to all who were able to join us at the Student/Teacher Art Show Opening Reception. We kicked off November with a wonderful turnout of teachers, students, board members, advisory committee members, staff, friends, family, and community members who patronize the arts. One unanticipated treat was a guest who entertained us with an impromptu piano recital as visitors assembled in the Scott Room.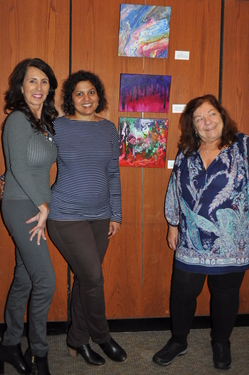 I was heartened to witness students who had met in one of our arts & crafts courses clustered around their displays, posing for photographs with their instructor, and planning their next artistic venture. Many also offered invaluable feedback about their classroom experiences and what might spark your interest as we plan future classes.

All artwork will be available for pick up on Thursday afternoon from noon until 2 p.m. at the Scott Room. Thank you again for sharing your creative juices with us and the community at large.

Although the holidays are approaching and we will be taking a brief vacation at the end of December, we are moving full speed ahead until then. Read on below for some of the classes beginning in the next few weeks. Our students are never without an opportunity to register and we continue to add classes that we announce in our eblasts, Facebook page, Twitter feed, and website.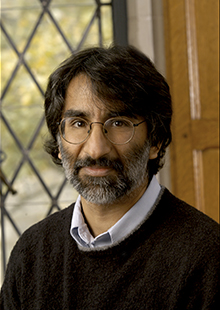 For example, recently added to our plans, Akhil Reed Amar, Professor of Law and Political Science at Yale University, will be coming to SAS to share insights from his recent book, The Constitution Today: Timeless Lessons for the Issues of Our Era. On Thursday, December 14, 2017, at 7 p.m. at Scarsdale High School, Professor Amar will discuss the constitutional significance of the last election, when all four major federal institutions of power were in play (House, Senate, Presidency, and Supreme Court). Other topics raised in his book of essays include gun control, gay marriage, affirmative action, health care, criminal procedure, spending regulations on political advertising, and our current system of presidential succession. We are pleased to bring Yale University to your doorstep -- registration for An Evening with Akhil Reed Amar (Course 5558) is open.

Enjoy the next week and have a wonderful Thanksgiving. See you out and about and in the classroom!

Regards,
Jill Serling, Executive Director
Museum Previews, Visits, and Films Before the Holidays
Museum previews, visits, and film classes take center stage among the SAS classes starting this week and beyond.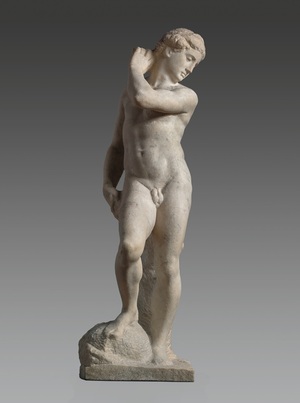 Just as the exhibit is opening to the public, the Museum Preview of Michelangelo: Divine Draftsman and Designer at the Metropolitan Museum of Art will be offered this
Wednesday evening
(Course 5294), November 15, 2017, with Elizabeth Thompson Colleary or
late Wednesday afternoon
(Course 5297) on November 29, 2017, with Page Knox. Please note that the museum will not be allowing any guided tours of this exhibit, so this "armchair" tour and discussion will help museum goers get the most from your planned visit. This class is also suitable for those with no intention of catching the exhibit in person -- you will still be able to impress your fellow Thanksgiving diners with your knowledge of Michelangelo's drawings, sculptures, and paintings.

Page Knox isl also lead a museum preview of the
Golden Art of Spanish Painting at the Frick Collection
(Course 5298) this Thursday, November 16, 2017. Murillo's self-portraits and Zurburán's masterpieces, on loan from Auckland Castle, will be the focus of the class and the upcoming exhibit, scheduled to open in January.
Museum Preview: David Hockney at the Metropolitan Museum of Art
(Course 5295) meets shortly after Thanksgiving on Wednesday, December 6, 2017. Coinciding with David Hockney's 80th birthday, this exhibition, running from November 27, 2017, to February 25, 2018, will present iconic works and key moments of his career from 1960 to the present. Elizabeth Thompson Colleary will provide her insights on Hockney's art throughout his career.



Public Art in New York
(Course 5506) is the focus of the last walking tour of this semester. Students will visit the Museum of the City of New York for an exhibit that highlights the last fifty years of public art by masters such as Red Grooms, Christo and Jeanne-Claude, and Kara Walker, who displayed their work outside the traditional confines of museums and galleries in the city. This tour begins at 1 p.m. on Thursday, November 30, 2017.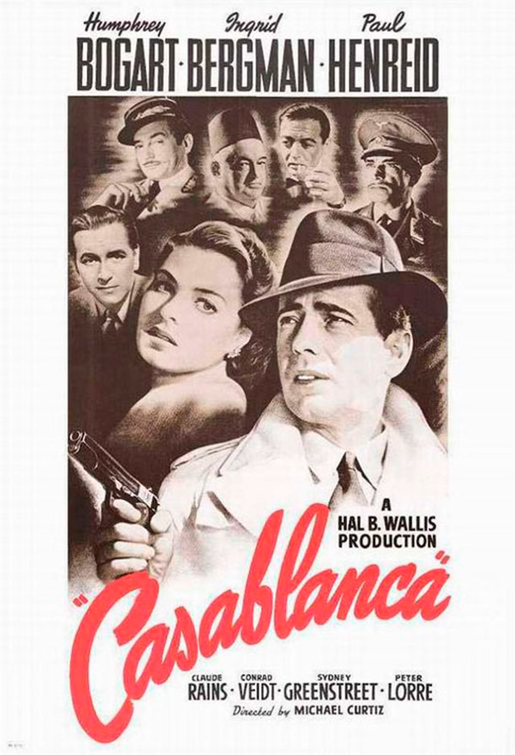 Please pass the popcorn!
A Tribute to Casablanca
(Course 5352) with Richard Knox meets this Wednesday afternoon, November 15, 2017. This year marks the 75th anniversary of the release of this outstanding motion picture that only gets better "As Time Goes By." Revisit this Warner Brothers Studio classic starring Humphrey Bogart and Ingrid Bergman with added commentary and a documentary about the making of the film narrated by Lauren Bacall. Jill Kiefer's specially selected Films about Writers and the Writing Process (Courses 5345 through 5348), begin next week on Tuesday afternoons.
Adaptation
starring Nicolas Cage, Meryl Streep, Chris Cooper, and Tilda Swinton is the first of four movies of these themed classes. All screenings and lively discussion will be in the Scott Room of the Scarsdale Public Library.
---
Literary Special Event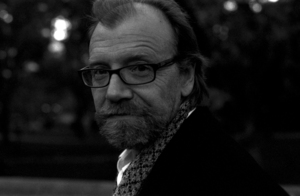 On Thursday, February 8, 2018, Scarsdale Adult School will host George Saunders, author of Lincoln in the Bardo, winner of this year's Man Booker Prize. The evening will offer candid revelations about his inspirations and writing process with ample time for questions and answers. An Evening with George Saunders offers students a choice of a
standard admission
(Course 5556) or
standard admission plus paperback pre-order
(Course 5557). Pre-ordered books will be distributed at the event, additional books will be for sale on site, and the author will be signing copies upon request.

Saunders last enlightened and entertained SAS audience members shortly after the publication of Tenth of December, a collection of short stories that garnered many awards and was named one of the top ten books of 2013 by the New York Times Book Review. Join us for his return to discuss Saunders's much anticipated and highly acclaimed first novel.
---
Not to be Missed
All coming up in the next few weeks are classes in the following categories:


Humanities
Art Appreciation

History, Culture and Current Events

Literature and Film

Museum Previews, Exhibits, and Walking Tours

Music Appreciation
Skill Development and Enhancement
Arts and Crafts

Computers, Technology, and the Internet

Languages

Performing Arts
Personal and Professional Growth
Health, Wellness, Stress Reduction, Nutrition

Hobbies and Edutainment
Recreation
---
Thank You to Our Supporters
Campaign 2017 is underway and many of you may have already received letters concerning our annual appeal. We are grateful for the tremendous response and thank you if you have already contributed. Collectively, our students and donors ensure that SAS continues "opening doors to learning."

If you have not, we hope you will consider joining our family of donors with a gift of any sum. We will soon enter our 80th year of continuously serving the community, now offering more than 200 classes each semester. Ever since we first opened our doors in 1938, SAS has beeen totally self-supporting. We receive no funding from the school district, the village, or any public source. Course fees and tax-deductible contributions from generous members of the community are our sole sources of funding for our comprehensive programming, the facilities we rent for classes, and our faculty salaries. Please
donate to SAS
today and help us continue our longstanding tradition of quality programs at reasonable prices in convenient neighborhood venues.