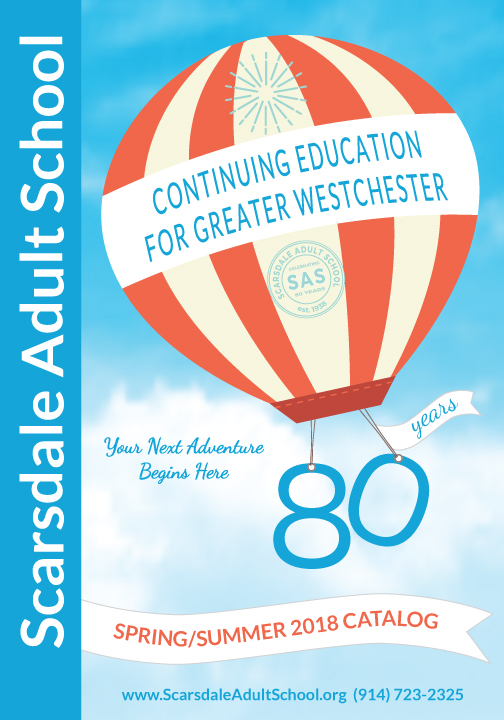 ---
In this Issue
---
Quick Links
---

Like us on Facebook and post to our page.
---
---
Peruse the course catalog and register for upcoming classes by visiting our secure website:
ScarsdaleAdultSchool.org
---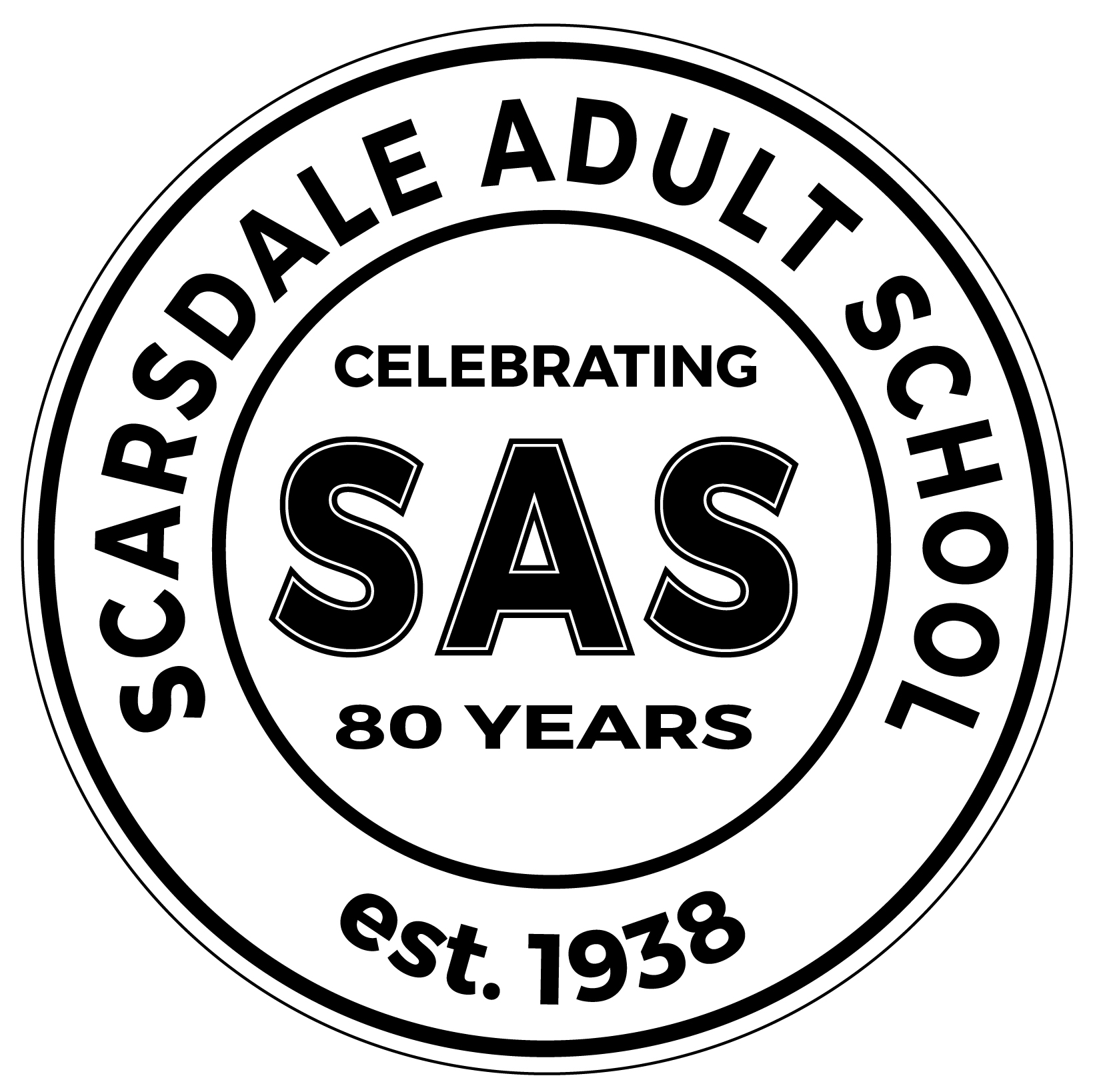 ---

Scarsdale Adult School E-News
Greetings Lifelong Learners,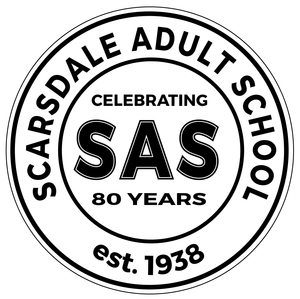 As highlighted on our Spring/Summer 2018 catalog cover, Scarsdale Adult School is entering its 80th year and is eager to help you fulfill your next adventure. Registration for the next semester is in full swing.

We are offering several classes this semester with an 80s theme and we have already hosted two special events this month to celebrate our birthday milestone.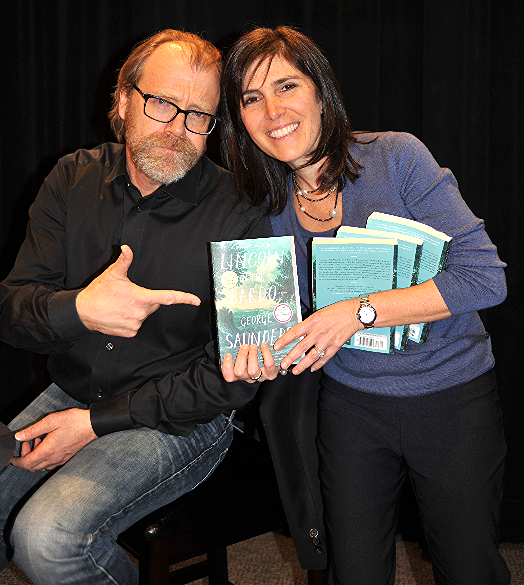 The first, An Evening with George Saunders, was as entertaining as it was inspiring. Saunders and Random House Editor-in-Chief Andy Ward last regaled SAS students as we were celebrating our 75th anniversary. At that time, Saunders and Ward were promoting the collection of short stories, Tenth of December. How fortunate we were, five years later, to be able to bring back the same duo for a discussion of Saunders's first novel, Lincoln in the Bardo, the 2017 Man Booker Prize winner.

Not surprisingly, the Scott Room was packed and the audience was captivated. We are grateful to former SAS Board President Nancy Alderman and to Esther Newberg for facilitating this program. In addition to the delightful banter between editor (photo below, standing far left) and author (seated far right), attendees were also treated to a reading from Lincoln in the Bardo, performed by (standing from left to right) Scarsdale High School students John Seider, Steven Orlofsky, and Alexa Trujillo, myself, SHS English teacher Sue Silver, and (seated left) SAS Board President Ann Sacher.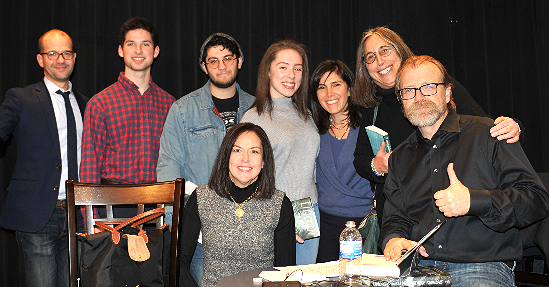 The second of our special events was one of pure joy. Mary Feinsinger, who runs several different music programs at the 92nd Street Y, led SAS students in a Broadway and American Standards Sing Along on Thursday, February 15, 2018. Students raised their voices and their spirits in song. What better way than that to set the mood for the holiday weekend!

More special events will be coming soon. On Thursday, March 15, 2018, from 7 to 8:30 p.m., we are offering an annotated concert Classical Music, Revealed: The Genial Genius of Gioachino Rossini, featuring famed pianist Cristiana Pegoraro. The format combines performance of Rossini's major works, including overtures from The Barber of Seville and The Thieving Magpie, with commentary about the artist's life and his era.

Then on Thursday, April 12, 2018, SAS will reprise Tales from the 'Dale and Beyond: An Evening of Live Storytelling. Details on speakers are coming soon. We are currently finalizing the lineup of local story spinners for this event, modeled after NPR's popular radio show, "The Moth." Students 18 and under may attend free of charge.

Enjoy thumbing through the catalog and please continue reading below for the highlights and latest catalog changes and additions.

Looking forward to seeing you in the classroom!

Regards,
Jill Serling, Executive Director
Around the World in 80 Days
SAS brings the world to Scarsdale with several classes having an international flair. Our
language courses
resume the week of March 19, 2018, with multiple levels of French, German, Italian, and Spanish. We are also introducing
Chinese Language and Culture
with native speaker Yan He Gao, and
Intermediate English Conversation
for English language learners with Kathy Gray who holds a TESOL certificate and has been teaching all levels of ESL through the WCC English Language Institute.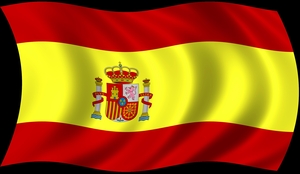 Beginning on Wednesday, March 21, 2018, Alfred Hunt will introduce his newest course,
Spain: From Columbus to Hemingway
. Surveying Spanish culture and history from ancient to modern times, Hunt will also explore Spain's influence on the United States.

Marjorie Miller returns to SAS on Thursday, March 22, 2018, with
Today's Political Strongmen
. This class takes aim at the hyperbolic, threatening rhetoric popular with many of the current leaders and explores this new breed of statesman on the world stage.

In April, we welcome the first of two courses focusing on Africa. His Excellency Bob Jalang'o, Former Ambassador of Kenya, will examine
Africa's Rich Traditions and Culture and the Effects of Religion, Modernization, and Onset of HIV/AIDS
in three sessions beginning Thursday, April 26, 2018. After that, he will lecture on
Famous African Political Leaders, Past and Present
, starting Thursday, May 17, 2018.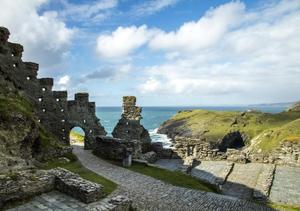 SAS's crown jewel, Lorella Brocklesby, is back in town with
Poldark's Cornwall from Tintagel to Land's End
. Cross the Atlantic without ever leaving Scarsdale to discover the fishing villages and folklore surrounding the castle associated with King Arthur's birth.

In May, students may travel not only overseas but also back in time with Page Knox as
Visitors to Versailles 1679-1789 at the Met
. This walking tour highlights the artwork, furniture, tapestries, costumes, dishes, and armor encountered at the luxurious country palace of King Louis XIV.

Also that month, students may catch up on international affairs with Carol Giacomo's
Foreign Policy and the Media
on Thursday, May 15, 2018, and
World Politics with Ralph Buultjens: Russia and America -- Friends, Foes, or What?
on Friday, May 18, 2018.

And for the extreme traveller, journey with SAS beyond the stratosphere with
Is There Life Elsewhere in the Universe?
Lawrence Faltz, president of Westchester Amateur Astronomers, will describe conditions required for life and the evidence that those prerequisites exist elsewhere in the solar system. This class on Wednesday, May 2, 2018, is the third of a trilogy of single-session astronomy-oriented new offerings.

Expand your world view and register today!
---
Exciting Additions to the Catalog
Page Knox has been able to add a second tour date for
Thomas Cole at the Met
. The new section is Course 6860 and will meet on Thursday, March 8, 2018.

We have also just added new sections of
Beginner Bridge
(Course 5848),
Advanced Beginner Bridge
(Course 5849), and
Intermediate Bridge
(Course 5850), all with Sylwia McNamara at the Bridge Deck, starting the week of March 19, 2018.

Please welcome new instructor Delores Metzner, who will be substituting for Naomi Shriber in
Painting with Acrylics and Water Soluble Oils
(Course 5777) and
Open Studio for Painters
(Course 5774)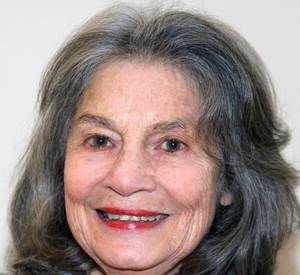 Harriet Sobol has opened another Tuesday section of
BookTalk
to satisfy demand. The latest addition is Course 6856 and will meet for five Tuesdays from 1 to 2:30 pm, beginning on April 10, 2018. As with the other two sections that appear in the printed catalog, this semester's first reading will be Manhattan Beach by Jennifer Egan. Later classes will be devoted to An Odyssey: A Father, A Son, and an Epic by Daniel Mendelsohn (April 24), Dark at the Crossing by Elliot Ackerman (May 8), Less by Andrew Sean Greer (May 22), and The Signal Flame by Andrew Krivak (June 5).

After the conclusion of her winter class, Jeannine Palermo is offering an optional two-week extension of
Fit Blast: Cardio, Strength, and Abs
(Course 6867) on Monday March 5 and 12 from 1 to 2 p.m. at the Girl Scout House. Newcomers are welcome to join; the two classes are the perfect opportunity to determine whether to register for additional fitness classes later in the semester.

Due to room availability, the start date for Hope Friedland's
Painting Flora and Fauna in Watercolor
(Course 5771) has been moved one week earlier to Thursday, March 15, 2018. The class will now have a skip date of March 22, 2018, as well as April 5, 2018.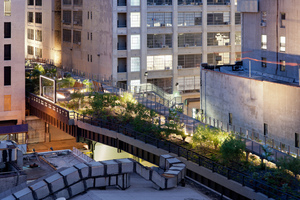 The walking tour of
Architectural Highlights Along the High Line
with John Hill (Course 5823), originally scheduled for May 23, 2018, from 11 a.m. to 1 p.m. has been moved to Wednesday, May 2, 2018.

Jill Kiefer's
Five Major Movements of Modern Art
(Series 26), has been reconfigured slightly to create a skip date on Thursday, May 17, 2018.
Expressionism
(Course 5705), originally scheduled for that date, will now occur on Thursday, May 24, 2018.
Dada, the Anti-Art
(Course 5706) will be merged with
Surrealism
(Course 5705) on Thursday, May 31, 2018.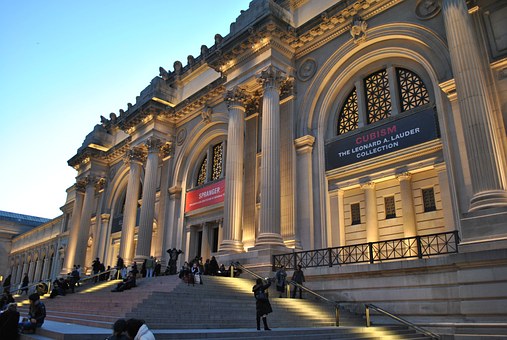 The April walking tour has a waiting list but we have opened a new section of
Women Artists at the Met
(Course 6865) with Page Knox, to take place on Wednesday, June 27, 2018.

Looking ahead to the summer, we have scheduled a walking tour of
Magazzino Italian Art
(Course 5852) on Thursday, July 19, 2018, from 11:30 a.m. to 12:30 p.m. in Cold Spring. This private warehouse art space will host select works of post-war and contemporary Italian art, most of which has never been exhibited in the United States.
---
Not to be Missed
All coming up in the next few weeks are classes in the following categories:


Humanities
Art Appreciation

History, Culture and Current Events

Literature and Film

Museum Previews, Exhibits, and Walking Tours

Music Appreciation

Natural and Technical Sciences

Religion and Philosophy
Skill Development and Enhancement
Arts and Crafts

Computers, Technology, and the Internet

Cooking and Baking

Languages

Performing Arts

Photography and Videography

Writing
Personal and Professional Growth
Career and Business Development

Health, Wellness, Stress Reduction, Nutrition

Hobbies and Edutainment

Personal Finance, Aging, Retirement Planning
Recreation
---
Try Something New
The first class of our new semester kicks off on Tuesday, March 6, 2018, just a few days before it is time to re-set clocks for daylight savings time. As you emerge from winter doldrums, spring into action by thumbing through the catalog and scrolling through our online listings. We hope you will find even more reasons to come out of hibernation and join us for class. Try something new and different as you embrace the change in the seasons.